Hot In Cleveland gathers leading ladies of MTM show
09/03/13 12:25 PM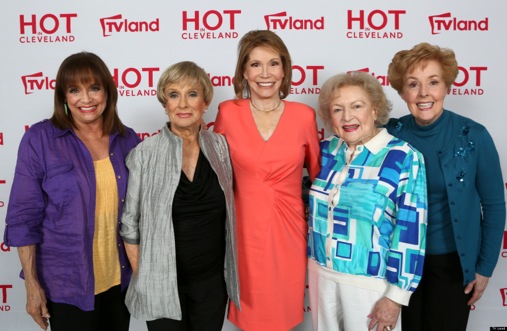 No further introductions are necessary -- if you're of a certain age.
TV Land photo
By ED BARK
@unclebarkycom on Twitter
Let's be charitable here.
Hot In Cleveland's
reunion of
The Mary Tyler Moore Show's
five leading ladies
(Wednesday, Sept. 4th, 9 p.m. central on TV Land)
is hardly a testament to how great that show was and how well it still holds up.
Still, it's not an embarrassment and has some amusing moments beyond the historical import. And as most fans of the classic original know, life is fleeting even if fame sometimes isn't. Valerie Harper, who played Rhoda Morgenstern, is still battling terminal brain cancer while Cloris Leachman (Phyllis Lindstrom) is approaching 90 and Betty White (Sue Ann Nivens) has gone one year beyond. So more power to them while they're still all under their own power.
It's now been 36 years since
The Mary Tyler Moore Show
ended its original run on CBS. Namesake Mary, 76, was already well known from her role as Laura Petrie on
The Dick Van Dyke Show
before she made stars of her four co-stars. Harper and Leachman both got spinoff series while the kid of the group, 65-year-old Georgia Engel (Georgette Franklin Baxter), hung in there with latter day recurring roles on both
Everybody Loves Raymond
and
Hot In Cleveland
(as Mamie Sue).
White, now the busiest of them all, has played saucy Elka Ostrovsky on
Hot In Cleveland
since its 2010 premiere as TV Land's first original scripted series. In Wednesday's "Love Is All Around" episode, Elka and Mamie Sue long to reunite their championship Gorgeous Ladies of Bowling team (GLOB), which hasn't been together since a falling out 50 years ago.
So in a veritable finger snap they all show up at a restaurant where
Hot In Cleveland
co-stars Wendie Malick, Jane Leeves and Valerie Bertinelli mix and mingle with two other guest stars -- George Hamilton and Jesse Tyler Ferguson of ABC's
Modern Family
.
Moore, Harper and Leachman (still co-starring on Fox's
Raising Hope
) respectively play Diane, Angie and Peg. Old timey studio audience whoops and cheers rain down on each of their arrivals. Moore of course gets to be the last to take the stage. "Hello GLOBs," she enthuses before their bickering begins anew.
Some of the humor is winning enough. And the worst line thankfully goes to Bertinelli's vain Melanie rather than one of the Fab Five. Intoxicated by her blind date with a plastic surgeon, she says, "I can't let him know how much I want him to knock me up and cut me up."
The reunion of course eventually gets back on track. And a nifty little touch at the end ties a nice bow on the proceedings before the season finale of
Hot In Cleveland
immediately kicks in with guest star Craig Ferguson.
GRADE
(on a curve): B-minus
Email comments or questions to:
unclebarky@verizon.net