WGN America tries to burn hot with Salem (its first original scripted series)
04/17/14 01:57 PM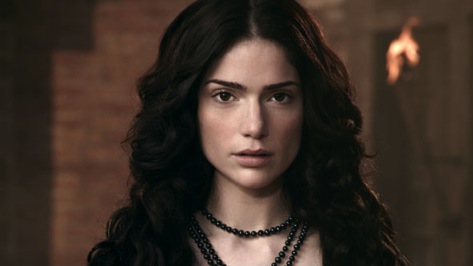 Witchy woman: Janet Montgomery stars in Salem. WGN photo
Premiering:
Sunday, April 20th at 9 p.m. (central) on WGN America
Starring:
Janet Montgomery, Shane West, Seth Gabel, Xander Berkeley, Ashley Madekwe, Tamzin Merchant, Elise Eberle, Iddo Goldberg, Michael Mulheren
Produced by:
Brannon Braga, Adam Simon, Josh Barry, Jeff Kwatinetz, David Von Ancken
By ED BARK
Easter and witch-hunting generally don't go together, although
Salem
is very hammy if that's what you're having for dinner.
WGN America's first original scripted series, premiering Sunday, April 20th, heightens its drama to an often absurd degree during what publicity materials describe as a "bold new vision of Salem -- and an even bolder new vision of witches." Bolder still would have been the occasional inclusion of a laugh track. As when an ill-fated over-the-top coot carps about "precious Salem caught up in a stinking witch panic."
This latest look at America's longtime broomstick capital begins in September, 1685. Two unfortunate Salem denizens are on public display in stocks while the town's top punishment dispenser, George Sibley (Michael Mulheren), thunders about the "sin of self-pollution." Poor Isaac Walton (Iddo Goldberg) has "gazed upon the nakedness" of a young woman and then kissed her. In return he gets "10 hard ones" before being branded on his forehead with an "F" for Fornicator. That'll teach him.
The onlookers include beauteous Mary Shipley (Janet Montgomery) and lippy John Alden (Shane West). Unbeknownst to Salem's religious nut faction and Alden himself, their illicit coupling impregnated her. But he's now marching off to war with the Indians while Mary succumbs to a black magic abortion in the woods by the chanting Tituba (Ashley Madekwe). "All the world shall be yours in return," Mary's informed. OK, but make sure that includes a free night's repast at Ye Olde Salem Smokehouse, where the beer is colder than a witch's teet and the ribs are burned-at-the-stake tender.
Seven years pass. Despairing of Alden's return, Mary has married the puritanical George Sibley, who's now in a wheelchair and regularly spits up on himself. Surprised to see Alden back in town, the now manipulative Mary icily invites him to dinner at her place along with Salem dignitaries such as Magistrate Hale (Xander Berkeley) and obsessive witch-hunter Cotton Mather (Seth Gabel). While dining, Alden for some reason imagines two women poking under the table at his buckskin-clad pecker.
Salem
is replete with scenes that make little sense. It's mostly a jumble of decent enough special effects, less-than-decent acting, a script that also should be lashed with "10 hard ones" and lots of blood-curdling screaming, particularly on the part of the very badly tormented Mercy Lewis (Elise Eberle). The other featured character is Anne Hale (Tamzin Merchant), a flirty artist who likes the looks of Alden.
Salem
perhaps has a chance to catch on as a thoroughly guilty pleasure from the land of So Bad It's Good. It at least gives WGN America a foot in the door as yet another basic cable purveyor of its own scripted drama series.
FX, AMC and TNT have very much put themselves on the map this way.
Salem
is no
Mad Men
or
Justified
or even
Rizzoli & Isles
. But you've gotta do something when you're basically known as the longtime network of the Chicago Cubs, who haven't been to a World Series since 1945, haven't won a World Series since 1908 and are off to another fine start this season with a 4-9 record to date.
In that context, a swing and a miss with
Salem
perhaps is only appropriate.
GRADE:
C-minus
Email comments or questions to:
unclebarky@verizon.net