AMC's Rubicon steps smartly to the head of the intelligence field
07/26/10 04:09 PM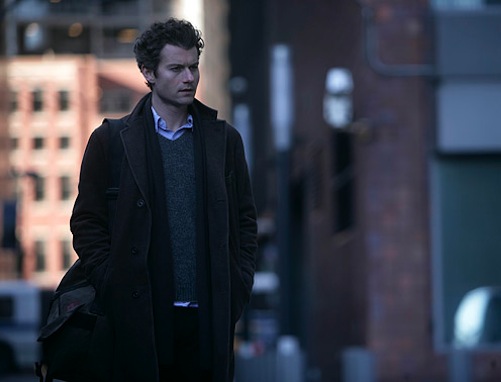 James Badge Dale segues from the horrors of The Pacific to the intrigues of high-level intelligence in Rubicon. AMC photo
Premiering:
Sunday, Aug. 1st at 7 p.m. (central) on AMC
Starring:
James Badge Dale, Jessica Collins, Lauren Hodges, Dallas Roberts, Christopher Evan Welch, Arliss Howard, Miranda Richardson, Michael Cristofer, Roger Robinson
Produced by:
Henry Bromell, Jason Horwitch, Kerry Orent
By ED BARK
Television's next great drama series is arriving -- where else? -- on AMC.
Then again, it would be nice if they'd pick up the pace a little bit.
Then again, that might ruin it.
Then again . . .
Let's get back to the fact that you wouldn't have gone to AMC for much more than old movies until just a few years ago. Or maybe you stopped going to AMC altogether once its programming execs started screwing up your movie-watching enjoyment with commercial breaks. But then came
Mad Men
. And next,
Breaking Bad
. And now,
Rubicon
, a contemporary, post-9/11 ode to post-Vietnam/Watergate films such as
Three Days of the Condor, The Parallax View
and
The Conversation.
.
In the view of
Rubicon
executive producer Henry Bromell, all were "powerful movies steeped in conspiracy-related paranoia" and built around "individuals traveling through the looking glass into a world of abject moral confusion, where nothing is what it seems and no one can be trusted."
OK, got it. More or less. But it's all in the execution. And
Rubicon
proves to be both captivating and many-layered in its up-close look at the American Policy Institute, which is supposed to be fictional even though there are a few such-named organizations in real life. The first two hours precede Season 4's second episode of
Mad Men
on Sunday, Aug. 1st.
Rubicon
then will move to its regular Sunday, 8 p.m. (central) slot, giving AMC back-to-back helpings of topflight textured drama for the next several months.
AMC sent the first four episodes of
Rubicon
, whose code-breaking intelligence analysts lead mostly insular lives, have little or no fashion sense and work out of a camouflaged, non-descript building with a demonstrably utilitarian employee cafeteria. So no, it's nothing like
Mad Men
, although both are set in Manhattan.
Rubicon
's lead character, the brilliant but haunted Will Travers, has a piled-high mound of curly hair streaked a bit prematurely gray. He's had a lot on his mind ever since his wife and child died while waiting for him atop the first World Trade Center tower hit by a terrorist-hijacked plane.
Travers, played by James Badge Dale in a quick segue from HBO's
The Pacific
, was running late as usual that day. Now he's never late for anything, but still walks in a slight stoop and tends not to smile much.
"He's not mopey," says a co-worker. "He's just introspective."
Travers has all the more reason to look vexed after his API mentor, David Hadas (guest star Peter Gerety), suddenly dies under what may well be questionable circumstances. Another death, this time by suicide, further weaves
Rubicon
's web while also bringing his stricken widow, Katherine Rhumor (Miranda Richardson), into the picture.
Dale's character is the principal drink-stirrer here, piecing together left-behind clues while being watched very closely by suitably mysterious forces. But there also are terrific performances by Arliss Howard and Michael Cristofer as tightly wound senior API operatives Kale Ingram and Truxton Spangler.
In Hour 4, Spangler and Travers journey together to Washington to convince various movers/shakers that API must continue to be amply funded and have total independence from the military, the CIA and the FBI. Spangler loosens up and explains himself to his younger colleague only after victory is theirs. But Travers is hardly cheered by the older man's dedication to duty at the expense of any troublesome family ties.
"The solitude. The separation. It's a gift," he says. "That's what they don't see."
Travers' younger API colleagues are also toiled and troubled. Grant Test (Christopher Evan Welch) tends to be morose, demanding and condescending -- on a good day. Miles Fiedler (Dallas Roberts looking eerily like a young John Ritter) is all twisted up inside; Tanya MacGaffin (Lauren Hodges) is still a rookie; and Maggie Young (Jessica Collins) is both Travers' top-ranked assistant and something of a snitch.
They all work for the API's Team E, digesting the day's daily stacks of intelligence files while eventually deciding who to take out in the name of international security. Collateral deaths of innocent people are also part of the bargain. And cases can stretch out for weeks.
As previously noted,
Rubicon
perhaps could use a little pep in its step. Still, the mood music is intoxicating and invariably very well-placed. And Travers' weekly detective work so far is yielding just enough results to make ends meet.
Close attention is mandatory, of course. And being strung along at length during this season and who knows how many more also is a built-in deterrent for many viewers.
Rubicon
definitely looks like the real deal, though, for those with an appetite for a cerebral spy experience rather than a weekly spy caper series. AMC has done it again, with a third thoroughly distinctive weekly drama that just won't let go.
GRADE:
A