Comedy Central's Kroll Show no droll show
01/15/13 02:36 PM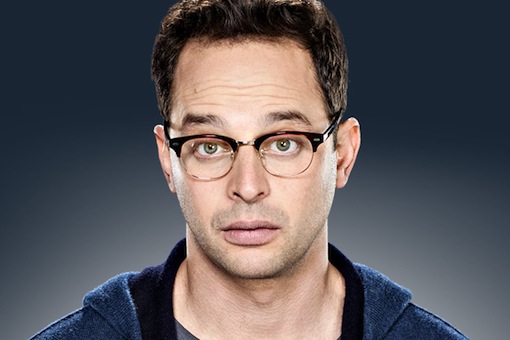 Nick Kroll seen as himself, which doesn't happen all that often.
Comedy Central photo
Premiering:
Wednesday, Jan. 16th at 9:30 p.m. (central) on Comedy Central
Starring:
Nick Kroll, Jenny Slate, Jon Daly
Produced by:
Nick Kroll, John Levenstein, Jonathan Krisel
By ED BARK
@unclebarkycom
The young adult male humor gene generally doesn't require an abundance of stimulation.
But as we get older . . . aw, who are we kidding? Maybe the laughs don't come as easily, but a lot of men are still suckers for sight gags, send-ups and The Three Stooges.
Comedy Central takes direct aim at the way many of us were, though. Men between the ages of 18 and 34 are television's most elusive target audience. But the network struck gold over the past summer with
Workaholics
, a Stooge redux that Comedy Central says was the "highest-rated series in its timeslot across all of television" with 18-to-34-year-old males.
Workaholics
, with the characters Adam, Blake and Ders standing in for Moe, Larry and Curly, returns with 10 new episodes on Wednesday, Jan. 16th (
at 9 p.m. central
). This time they have a likely new soul mate in
Kroll Show
, which follows at 9:30 p.m. and stars man of many guises Nick Kroll (Ruxin on FX's
The League
).
Workaholics
sticks to a loony bin storyline throughout.
Kroll Show
bounces around, training its sights on "of-the-moment pop culture topics like internet life, professional sports, nightclub culture and the television landscape."
Kroll's best effort in Wednesday's opening episode is "PubLIZity," a recurring look at two whining, inept publicists named Liz G (Kroll) and Liz B (series regular Jenny Slate). Their client, the Canine Cancer institute, enlists them to raise both awareness and money. They eventually get around to throwing a "Rockin' Beach" Party" fundraiser featuring bikini-clad cupcakes.
The star of the show also plays a chatty basketball referee with a bulbous butt, a preening spokesman for The San Diego Diet, a lone "Able" at the Wheels, Ontario school for the disabled and one of eight stars of "Sex and the City for Dudes."
Next week's episode, something of a downturn from the first, is best served by Kroll as Bobby Bottleservice, a would-be internet Lothario whose pitches to floozies tend to be waylaid by his domineering mother.
Kroll has a highly malleable face and the everyman appeal of Fred Armisen, scheduled to guest star on a future episode as a character named Papi Jr. Another familiar comedy face, Ed Helms, is briefly seen in Episode 1 during the "Sex and the City for Dudes" segments.
Kroll Show
works often enough to make a name for itself among young males in particular. Men of a certain age might be more resistant, but still susceptible.
GRADE:
B
unclebarky@verizon.net