HBO's Mary and Martha grips without being graphic
04/16/13 03:37 PM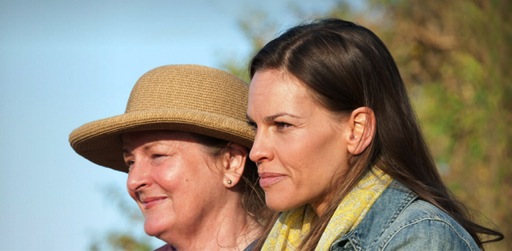 Brenda Blethyn, Hilary Swank bond in Mary and Martha. HBO photo
By ED BARK
@unclebarkycom
The title sounds biblical, and the film itself is an old-fashioned testament to the message-driven sob-story.
That's all well and good with HBO's
Mary and Martha
, an affecting, thoroughly G-rated look at two disparate women who join forces after their sons die of malaria in Africa. Directed by Phillip Noyce (
Salt, Patriot Games
), the film premieres on
Saturday, April 20th from 7 to 8:45 p.m. (central)
. It's a fictional account grounded in the fact that malaria continues to kill more than 1,400 kids a day.
Oscar-winner Hilary Swank (
Million Dollar Baby
) and Oscar nominee Brenda Blethyn (
Secrets & Lies
) respectively play the disparate title characters.
Mary Morgan is an interior designer living a prosperous life in a picturesque Virginia coastal town with her husband, Peter (Frank Grillo), and their pre-teen son, George (Lux Haney-Jardine). Martha O'Connell is a middle-aged British housewife married to a largely indifferent husband (Ian Redford as Charles). Their son is 24-year-old Ben (Sam Claflin), whose aimless life is emboldened by his sudden decision to volunteer as an orphanage teacher in Mozambique.
Ben ventures on his own to Africa while Mary decides to embark on a remedial "Swiss Family Morgan" adventure after learning that her son is being bullied at school. George is prototypically reluctant at the outset of their planned six-month stay in Africa. But of course he warms to the situation, with mom constantly beaming before tragedy strikes in the form of a mosquito flying through a small hole in their preventive tent netting. George dies wrenchingly on-camera while Ben does not.
Virtually everything about
Mary and Martha
is formulaic in terms of the two lead characters' pain-stricken journeys toward a shared cause. Mary even has an emotionally cold, estranged father, played by James Woods, who comes through at crunch time by flexing some of his political connections in Washington.
Still, the film grows in power, with both Swank and Blethyn engaging a viewer's sympathies through the force of their performances apart and eventually together after a chance meeting.
A number of scenes resonate, none more so than Martha's first meeting with Ben's African girlfriend, Micaela (Nokuthula Ledwaba). Swank is also first-rate as a self-blaming mother in an emotional abyss.
Mary and Martha
is a U-turn from the graphic sex, violence and language deployed in HBO series such as
Game of Thrones
and
Boardwalk Empire
. The film could air untouched -- and reach a larger audience -- on ABC, CBS, NBC or Fox. But all four have long been out of the made-for-TV movie business, save for a very occasional dibble dab.
HBO subscribers thereby are the beneficiaries of a film with star power and staying power. It won't surprise you with its outcome -- or for the most part, how it gets there. But it may well have more of an impact than anticipated. And all without the usual R-rated HBO additives.
GRADE:
A-minus
Email comments or questions to:
unclebarky@verizon.net