Syfy's Alphas is too much of a z-z-z-z-z-z
07/08/11 03:44 PM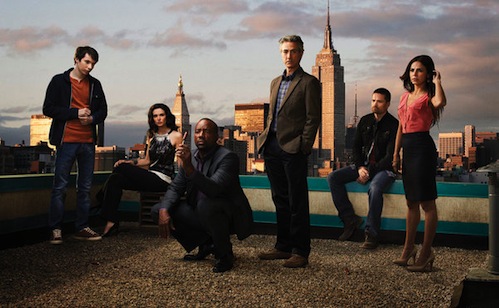 David Strathairn tries to stand tall amid his five prodigies. Syfy photo
Premiering:
Monday, July 11th at 9 p.m. (central) on Syfy
Starring:
David Strathairn, Malik Yoba, Azita Ghanizada, Laura Mennell, Warren Christie, Ryan Cartwright
Produced by:
Gail Berman, Lloyd Braun, Gene Stein, Zak Penn, Ira Steven Behr
By ED BARK
Although he's primarily been a stalwart supporting actor in feature films, David Strathairn clearly is the alpha male of Syfy's
Alphas
.
So it's a shame that his lead dog character has little bite and and less edge than a rubber knife. Bill Pullman goes against type to emote the hell out of his sinister character on Starz's new
Torchwood: Miracle Day
. Strathairn for the most part is a bland nurturer on
Alphas
, which launches on
Monday, July 11th at 9 p.m. (central)
with a 90-minute pilot.
It's not for lack of screen time. Bearded and bespectacled, Strathairn is front and center as a health-conscious neurophysiologist named Dr. Lee Rosen. His team, secretly operating within the Department of Defense, initially consists of four young proteges with exceptional gifts. A fifth is recruited during the course of Monday's opener, which at best is mildly entertaining. Syfy has ordered a total of 12 episodes.
Rosen also gets barked at periodically -- and prototypically -- by a gruff, skeptical law enforcer named Bill Wilson (Callum Keith Rennie). But their exchanges aren't exactly pulsating.
All right, let's get it over with and meet the team.
***
Bill Harken (Malik Yorba) is a burly former FBI agent with "enhanced strength from fight or flight response." In other words, he "Hulks out" on occasion without turning green. But he does sweat profusely.
Rachel Pirzad (Azita Ghanizada) has developed the ability to "hyper-intensify her senses one at a time while rendering the others useless." This enables her to trace clues to their original source. It's sort of like a TV critic tuning out Syfy's hype for
Alphas
while enduring the show itself.
***
Gary Bell (Ryan Cartwright) is a high-functioning autistic teen who's also a "tranducer." This allows him to "read a wide range of electromagnetic frequencies, including television, radio and cell phone signals." He likely could blog, tweet, play around on youtube and answer email all at the same time, making Gary an ideal intern for unclebarky.com if he weren't so intent on catching bad guys or getting on Harken's nerves.
***
Nina Theroux (Laura Mennell) is an "influencer" whose powers of suggestion make you do whatever you're told. Such as a traffic cop eating a ticket after she tells him to do just that. Too bad she had no sway over the Casey Anthony jury.
Monday's premiere episode also introduces a grocery store worker named Cameron Hicks (Warren Christie), who initially is programmed to be an assassin by some guy with a bad-looking festering wound on his hand. Hicks eventually is rescued by Dr. Rosen, who diagnoses him with hyperkinesis. This gives the Alphas something they didn't have before -- a guy with a flawless aim and perfect balance. Or as the doc tells him, "You have a neurological difference that confers some exceptional advantage. But you are not alone." Perhaps his real powers lie in not falling asleep while getting this info. from his ponderous new mentor.
All of the Alphas are prone to freaking out on a moment's notice. Particularly Harken, it seems. But things just don't jell very well on any level in the all-important introductory episode. Viewers aren't likely to have the worst of times watching it, but definitely not the best of times either.
Alphas
looks fairly good on paper, but never catches fire. And its use of Strathairn is even more of a fizzle.
GRADE:
C