CBS adds four newcomers, axes two oldies, rescues Medium
05/20/09 10:12 AM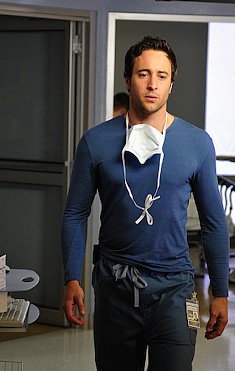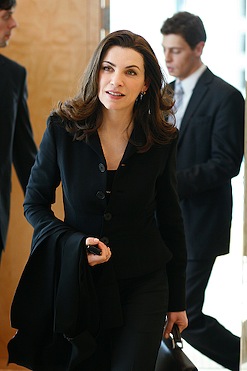 Alex O'Loughlin, Julianna Margulies star in new CBS fall dramas.
By ED BARK
Without A Trace
and
The Unit
no longer are in CBS' picture, but
Medium
and an
NCIS
spinoff are.
The No. 1 network in total viewers announced its new fall schedule and some midseason entries Wednesday. Three new dramas and a comedy are coming this September while
Medium
will be compatibly paired with
Ghost Whisperer
on Friday nights after NBC gave up the ghost. CBS has a track record of profiting at NBC's expense. It picked up
JAG
after the Peacock dropped it. And you know how that went.
To make room for
Medium
, CBS canceled its Canadian import,
Flashpoint
, which had settled in between
Ghost Whisperer
and
Numb3rs
. The first-year series
Eleventh Hour
also was dropped.
Without a Trace
, which had a seven-season run, will be supplanted on Tuesday nights at 9 (central) by a new legal drama starring
Julianna Margulies
. On Sunday nights,
The Unit
's spot goes to
Cold Case
which is being moved back an hour.
The Unit
premiered in March 2006.
CBS also announced that
Rules of Engagement
again will await a midseason berth. This season's biggest freshman hit,
The Mentalist
, will be moved from Tuesday's at 8 p.m. to Thursdays at 9 p.m., where it will inherit a lead-in audience from the network's still potent
CSI: Crime Scene Investigation
before going head-to-head with NBC's
The Jay Leno Show
.
Here are CBS' four new fall series:
NCIS: Los Angeles
(drama) -- The spinoff, introduced this spring, stars Chris O'Donnell and LL Cool J. O'Donnell plays special agent "G" Callen, a "chameleon" who infiltrates the criminal underworld in various guises. Cool J is Navy SEAL Sam Hanna, a veteran of both Afghanistan and Iraq.
The Good Wife
(drama) -- Julianna Margulies, best known for her starring role on
ER
, stars as defense attorney Alicia Florrick. She re-enters the legal profession after her husband is jailed in a public sex and political corruption scandal. Nice. Hubby is played by fellow TV vet Chris Noth (
Law & Order, Sex and the City
).
Three Rivers
(drama) -- Hunky Alex O'Loughlin, cast as a vampire in CBS' short-lived
Moonlight
, is recast as blood-drawing Dr. Andy Yablonski, an organ transplant surgeon. He heads a team where "every moment counts during dealings with "donor families in their darkest hours."
Accidentally On Purpose
(comedy) -- Jenna Elfman, who came to prominence in ABC's
Dharma & Greg
, returns to prime-time as a newspaper film critic who unexpectedly becomes pregnant during a dalliance with her younger "boy toy." They decide to keep the baby and live together platonically while her boss (played by Grant Show) tries to renew their un-platonic relationship.
Here's CBS' night-by-night fall schedule, with all times central
MONDAY
7 p.m. --
How I Met Your Mother
7:30 p.m. --
Accidentally On Puurpose
8 p.m. --
Two and a Half Men
8:30 p.m. --
The Big Bang Theory
9 p.m. --
CSI: Miami
TUESDAY
7 p.m. --
NCIS
8 p.m. --
NCIS: Los Angeles
9 p.m. --
The Good Wife
WEDNESDAY
7 p.m.
The New Adventures of Old Christine
7:30 p.m. --
Gary Unmarried
8 p.m. --
Criminal Minds
9 p.m. --
CSI: NY
THURSDAY
7 p.m. --
Survivor
8 p.m. --
CSI: Crime Scene Investigation
9 p.m. --
The Mentalist
FRIDAY
7 p.m. --
Ghost Whisperer
8 p.m. --
Medium
9 p.m. --
Numb3rs
SATURDAY
7 p.m. --
Crimetime Saturday
8 p.m. --
Crimetime Saturday
9 p.m. --
48 Hours Mystery
SUNDAY
6 p.m. --
60 Minutes
7 p.m. --
The Amazing Race
8 p.m. --
Three Rivers
9 p.m. --
Cold Case
CBS also has announced these midseason new series:
Miami Trauma
(drama) -- A crack team of surgeons strut their stuff and clash with one another in a medical hour from
CSI
franchise creator Jerry Bruckheimer. Starring a cast of unknowns.
The Bridge
(drama) -- Charismatic cop Frank Leo (newcomer Aaron Douglas) "battles criminals on the street, corruption in the ranks and his own bosses." Boy, they're always coming up with original concepts, aren't they?
Arranged Marriage
(reality) -- Three adults yearning to get hitched allow their family and friends to "choose someone for them to marry based on shared goals, values, experiences and the commitment to make it work." Then cameras follow them around.
Undercover Boss
(reality) -- High-level corporate execs secretly slip into the "lowest level jobs within their companies." They supposedly learn about themselves, how the company is really run and what their employees think of them. Oh, if only this was set at
The Dallas Morning News
-- and I was still there. Happy happy, joy joy. But no dice.