USA's Common Law has a common thread
05/10/12 10:40 AM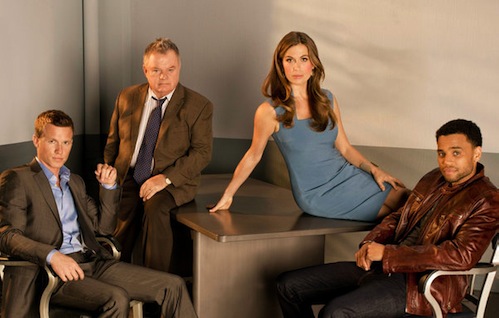 Disparate detectives Wes Mitchell and Travis Marks flank the cranky cop shop boss and the comely therapist on Common Law. USA photo
Premiering:
Friday, May 11th at 9 p.m. (central) on USA network
Starring:
Michael Ealy, Warren Kole, Sonya Walger, Jack McGee
Produced by:
Jon Turteltaub, Craig Sweeny, Cormac Wibberley, Marianne Wibberley
By ED BARK
@unclebarkycom
Nice 'n' breezy does it on USA. Even a "procedural" cop show is garnished with do-wacka-do music, whether its odd couple detective are chasing wrongdoers or fighting with each other.
Keeping it light is this network's MO, though. And the successes of
Royal Pains, Psych, Burn Notice, White Collar, Suits
and others indicate there's still no overriding reason to play hardball.
The latest caper is called
Common Law
, which has its 90-minute premiere on Friday, May 11th at 9 p.m. (central). Before the action begins, viewers get a needless printed dose of wisdom from (urp) Dr. Phil, whose
Relationship Rescue
book admonishes, "You may feel as though you know your partner quite well -- maybe too well . . . but you'd be surprised at what you don't know."
Then it's on to an opening couples counseling session presided over by the fetching Dr. Emma Ryan (Sonya Walger). Among the attendees are L.A. detective partners Travis Marks (Michael Ealy) and Wes Mitchell (Warren Kole), whose still cranky precinct captain, Mike Sutton (Jack McGee), has already been through this drill.
Travis is a serial-dating product of 18 foster homes and Wes is a divorced former lawyer with more than a little obsessive-compulsive Monk in him. So in TV terms, they make a perfect imperfect pair whose constant squabbling prompts their boss to lament, "Why do my two best detectives have to be the biggest pain in my ass?"
Ain't that always the way?
Wes and Travis are quickly investigating the homicide death of a recovering heroin addict whose father is a federal judge and whose brother is dyslexic. But virtually non-stop banter and recriminations are the order of the day. So much so that it's almost beside the point who the killer really is. And as with last month's first episode of CBS'
NYC 22
cop show, many a viewer will be able to deduce the culprit well before the detectives finally zero in on him/her.
Common Law
also pads its 90-minute premiere with a completely beside-the-point convenience store robbery that does little more than make crooks out of three prototypical black thugs. That's not to say that all bad guys have to be white in the interests of political correctness. But this is purely gratuitous, even if the writers might be thinking,"One of our two leads is black, so we've already covered that base."
Ealy and particularly Kole inject no small amount of appeal into their law enforcing antagonists. So
Common Law
is watchable in that respect, even when push literally comes to shove and the boys crash through a precinct office window while grappling with one another. Regardless, the mood music remains in cheery "Pop Goes the Weasel" mode.
Therapist Emma eventually just happens to drop into a bar where Wes is drowning his sorrows.
"You are so alike," she tells him. "That's why you fight. You're like brothers."
There, all better. And just in time for Wes to experience one of those lightbulb moments that leads him to both finger the killer and reunite with his partner to help close the deal.
Common Law
looks to be a halfway decent alternative on a night that's not exactly brimming with first-rate viewing options. In the grand USA scheme of things, it's pretty much same old, same old. But that's still a workable recipe on an NBC Universal-owned network that long has known what it's all about while the NBC broadcast network continues to flail about.
GRADE:
B-minus