Brendan Gleeson remains a cut above in Season Two of Audience network's Mr. Mercedes
08/21/18 02:20 PM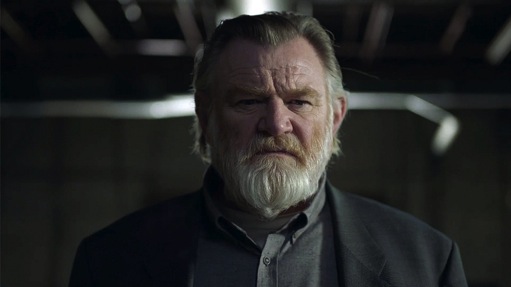 Brendan Gleeson again excels as the driving force of Mr. Mercedes.
Audience network photo
By ED BARK
@unclebarkycom on Twitter
The pace is deliberate at best, and in full-dawdle at times as Season Two of the Audience network's
Mr. Mercedes
begins just a bit before the first one left off.
But whenever Brendan Gleeson's in the picture, your time is not of the essence. His face has been lived in. Boy, has it ever. It's lined with character, furrowed with loss, steeled by a resolve to settle scores. As retired, divorced detective Bill Hodges, the under-appreciated Gleeson has found the role of his lifetime in what Stephen King terms his first series of tradition-rich, hardboiled detective novels.
Mr. Mercedes
, which returns with another 10 episodes on
Wednesday, Aug. 22nd at 9 p.m. (central)
, was released as a novel in June, 2014. The nothing if not prolific King then churned out
Finders Keepers
a year later and completed his trilogy with
End of Watch
in June, 2016.
The second season of
Mr. Mercedes
jumps ahead to
End of Watch
while skipping past an unconnected murder mystery that drove its predecessor. So the featured psychopath is still Brady Hartsfield (Harry Treadaway), who wantonly had driven a Mercedes into a crowd of applicants at a job fair, killing 16 of them.
At the close of Season One, Hodges and Hartsfield squared off at the site of another of his planned mass killings. But the shopworn Hodges had a heart attack before he could fire his gun, leaving it to young Holly Gibney (Justine Lupe) to save the day by repeatedly bashing Hartsfield in the head with a heavy dog statue.
Hartsfield wound up in a coma while Hodges checked out of the same hospital after first stopping by to warn that "sure as taxes," he'd finish the killer off if he ever dared to regain consciousness.
Season Two rewinds to the ambulance ride shared by the two antagonists before surgery is performed on Hartsfield's badly dented cranium by a new character, Dr. Felix Babineau (Jack Huston). It turns out that he has a very willful wife, Cora (Tessa Ferrer), who heads up the marketing department at a mega-pharmaceutical company. She keeps insisting that her heretofore honorable husband secretly try an experimental drug on Hartsfield, with an eye toward making a financial killing if it indeed can regenerate seemingly dead brain tissue. "I need a partner, not a pussy," is her way of putting it.
After rehabilitating in the hospital to the tune of Perry Como's "Catching A Falling Star," Hodges grudgingly agrees to do some of the legwork for Polly's Finders Keepers investigative agency. She not only conked Hartsfield into submission but is the cousin of Janey Patterson (Mary-Louise Parker from last season), whom Hodges had been dating until she died in a car explosion meant for him.
The second season's premiere episode adds another big loss for Hodges, bringing about some beautifully heartfelt scenes from the actor who so very capably plays him.
Mr. Mercedes
also continues to find just the right music for various occasions, whether it's Randy Newman's "I Think It's Going to Rain Today" or Neil Young's "Till the Morning Comes." The latter is heard on Hodges' record player, because of course he prefers vinyl.
These first two episodes made available for review also include the returns of Nancy Travis as Hodges' ex-, Donna Hodges, and Holland Taylor as his next door neighbor, Ida Silver. Travis is especially busy of late, also co-starring in Fox's revival of
Last Man Standing
and opposite Michael Douglas in Netflix's upcoming
The Kominsky Method
series.
Mr. Mercedes
has yet to fire on all cylinders in the early stages of Season Two. But a nice slow simmer is well-suited to Gleeson's talents as an actor who doesn't mind taking his time in further molding a character with a gruff exterior and an old, buttered soul. It's a beauty of a savory performance, with the bigger chills still coming. All in due time.
GRADE:
B+
Email comments or questions to:
unclebarky@verizon.net