The CW's L.A. Complex: worth watching on a network that's now barely noticed
04/23/12 02:28 PM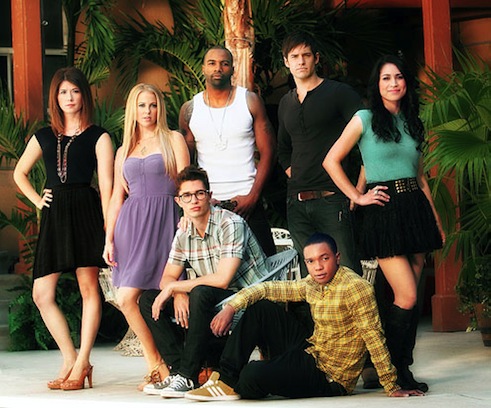 Everyone's hoping to get lucky in The L.A. Complex. CW photo
Premiering:
Tuesday, April 24th at 8 p.m. (central) on The CW
Starring:
Jonathan Patrick Moore, Cassie Steele, Benjamin Charles Watson, Jewel Staite, Joe Dinicol, Chelan Simmons, Andra Fuller
Produced by:
Linda Schuyler, Stephen Stohn, Martin Gero
By ED BARK
Winding down its worst season ever, The CW somehow hopes to get noticed down the homestretch with a new drama about Hollywood dreamers and schemers desperately hoping to get noticed.
The L.A. Complex
, which actually deserves a look, replaces what had been CW's best hope for the fall, Sarah Michelle Gellar's
Ringer
. But the 2011-'12 TV season has been a hell hole for the increasingly pint-sized network, which now is doing only half as well as Univision in both total viewers and advertiser-prized 18-to-49-year-olds.
In that context, one of this series' principal characters is telling a larger truth when she laments, "You can give everything you have here, and it still might not be enough."
CW sent the first three episodes of
L.A. Complex
for review. And on a network where one is usually more than enough, three didn't seem like too many. So much so that you actually might develop a rooting interest in one or more of these fame-seekers, most of whom live from hand to mouth in a faded sub-Melrose Place known as The Deluxe Suites.
It's actually a motel complex with its own party band, Whale Tooth, and ample action around the pool. But the aspiring residents mostly must pool their resources while traipsing from one disappointment to the next.
Raquel Westbrook (Jewel Staite) once knew success as a co-star of the TV series
Teenage Wasteland
. Now she's too old for teen parts and too faded to be on anyone's B-list. Think Shannen Doherty, except that Raquel is rather likable even when she's deluding herself and conning others.
There's also a bespectacled, budding comedian named Nick Wagner (Joe Dinicol), who keeps bombing at comedy clubs and striking out with the ladies as well.
"My whole life is awkward hugs with beautiful women," he deadpans.
In one of the series' unexpected turns, Mary Lynn Rajskub of
24
fame guest-stars in Tuesday's premiere episode as a very douche-y version of herself. Nick is on her receiving end, and she's absolutely merciless with him.
Another interesting character, Abby Vargas (Cassie Steele), is down to her last nickel while still hitting the bricks in search of even a wisp of an acting part. Nick has a crush on her, but she has eyes for studly Aussie Connor Lake (Jonathan Patrick Moore), who's just landed a part as a doctor on a cheesy medical series.
There's also Tariq Muhammad (Benjamin Charles Watson), whose internship at a hip-hop record company, DyNasty, is not at all what he'd hoped for.
"They said they wanted a go-getter," he tells Abby. "But all they really want is somebody to go get."
His life is about to change, though, when hip-hop star Kaldrick King (Andra Fuller), takes a hard-knocks liking to him on several levels. Their volatile relationship is surprisingly well-crafted over the course of the first three episodes.
The seventh main character, Alicia Lowe (Chelan Simmons), is an aspiring dancer whose moneymakers otherwise make ends meet during her hardly surprising night job.
Other aspects of
L.A. Complex
also are telegraphed. But predictably doesn't lessen the overall appeal of the core cast. The writing is surprisingly strong, too.
On the surface at least, it's hard to imagine responding to CW's three-pronged tagline attack of "Small fish. Big pond. Huge dreams." Wonder of wonders, though, this series sells its premise while only occasionally trying way too hard. Its nutshell is Alicia telling Nick, "I was hoping I would have heard by now."
And Nick replying, "We all shoulda heard by now."
Maybe word of mouth can somehow keep
L.A. Complex
among the living on a network that can't seem to stop itself from slip sliding away. It's CW's best new series in several seasons. But it's late in coming and likely facing even steeper odds than its wannabes.
GRADE:
B