Motley crew: FX's Unsupervised gives cartoon characters another case of the miseries
01/18/12 06:16 PM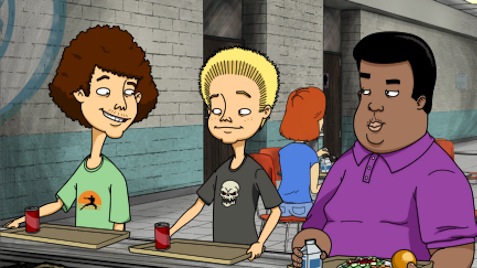 Best pals Gary, Joel and Darius of Unsupervised. FX photo
Premiering:
Thursday, Jan. 19th at 9:30 p.m. (central) on FX
Voiced by:
David Hornsby, Justin Long, Kristen Bell, Romany Malco, Fred Armisen, Andre Sogliuzzo, Kaitlin Olson, Maria Bamford, Scott Marder, Rob Rosell, Alexa Vega, Sally Kellerman
Produced by:
Rob Rosell, Scott Marder, David Hornsby
By ED BARK
Being a cartoon character can be a beating these days.
Not from a physical standpoint. Wile E. Coyote, Popeye and Sylvester the Cat took far more lump-raising punishment than any of today's made-for-TV drawings. Now it's the mental anguish, the mind games, the head-hurting realization that you're a dead solid loser.
Fox's new animated version of
Napoleon Dynamite
began by giving its namesake a very bad case of forehead zits after his older brother hit him with a godawful piece of greasy gas station chicken. What's for dinner? Usually crap.
Down and out is also a way of life in FX's
Unsupervised
, which premieres
Thursday, Jan 19th at 9:30 p.m. (central)
following the Season 3 launch of the animated spy spoof
Archer
.
Best pals Gary and Joel (Justin Long, David Hornsby) are high school kids without an upstanding parental unit between them. Joel's mom and dad are entirely unseen in the first two episodes sent for review. But FX publicity materials say they're elderly and "uninvolved."
So Joel mostly hangs out at Gary's dump, where stepmom Carol (Kaitlin Olson) is a listless pothead who's dating another loser after her loser husband ran off and left her.
The two boys strive to fit in, get laid and somehow rise above their stations. But they also share an oddly uplifting
joie de vivre
, accentuating positives in a manner that make them more Bert and Ernie than Beavis and Butt-head.
Schoolmates include gal pal Megan (Kristen Bell taking time away from her new co-starring role in Showtime's
House of Lies
) and obese black dude Darius (Romany Malco), who's no Fat Albert but lets the sun shine through his basically upbeat disposition. All four are fated to forever muddle through, it seems. But their shoulders aren't slumped just yet.
Also chipping in are a divorced Hispanic neighbor named Martin (Fred Armisen from both
Saturday Night Live
and
Portlandia
) and Sid the muscular Aussie (Andre Sogliuzzo), who's always shirtless and something of a role model.
The language is dicey throughout, but not really gratuitous under the circumstances. One of the tamer lines comes from Megan, who wonders, "Why are guys so obsessed with breasts? They're just mounds of fat."
This doesn't at all deter Gary and Joel from diggin' 'em.
Hornsby, the aforementioned voice of Joel, is also a co-creator and producer of
Unsupervised
. Earlier this season, he created and co-starred in the CBS sitcom
How to Be A Gentleman
, which was canceled in an eye blink after losing too much of its lead-in audience from
The Big Bang Theory
.
Gentleman
wasn't all that bad, and neither is
Unsupervised
. Still, it's hard to envision it as a compatible followup to the perfect pulchritude on frequent display in the smoothly smarmy
Archer
.
In contrast, just about everything is unkempt in
Unsupervised
, particularly Joel's virtually decomposed hand-me-down underwear. But Gary steps up to buy him a new pair, and the boys end the first episode happily sleeping out on a rooftop.
Such are the hard-won charms of this show, which has its sweet spots and occasionally deft one-liners. As when Joel tries to butter up a well-to-do divorced dentist in hopes that he'll agree to a blind date with dope-addled Carol.
"Without you we wouldn't have no smiles," he tells him.
Unsupervised
might induce at least a small handful of smiles per episode. But only if its mood strikes you.
GRADE:
C+