The Millers arrives amid prime CBS real estate
10/02/13 10:43 AM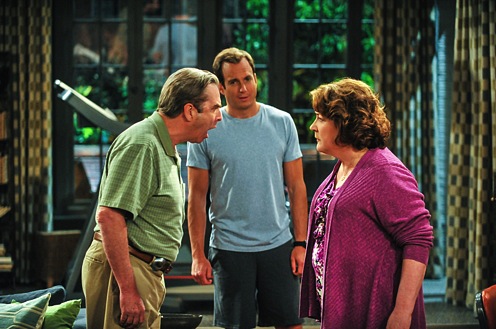 Beau Bridges, Will Arnett, Margo Martindale of The Millers. CBS photo
Premiering:
Thursday, Oct. 3rd at 7:30 p.m. (central) on CBS
Starring:
Will Arnett, Margo Martindale, Beau Bridges J.B. Smoove, Jayma Mays, Nelson Franklin, Eve Moon
Produced by:
Greg Garcia
By ED BARK
@unclebarkycom on Twitter
Aging, cantankerous and/or befuddled parents are the fall season's new sitcom normal.
The barrage has included
Dads, Mom, Back in the Game, The Crazy Ones, The Goldbergs
and now CBS'
The Millers
. This time out they have the added attribute of actually being pretty funny.
Beau Bridges and Margo Martindale, who also respectively work in the esteemed cable series
Masters of Sex
and
The Americans
, are the solid pros of
The Millers
, which will have luxurious prime-time accommodations between
The Big Bang Theory
and Robin Williams'
The Crazy Ones
, which launched last Thursday.
A younger seasoned pro, Will Arnett, is caught in the middle as their newly divorced son. Problem is, he hasn't told them about this yet. And when he does, Tom and Carol Miller use it as good reason to put their own divorce in motion after 43 years of marital strife.
Arnett and
The Millers'
creator and executive producer, Greg Garcia, are both going against the grains of their recent comedy projects. Arnett so far has worked without a net -- no studio audience or laugh track -- in
Arrested Development
and two subsequent bombs, Fox's
Running Wilde
and NBC's
Up All Night
. Garcia likewise has helmed two comedies without artificial additives -- NBC's
My Name Is Earl
and Fox's ongoing
Raising Hope
.
The Millers
in contrast is very much an old-school "conventional" sitcom, with roars of laughter for exchanges like this one between Bridges' Tom and Martindale's Carol.
She contests his contention that they haven't had sex in 10 years. He protests, "You walked in on me masturbating!"
"And I stayed until you finished your business," Carol parries. "That counts!"
"No, it doesn't count!" Tom bellows. "It doesn't count because you were criticizing me the whole time!"
Arnett's series of mortified reactions, as son Nathan, have a good deal to do with selling this exchange before Tom finally walks out and takes up residence with Nathan's sister, Debbie (Jayma Mays), her husband, Adam (Nelson Franklin) and their pre-teen daughter, Mikayla (Eve Moon). Carol, of course, strong-arms her way into living with Nathan and continuing to vex him.
Unlike many sitcom sons in such predicaments, Nathan is reasonably successful as a TV reporter whose trademark feature is "Walking Your Streets." His cameraman and best friend Ray is played by the always welcome J.B. Smoove (
Curb Your Enthusiasm
).
Arnett gets these different comedy rhythms down pretty well in Thursday's premiere episode. Martindale also adapts quickly to her very first outing as a sitcom regular after years of gainful employment in drama series. Besides
The Americans
they include
Justified, Dexter
and a bit part in the first episode of
Masters of Sex
, where Bridges has much more to do.
The Millers
has a sweet 'n' funny mother-son rapprochement down the stretch. But is also sticks Martindale with some bargain basement fart jokes (which she survives) while Bridges' character is a veritable Ozzy Osbourne with anything mechanical, whether it's the microwave oven or the TV remote.
There's plenty to sustain
The Millers
over what could be a pretty long haul. The show has both star quality and stars who know how to work the material. Producer Garcia likewise is a ring-wise show runner with something of a golden touch when it comes to off-center characters of lower economic status.
In that respect, his newest creation is comparatively refined and well-heeled. But it's also well-suited -- and well-situated -- for bigger mass consumption.
GRADE:
B
Email comments or questions to:
unclebarky@verizon.net