FALL TV PREVIEW: New series -- Gossip Girl (CW)
09/18/07 02:39 PM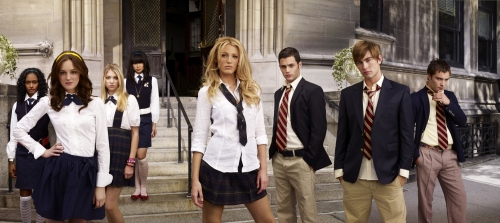 Hey, we're catty, bratty and boorish. Watch. You'll see. xxx.ooo.
Premiering:
Wednesday, Sept. 19 at 8 p.m. (central) on CW
Starring:
Blake Lively, Leighton Meester, Chace Crawford, Penn Badgley, Taylor Momsen, Ed Westwick, Matthew Settle, Kelly Rutherford, Nan Zhang, Nicole Fiscella
Produced by:
Josh Schwartz, Stephanie Savage
By ED BARK
"Did B think S would go down without a fight? Or can these two hotties work it out? There's nothing Gossip Girl likes more than a good catfight. And this could be a classic."
Yes, the B.S. is spread pretty thick on CW's
Gossip Girl
, which is hardly a classic. Adapted from the series of "young-adult" novels by Cecily von Ziegesar, it's producer/writer Josh Schwartz's followup to
The O.C.
Oh see if you can stand his new set of "privileged prep school teens" and the unseen but regularly heard blogger who chronicles their single-minded pursuits of self-gratification.
Kristen Bell, former star of
Veronica Mars
, happily dishes the dirt off-camera. What a tease. "And who am I?" she asks rhetorically. "That's one secret I'll never tell. The only one."
Gossip Girl
clearly isn't aimed at critics old enough to have post-teenage kids, I say rhetorically. So take that under advisement while yours truly wonders what kinds of messages are being sent by the show's vacuous, value-less Manhattan preppies.
For one, they drink and diss with abandon -- and with their parents' money, of course. See them cluster by night at a very exclusive "Kiss on the Lips" party, to which sudden outcast Serena "S" van der Woodsen (Blake Lively) isn't invited.
Serena's newly back in town after briefly and mysteriously exiling herself to a Connecticut boarding school. Former best friend Blair "B" Waldorf (Leighton Meester) is now her enemy, particularly after learning that Serena got drunk and very familiar with boyfriend Nate Archibald (Lubbock-born, Plano-raised Chace Crawford). He's no relation to the former NBA scoring champ that some icky oldsters remember.
Sub-callow Chuck Bass (Ed Westwick) is on the prowl, too. He's a drunken, womanizing, prancing pig who should be flung off the Chrysler building to his death before a needy homeless person runs off with his Rolex. Instead, of course, he's popular.
Gossip Girl
's white knight, for now at least, is prep school newcomer Dan Humphrey (Penn Badgley), not yet in a clique. His dad, Rufus (Matthew Settle), is an art gallery owner who used to be part of a rock group dubbed by
Rolling Stone
as one of the Top 10 Forgotten Bands of the '90s. (P.S.
RS
might well sell its soul for a mention on
According to Jim
these days.)
CW seems to think it has a hot property in
Gossip Girl
, which supposedly speaks to a new generation of younger viewers to whom
Rolling Stone
might as well be
Reader's Digest
. Frankly, though, it insults their intelligence. Or at least that's the hope.
The nose-in-the-air denizens of
Gossip Girl
offer next to nothing of value or substance. A good number of today's teenagers are in Iraq risking their lives or hard at work trying to make ends meet. This show's teens mostly are taxed with little more than what to wear and drink -- and who to screw.
Grade:
D