NBC offers just a trio of fall newcomers (but with much more to come)
05/16/16 06:28 AM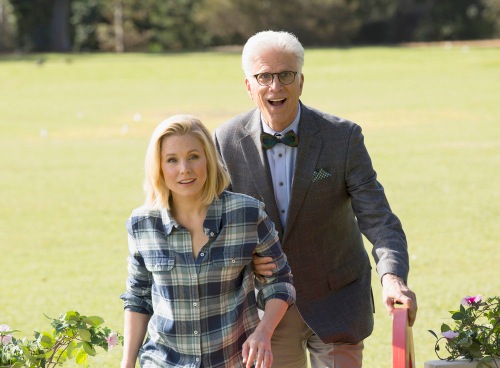 Happily ever thereafter: Kristen Bell, Ted Danson in The Good Place.
NBC photo
By ED BARK
@unclebarkycom on Twitter
Touting its ongoing "momentum," NBC is out CBSing CBS with just three new series in its 2016-17 fall prime-time schedule.
That's half the number unveiled last May and assuredly a record low for the Peacock, which headlined its announcement late Sunday morning with "NBC augments its stable schedule." CBS, again the runaway leader in the total viewers Nielsen ratings, traditionally has had the fewest fall newcomers. But NBC, which will finish a close second among advertiser-prized 18-to-49-year-olds, has set a seemingly unbeatable low bar among the Big Four broadcast networks.
The Peacock has renewed five freshman series, led by the Steve Harvey-hosted midseason smash
Little Big Shots
. Also getting sophomore years are
Blindspot, Shades of Blue, Superstore
and
Chicago Med
. Not that there haven't been a slew of cancellations, some of them announced months ago. The final list is:
The Mysteries of Laura, Crowded, Game of Silence, Undateable, Heartbreak, Heroes Reborn, Truth Be Told, The Player, Telenovela, Best Time Ever with Neil Patrick Harris
and
You, Me and the Apocalypse
.
An announced
Coach
reboot starring Craig T. Nelson never aired due to creative shortcomings. And
The Carmichael Show
, which premiered last August and returned this spring, got an 11th hour reprieve after NBC and Twentieth Century Fox studios settled a disagreement over how many episodes would be ordered. The two sides agreed on 13, but the renewal came to late to include
The Carmichael Show
in NBC's fall season announcement.
Among fall's three newcomers, the sitcom
The Good Place
easily houses the most star power. It's fronted Ted Danson, who's returning to the network that made him a star in
Cheers
, and Kristen Bell (
Veronica Mars, House of Lies
).
NBC also is getting the second half of
Thursday Night Football
, kicking it off on Nov. 17th after CBS finishes with its slate of games.
Night-and-time switches aren't nearly what they used to be, given all the options of watching TV programming on a viewers' schedule rather than at the appointed hour. But for the record, NBC is switching
Blindspot
from Mondays at 9 p.m. (central) to the Wednesday leadoff spot, where it replaces
The Mysteries of Laura
.
Here are more details on the Peacock's trio of fall freshman:
Timeless
(drama) -- A "mysterious criminal" steals a secret time machine and uses it with an intent to destroy "America as we know it by changing the past." Teaming to thwart him are a scientist, a soldier and a history professor (but not a tinker, a tailor or a candlestick maker). Goran Visnjic from
ER
and
Extant
is the most familiar face amid a cast that also includes Abigail Spencer and Matt Lanter.
This Is Us
(drama) -- Mandy Moore, Milo Ventimigilia and Sterling K. Brown (fresh from playing prosecutor Christopher Darden in FX's acclaimed
The People v O. J. Simpson
) star in a "refreshingly provocative and honest" tale about a "unique ensemble whose paths cross and their life stories intertwine in curious ways." Imagine this: some of them even share the same birthday, says NBC.
The Good Place
(comedy) -- The aforementioned Danson and Bell team up in the afterlife in hopes of making her a better person than she was down below.
Here is NBC's night-by-night fall lineup:
Monday
The Voice
Timeless
Tuesday
The Voice
This Is Us
Chicago Fire
Wednesday
Blindspot
Law & Order: SVU
Chicago P.D.
Thursday
Superstore
The Good Place
Chicago Med
The Blacklist
Friday
Caught On Camera with Nick Cannon
Grimm
Dateline NBC
Saturday
Saturday Dateline Mysteries
Saturday Night Live (encores)
Sunday
Football Night In America
Sunday Night Football
NBC also has a post-Summer Olympics "reality" hour and a wealth of new midseason series, plus the returns of
Shades of Blue, Little Big Shots, Hollywood Game Night
and a new version of
The Celebrity Apprentice
with Arnold Schwarzenegger and without Donald Trump.
Here are the bench players:
Midnight Texas
(drama) -- A remote Texas town is infested with vampires, witches, psychics, hit men and other assorted denizens who are not what they seem. It's adapted from the Charlaine Harris series of books after her Sookie Stackhouse novels were the basis for HBO's
True Blood
. Starring are people named Francois Arnaud, Dylan Bruce, Parisa Fitz-Henley, Arielle Kebbel and Yul Vazquez among others.
The Blacklist: Redemption
(drama) -- It's a "thrilling" spinoff starring Famke Janssen, Ryan Eggold, Edi Gathegi and Tawny Cypress.
Chicago Justice
(drama) -- Relentless executive producer Dick Wolf adds to his windy city franchise with a dedicated group of prosecutors. Philip Winchester and Carl Weathers head the cast.
Emerald City
(drama) -- Isn't ABC already doing this with
Once Upon a Time
? But here's NBC with the fantasy saga of a 20-year-old Dorothy Gale and a K9 police dog who are swept into a "mystical land of competing realms, lethal warriors, dark magic and a bloody battle for supremacy." Vincent D'Onofrio and Adria Arjona star.
Taken
(drama) -- Clive Standen (Rollo from
Vikings
) steps in for Liam Neeson in this "origin story" of former Green Beret Bryan Mills. Jennifer Beals is also in the mix.
Great News
(comedy) -- Tina Fey co-executive produces a workplace laughter in which mother and daughter must somehow withstand each other as staffers in a TV newsroom. Andrea Martin plays mama.
Marlon
(comedy) -- Marlon Mayans plays an "immature" father (in sitcomdom there's no other alternative) who strives to raise two kids with "very together" ex-wife (Essence Atkins).
Powerless
(comedy) -- DC Comics superheroes are played for grins, with
High School Musical
alum Vanessa Hudgens starring as an insurance adjuster "specializing in regular-people coverage against damage" caused by them. But what happens when she becomes a cult hero in her own right?
Trial & Error
(comedy) -- A wet-behind-the-ears New York lawyer played by Josh Segal journeys to a teeny Southern town to defend a wacky poetry professor (John Lithgow) accused of murdering his wife. "
Making a Murderer
can be funny!" says NBC. That refers to the controversial Netflix documentary series, which was decidedly unamusing.
Better Than Never
(Aug. 23rd after the Summer Olympics) -- This one sounds more intriguing on paper than any of the above. William Shatner, Henry Winkler, George Foreman and Terry Bradshaw are let loose in Asia "on their own with no schedule and no itinerary." NBC promises "hilarious cultural experiences, heartwarming spectacles and unexpected twists."
First Dates
(reality) -- Ellen DeGeneres executive produces and Drew Barrymore narrates this "voyeuristic look at a variety of real first dates happening throughout one night at the same restaurant in Chicago."
The Wall
(reality) -- Has Trump demanded a finder's fee yet? LeBron James' production company otherwise is behind this survival game "set in a large glossy arena centering on a colossal 40-foot wall." Contestants are asked to combine "quick thinking, shrewd strategy and a little luck."
Email comments or questions to:
unclebarky@verizon.net