Late night shocker: Nightline being pushed back an hour to make way for Kimmel
08/21/12 12:34 PM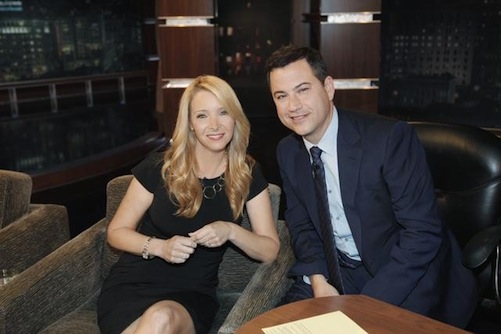 Jimmy Kimmel with recent guest Lisa Kudrow. ABC photo
By ED BARK
@unclebarkycom
The new year will bring a classic good news/bad news scenario for ABC's
Nightline
.
The good news: the long-running late night news program will be getting a weekly Friday prime-time berth, starting on March 1st.
The bad news: In what amounts to Ted Koppel's worst nightmare,
Nightline
and its trio of anchors will be pushed back an hour to 11:35 p.m. (central), beginning on Jan. 8th. The network's
Jimmy Kimmel Live
will move up to 10:35 p.m. to go directly against CBS'
Late Show with David Letterman
and NBC's
The Tonight Show with Jay Leno
.
ABC announced this sea change early Tuesday afternoon, saying it will be "capitalizing on ratings momentum, advertising demand and increased revenue potential for entertainment programming."
Nightline
in many ways has become a de facto entertainment program of late, and its ratings generally are stronger than the first half-hours of Leno and Letterman. But according to Disney/ABC Television Group co-chair Anne Sweeney, Kimmel's "passionate fan base" in addition to the show's "ratings and creative momentum this season" convinced the network that "the time is right to make this move."
Nightline
's Friday prime-time exposure will begin on March 1st in the 8 p.m. (central) slot preceding ABC's
20/20
. The network otherwise is positioning the demotion behind Kimmel as a way for viewers to "begin and end their day with ABC News."
The network says the Kimmel shift is timed to take advantage of the "built-in promotional platforms" provided by
Dick Clark's New Year's Rockin' Eve with Ryan Seacrest
and the Monday, Jan. 7th college football national championship game on sister network ESPN.
Kimmel also will be hosting the Sept. 23rd Prime-Time Emmy Awards ceremony, with ABC taking its turn as this year's host network.
The trailblazing
Nightline
premiered on March 24, 1980 as an extension of ABC's late night
The Iran Crisis --America Held Hostage
programs. Koppel anchored
Nightline
from its inception until his sign-off on November 22, 2005. In his closing remarks, Koppel said in part, "You've always been very nice to me, so give this new anchor team for
Nightline
a fair break. If you don't, I promise you the network will just put another comedy show in this time slot. Then you'll be sorry."
That will now come to pass early next year, even though
Nightline's
notably softer approach has served to keep its ratings up.
In a September 2011 interview with Seattle ABC affiliate KOMO-TV (before being presented with the Edward R. Murrow Lifetime Achievement Award in Broadcast Journalism), Koppel said of the new
Nightline
: "It's no secret they have become hugely successful because they are doing precisely what I didn't want
Nightline
to do. It's become a show that's heavily oriented into entertainment, more than it is in the direction of information and news."
ABC News President Ben Sherwood, whose division's
Good Morning America
has regularly been whipping former morning kingpin
Today
in the weekly ratings, said that
Nightline
's weekly prime-time perch coupled with its otherwise later start time is a recipe for continued prosperity.
"I'm confident
Nightline
and its dynamic anchors, correspondents and staff will enjoy many successes for years to come," he said.
Whether that in fact happens, Sherwood now will be forever known as the news executive who whistled a happy tune while his network's entertainment division pushed
Nightline
into the near wee hours after almost 33 years as ABC's late night lead-off hitter.