Finding another vain: Nip/Tuck's docs leave Miami for L.A.
10/29/07 06:01 PM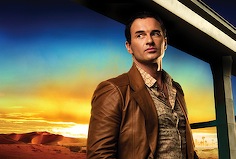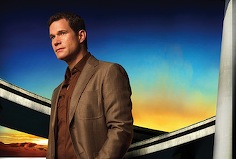 Julian McMahon and Dylan Walsh go coast to coast in new Nip/Tuck
By ED BARK
Entertaining but no longer enthralling, FX's reliably risque
Nip/Tuck
returns for its fifth season with an eye towards threading a new needle.
Can disparate plastic surgeons Sean McNamara (Dylan Walsh) and Christian Troy (Julian McNamara) cut it in L.A. after forsaking Miami? Tuesday's re-opener (9 p.m. central) fast-forwards them into the pincers of a haughty toity Hollywood publicist (Lauren Hutton as Fiona McNeil) and a very overwrought TV medical series called
Hearts 'n Scalpels
. And the boys will take what they can get after their new clinic sits patient-less in its first two months.
Creator Ryan Murphy wanted to change things up and does so without enough dexterity in the first two hours sent for preview.
Nip/Tuck
has never been inhibited in its approach to anything, but a little basic believability wouldn't hurt the overall cause. Then again, the series already may have gone way too far afield to return any of its KY jelly to the tube. That's like asking Tommy Lee to start wearing Brooks Brothers suits. Ain't gonna happen.
Other pivotal characters are left behind in the early going. McNamara's ex-wife, Julia (Joely Richardson), returns in Episode 2 with a new relationship that's supposed to be a jolt but is pretty much telegraphed. A shock on
Nip/Tuck
these days might have to be a love affair with a well-endowed pack mule.
Sean and Julia's troubled oldest son, Matt (John Hensley), now is married to Dr. Troy's ever-nubile ex-girlfriend, Kimber (Kelly Carlson). You won't see either of them in Season 5's first two episodes.
Curt Dr. Liz Cruz (Roma Maffia) makes the trek to Hollywoodland, though. As before, she mostly grouses and snaps at her two bossmen while trying to rebound from various failed relationships with other women.
This leaves ample room for new recurring characters, most notably Hutton's swim-with-the-sharks PR piranha. She plans to generate publicity for the "cute as clams" docs by hooking them up with
Hearts 'n Scalpels
. It's an unbelievably bad melodrama starring high strung actor Aidan Stone (Bradley Cooper) as an even higher strung plastic surgeon.
The series' executive producer is ineffectual Freddy Prune (Oliver Platt), who supposedly is desperate for new storylines and at least a small dose of realism. The newcomers immediately win him over with the saga of a female patient who winds up with "pussy lips" and a deep sense of shame.
Somehow all of this is a big, hanky-wringing hit with today's audiences, even though the acting on this show within the show makes one long for those comparatively delicate performances from William Shatner on
T.J. Hooker
. Alas, some of the "real-life" exchanges between Troy and McNamara have an uncommonly mechanical feel, too.
The first two episodes also accommodate an aging actress enduring a facelift against her better judgment; a younger
Hearts 'n Scalpels
thespian who's ashamed of her gastric bypass scar; two dueling Marilyn Monroe impersonators demanding boob jobs and a studio executive who's badly pockmarked with wounds inflicted by his dominatrix.
Through it all, cocksman Troy is made to feel like a peanut farmer while McNamara suddenly is getting all the girls. It's enough to make him display his hardware in an adult magazine after Hutton's character gets him in the proper mood by flashing her still apparently spectacular twins in next week's episode.
"No matter how old I get," she boasts, "these champagne cups seem to be frozen in time."
Nip/Tuck
has lost some of its muscle tone over time, although it remains FX's most popular series among advertiser-craved 18-to-49-year-olds. Its new surroundings hold some promise, but the opening episodes are more than a bit too labored and tricked up. What a great, jaw-dropping series this used to be before the sag inevitably set in. Let's hope it's not inoperable.
Grade:
B