Fargo's Deputy Molly will be a survivor (by golly)
05/21/14 12:57 PM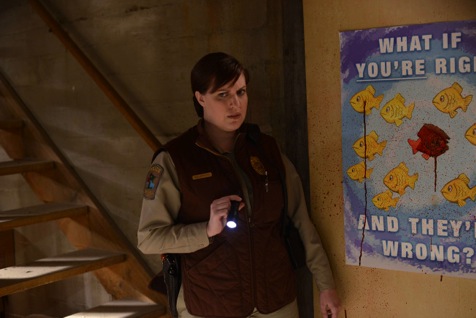 Allison Tolman as inquisitive deputy Molly Solverson. FX photo
By ED BARK
@unclebarkycom on Twitter
Earnest, relatable, dogged deputy sheriff Molly Solverson, the heart and soul of FX's
Fargo
, ended up face-down and motionless in the rapidly mounting snow near the end of Tuesday's death-drenched, blizzard-fueled episode.
The Internet in turn has been abuzz with fears that Molly has been inadvertently and fatally shot by Duluth-based milquetoast Gus Grimley, ostensibly a deputy as well. Literally no one wants to see that. Said
The New York Times'
weekly
Fargo
re-capper, Kate Phillips: "Please tell me Molly doesn't die and I'll promise never to eat crispy whole fish again." (Those who watched will get that reference.)
The actress who plays Molly, Sugarland, TX native Allison Tolman in a potentially star-making role, wants you to know she'll remain very much among the living. Not that she could divulge a whole lot more during a Wednesday teleconference with TV writers.
"I can say that I know everyone's quite upset about what happened," she says. "But the more savvy fans of mine have gotten on
imdb(.com)
to see how many episodes I have. So I don't think they should be too worried."
Indeed she's listed as appearing in all 10 episodes, with four remaining after Tuesday's "Buridan's Ass" hour.
Tolman, a Baylor University graduate who lived in Dallas for five years before moving to Chicago in 2009, also lets it be known that "for sure that sort of 'buddy' relationship we see between Gus (Colin Hanks) and Molly is kind of derailed a little bit" by Tuesday's chilling sequence. "It's a setback for her (Molly)" and a departure "from the track that we were on."
In future episodes of
Fargo
, which will have its Season 1 finale on June 17th, Molly will grow closer to her stern and so far rather clueless boss, Sheriff Bill Oswalt (Bob Odenkirk).
"The relationship between the two of them goes into really beautiful places," Tolman says. "And I'm really excited for people to see it."
While in Dallas, Tolman helped to found the independent, non-profit Second Thought Theatre.
Her website
lists several Dallas stage credits, including
Collected Stories
for Second Thought,
The Full Monty
for Theatre Three and
Debbie Does Dallas
(she played Lisa) for Kitchen Dog Theatre.
"Getting out of college is like the scariest time in anyone's life, I think," Tolman says. "Dallas is where I figured out how to balance a checkbook and that you have to have a job."
She left after being accepted to Chicago's Second City Conservatory Training Program, from which she graduated in 2011. Numerous cast members of
Saturday Night Live
learned the rudiments of improv and sketch comedy while at Second City. And yes, Tolman very much wanted to become part of that tradition.
"The dream would be to be on
Saturday Night Live
," she says. "That was definitely a goal of mine for several years."
She's also worked a variety of everyday jobs, and was a post-production manager at a pin-up photography studio in Chicago when her agent got her a tryout for
Fargo
. Tolman assumed she wouldn't get the role, but to her surprise remained in the running. She remembers calming saying "Thank you" after getting the news that since has changed her life. "When I first got the call, I was probably in shock," Tolman says. "I know inside I was definitely freaking out and losing my mind."
She dutifully remained with the photography studio until the end of the month before beginning preparations for
Fargo
, which is filmed in Calgary. Rave reviews have followed, making Tolman a true overnight star in her first screen role beyond a few bit parts. Such as playing "Nurse" in a 2006 episode of Fox's
Prison Break
and "Tink" in a few episodes of the Logo network's
Sordid Lives: The Series
.
Fame has since found her.
'I'm definitely not comfortable with it yet," Tolman says. "There are parts about it that are really fun . . . but it certainly is odd. I'm 32. I've been in this business for 10 years" without any real interest in being a celebrity. "So I'm kind of having to recalibrate."
FX hasn't yet renewed
Fargo
for a second season. So Tolman is "just sitting tight" and waiting like everyone else. There's also the strong likelihood that
Fargo
will be in the mold of HBO's
True Detective
, which plans to introduce a new crime story with all-new characters in each new season. But it hasn't officially been picked up yet either, despite uniform acclaim for the performances of Matthew McConaughey and Woody Harrelson. They won't be returning to
True Detective
and
Fargo
almost assuredly would have to move on without Billy Bob Thornton's sinister Svengali.
Keith Carradine, who plays her ex-cop father on
Fargo
, has wisely counseled her that "the life of a television show is like the life of a dog," Tolman says. "It's such a sweet thing to have a dog, but you know that dog is not gonna be with you forever."
Whatever happens with
Fargo
, Tolman shouldn't have to worry about licking postage stamps or walking dogs to make ends meet. But such jobs are the stuff of "real-life experiences," she says. And they've made her better prepared to "play the humans you're asked to play."
"I've always had day jobs," she adds. " I had never really acted full-time . . . Not everybody goes whole hog and just acts."
Email comments or questions to:
unclebarky@verizon.net