Life's Too Short gives HBO another bracing jolt of Gervais
02/17/12 08:43 AM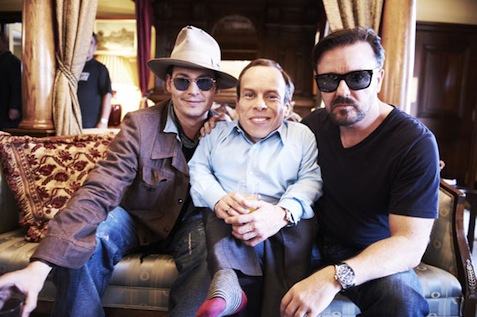 Johnny Depp, Warwick Davis and, once again, Ricky Gervais. HBO photo
Premiering:
Sunday, Feb. 19th at 9:30 p.m. (central) on HBO
Starring:
Warwick Davis, Ricky Gervais, Stephen Merchant
Produced by:
Ricky Gervais, Stephen Merchant
By ED BARK
HBO lately is never too far from a series or special headlined by Ricky Gervais in league with his writing and producing partner, Stephen Merchant. And that's still pretty much a very good thing.
Extras
got the ball rolling in 2005 and ended with a truly grand finale on Dec. 16, 2007.
The Ricky Gervais Show
, an animated version of his UK podcast featuring off-center punching bag pal Karl Pilkington, made its HBO debut in 2010 and will return for a third season on April 20th.
That will dovetail with the Season 1 expiration date of
Life's Too Short
, a seven-episode Gervais-Merchant concoction premiering on
Sunday, Feb. 19th at 9:30 p.m. (central)
. Long and short of it: it's very funny much more often than it's cringe-worthy. Although Episode 3 does test one's tolerance. The remaining four were unavailable for review.
The series' centerpiece is Warwick Davis, who bills himself as "the UK's go-to dwarf" by virtue of smallish parts in several
Harry Potter
movies and two
Star Wars
films. Once upon a time, he also had a featured role in 1988's
Willow
, playing none other than Willow Ufgood himself in the Ron Howard/George Lucas collaboration.
"I want people to see a sophisticated dwarf-about-town who carries himself with dignity," Davis tells the camera early in Episode 1.
But Davis otherwise is deeply in debt, courtesy of his inept accountant, Eric (Steve Brody). He's also been booted out by his regular-sized wife, Sue (Jo Enright) and has hired a lippy dim bulb named Cheryl (brilliant work by Rosamund Hanson) to help him run a failing talent agency called Dwarves For Hire.
Gervais and Merchant, playing "versions of themselves" as HBO describes it, appear periodically as Davis' basically bored listening boards. They preside from an upstairs business office in which they're always sitting behind a glass table to receive Davis and guest stars Liam Neeson and Johnny Depp in the first two episodes.
This all sounds desperately humiliating for Davis. But he's non-stop brilliant as a deluded, self-important has-been who explains away every indignity while desperately breathing in the bare fumes of his fame.
Davis also is a willing participant in his many and varied comedowns. They include falling out of his oversized car; getting stuck in a dog door while trying to sneak into his former residence; and being put in a trash can because Helena Bonham Carter is creeped out by the sight of him as a stand-in for a small boy in a period piece film she's making.
The latter scene is in Episode 3, which takes a dark, cruel turn when a cyber bully on Davis' pathetic website turns out to be a wheelchair-bound student who later is taunted by his classmates. It's just not funny, but Gervais and Merchant didn't get where they are by being decorous.
There are, however, a wealth of comedic peaks. As when Neeson drops into the Gervais-Merchant offices (with Davis also hanging out) to inform them he wants to try his hand at "live comedy of some kind." Neeson's dead-pan improv falls a little flat, though, when he tries to build a routine around a man with "full-blown AIDS." And he just can't be talked out of this in a sequence that's far funnier than it obviously seems on paper.
Episode 2 brings an extended drop-in by Depp, who's not afraid to depict himself as a creepy method actor who hires Davis to show him first-hand what it's like to be a dwarf. At one point Depp plays the flute while Davis struggles to imitate Michael Flatley in
Lord of the Dance
. They then visit Gervais, whose 2011 Golden Globes barbs at Depp's and Hollywood's expense apparently haven't set too well with the actor.
"No one makes fun of Tim Allen on my watch -- and gets away with it," Depp tells Gervais with a steely glare. "Don't say anything. Just keep that in you."
Depp next reels off a collection of jokes that he says were written at Gervais' expense after the Globes telecast. Davis then goes off to his scheduled paid appearance as an Ewok at a
Star Wars
-themed wedding. But his ego again gets the best of him and turns it all into a disaster. This episode also includes a "brainstorming session" in which assistant Cheryl tells Davis that he should consider trying his hand at being a chimney sweep.
Life's Too Short
is an acquired taste worth acquiring. It may miss by a mile once in a while. But Gervais and Merchant again have managed to marry a low brow premise to high-end humor. Most of the time at least.
GRADE:
B+