Pity the poor future (again) in Syfy's 12 Monkeys
01/15/15 03:13 PM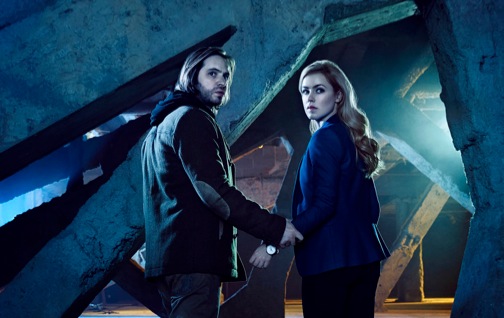 Aaron Stanford & Amanda Schull battle dire doings in 12 Monkeys.
Syfy photo
Premiering:
Friday, Jan. 16th at 8 p.m. (central) on Syfy
Starring:
Aaron Stanford, Amanda Schull, Kirk Acevedo, Barbara Sukowa, Noah Bean, Emily Hampshire, Zeljko Ivanek
Produced by:
Natalie Chaidez, Charles Roven, Richard Suckle
By ED BARK
@unclebarkycom on Twitter
The future is typecast -- as an apocalyptic horror show in need of undoing by time-traveling heroes.
Syfy's
12 Monkeys
, very loosely "inspired" by the well-regarded, same-named 1995 feature film, is the latest prime-time exhibit. And as such it makes a pretty strong impression while otherwise mining familiar turf.
The initial year is 2043, with a relative handful of Earth's populace remaining after 7 billion were killed in 2017 by a pretty bad plague. One of the surviving immune is a dogged guy named Cole (Aaron Stanford), who take his orders from a snippy German named Jones (Barbara Sukowa). She dispatches him to 2013, where cute, blonde virologist Cassandra Railly (Amanda Schull) is thought to have a clue or two about how the deadly virus originated. The only hope is to nip it before it's unleashed.
Cassandra at first thinks Cole is nuts but is persuaded to meet him again in 2015. By that time, perhaps she'll have either met or be familiar with a seemingly sinister bigwig known as Leland Frost (the inevitable but always good Zeljko Ivanek).
The first two episode of
12 Monkeys
move along crisply and effectively. In the second hour, Cole has the misfortune -- or luck of timing -- to mistakenly wind up in North Korea, which has been in the news just a bit lately. Interrogators quickly begin punching him around before Cole's 2043 team relocates him to a mental hospital, circa 2015. His mission is to interrogate Leland's disturbed daughter, Jennifer (Emily Hampshire), who's been drawing Army of the 12 Monkey illustrations on her walls.
This could go on and on and on and on, of course. The
12 Monkeys
movie, directed by Terry Gilliam, ran for 2 hours and 7 minutes with a cast that included Bruce Willis, Brad Pitt (who received an Oscar nomination), Madeleine Stowe, Christopher Plummer and impressionist Frank Gorshin.
Syfy has a 12-episode Season 1 planned for its version. First impressions are favorable but how much of this stuff can they effectively cobble together? Only the future will tell in a series whose own future is yet another living hell.
GRADE:
B
Email comments or questions to:
unclebarky@verizon.net