The CW delves ever deeper into sci-fi with four new fall/midseason series
05/15/14 10:33 AM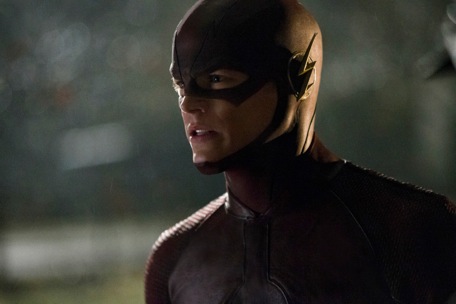 Grant Gustin stars in second TV version of The Flash. CW photo
By ED BARK
@unclebarkycom on Twitter
And the least shall be last, although The CW is still in there punching and touting smallish audience gains.
The mini-network waited its turn behind NBC, Fox, ABC and CBS before announcing its new fall lineup Thursday. There are just two newcomers on its five nights of programming, including a second prime-time outing for
The Flash
. CW's corporate parent, CBS, tried
The Flash
in fall 1990 but he wasn't up to speed in the ratings.
CW remains otherworldly, with its new one-hour comedy
Jane the Virgin
the only scripted series set firmly in the present without any sci-fi elements or medieval evil.
The network has renewed three of last season's freshmen series --
The Originals, The 100
and
Reign
-- while canceling two others (
The Tomorrow People
and
Star-Crossed
). The reality series
Famous in 12
, originally announced as a midseason replacement, is now scheduled to premiere on June 3rd.
CW also has dropped two series that had multi-year runs,
The Carrie Diaries
and
Nikita
. The network says that two other veterans,
Hart of Dixie
and
Beauty and the Beast
, will return sometime in midseason.
Here are CW's two new fall series:
Flash
(drama) -- Something again goes "horribly wrong" -- and horribly right -- when "endearingly geeky" CSI investigator Barry Allen (Grant Gustin) is struck by lightning in a "freak storm." He emerges much faster than even Usain Bolt and resolves to protect the innocent while also striving to solve his mother's murder and clear his father's wronged name. TV series vets Tom Cavanaugh (
Ed
) and Jesse L. Martin (
Law & Order
) each get another go-around in supporting parts.
Jane the Virgin
(comedy) -- As a young girl, Jane Villaneuva (Gina Rodriguez) was taught by her grandma that two things in life are all-important -- telenovelas and remaining a virgin until marriage. Now 23, Jane is studying to be a teacher while also working at a "hot new Miami hotel" where temptations abound. But she has a detective fiancé who's on board with Jane "saving herself." Then she's "accidentally artificially inseminated" with a specimen meant for someone else and belonging to a reformed playboy/cancer survivor who also owns the hotel where Jane works. Hmm, maybe this is sci-fi after all.
Here is The CW's night-by-night new fall lineup:
Monday
The Originals
Jane the Virgin
Tuesday
The Flash
Supernatural
Wednesday
Arrow
The 100
Thursday
The Vampire Diaries
Reign
Friday
Whose Line Is It Anyway?
Whose Line Is It Anyway? (repeat)
America's Next Top Model
The CW also has announced a pair of midseason series:
iZombie
(drama) -- Liv Moore is a "rosy-cheeked, disciplined, over-achieving" medical student until she attends a party that morphs into a zombie feeding frenzy. Newly undead, she still tries to blend in while looking pale, feeling exhausted and taking a job in the Seattle coroner's office. It's snack time during those times that Liv isn't helping to solve crimes with her newly discovered psychic powers. Rose McIver (
Once Upon A Time
) stars with
Saturday Night Live
alum Nora Dunn tagging along as Liv's mother, Eva.
The Messengers
(drama) -- "In the white-hot sun of the New Mexico desert," as CW puts it, scientist Vera Ivanov (Shantel Van Santen) watches in awe as a mysterious object descends to earth, explodes and briefly stops her heart along with those of four other series co-stars. They all awaken with various super powers. And so on. Diogo Morgado, who played Jesus in both History Channel's
The Bible
and the feature film
Son of God
, is now cast as "The Man."
Email comments or questions to:
unclebarky@verizon.net