Party on: Golden Globes again serve their purpose
01/12/09 11:33 AM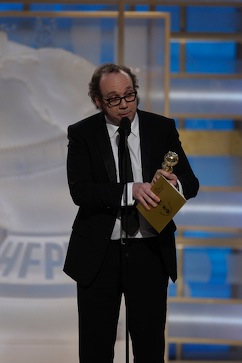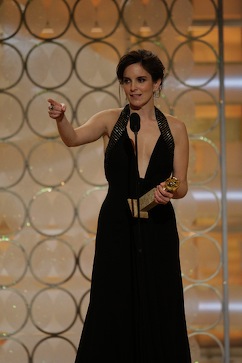 Winning hands for Paul Giamatti and Tina Fey. NBC photos
By ED BARK
No one's counting at ABC, CBS or Fox. That's because all three networks pitched shutouts at Sunday night's liquor-enhanced
Golden Globes handouts.
Of course HBO won big again, toting home seven of the 11 TV Globes, with its
John Adams
miniseries gifted with an armload of four.
Host network NBC fired back with three for
30 Rock
while AMC's
Mad Men
was voted best drama series.
So even if they're constantly derided as freeloading, star-struck sycophants, the blokes at the Hollywood Foreign Press Association pretty much got it right -- at least in the lowly TV categories. And now on to some of the sights and sounds that made for another night to dismember, er, remember:
Hollywood babble-on --
Two-time winner Kate Winslet looked great in a smashing, sleeveless black gown. But man, did she carry on, especially after getting a second Globe late in the ceremony for her performance in
Revolutionary Road
opposite fellow nominee but non-winner Leonardo DiCaprio.
Sally Field and Halle Berry, semi-infamous as drama queens at the Oscars, can rest a bit easier now that Winslet's out-flanked them with lines like, "Leo, I'm so happy I can stand up here and tell you how much I've loved you. And how much I've loved you for 13 years."
All dogs go to heaven --
Mickey Rourke, who won for
The Wrestler
, had been self-destructing for many years before making an improbable comeback.
"This has been a very long road back for me," he acknowledged before thanking his dogs among others for helping turn it around for him. "Sometimes when a man's alone, that's all you got is your dog," he said.
Cheeky monkey --
Ricky Gervais took to the stage with beer in hand to present a film clip after noting that "it detracts from the credibility of any awards show, me not being nominated."
But he took credit for Winslet's earlier win for
The Reader
, in which she plays a former concentration camp guard.
"I told ya, do a holocaust movie, the awards come," he said, referring to an episode of his HBO series
Extras
in which Winslet did just that in search of an Oscar.
He should have stopped right there, but instead added, "The trouble is with holocaust films, there's never any gag reel on the DVDs." That's not a wise line under any circumstances. But particularly not when director Steven Spielberg is in the house to receive the career Cecil B. DeMille Award for his body of films, including
Schindler's List
.
Gervais then recovered nicely by mocking his failed campaign on behalf of his movie
Ghost Town
: "It's the last time I have sex with 200 middle-aged journalists. It was horrible, really . . . Europeans with wispy beards. The men were worse."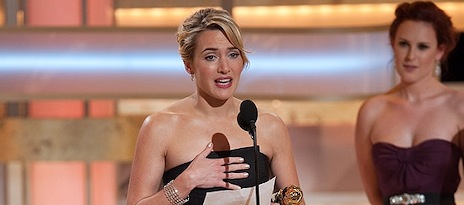 And furthermore . . . Kate Winslet is still talking. HFPA photo
Borat splat --
Presenter Sacha Baron Cohen got an unaccountably cool reaction to his concluding joke on how "this recession is affecting everyone, even celebrities." So much so that "even Madonna has had to get rid of one of her personal assistants. Our thoughts go out to you, Guy Ritchie."
Clunk. It was as if he'd dipped his member into Winslet's champagne flute. Who know there was that much fake love in the house for either Madonna or her ex-Guy.
What's he doing there? --
Tom Brokaw pulled an Anderson Cooper by popping in to introduce a clip for
Frost & Nixon
after noting he'd covered the Watergate hearings.
Blow by blow --
Presenter Colin Farrell, who later won an acting Globe for
In Bruges
, had the sniffles while presenting a film clip.
"I've got a cold," he explained. "It's not the other thing that it used to be."
Soon after, a notably trimmed-down Seth Rogen said he wished it was the '80s so he could be doing cocaine with Mickey Rourke instead of just getting drunk with him.
Memo to "composer, singer and social activist" Sting --
Lose the beard. And quit dying your hair.
Rock rhymes with Barack --
Tracy Morgan accepted
30 Rock
's Globe for best comedy series after explaining, "Tina Fey and I had an agreement that if Barack Obama won, I would speak for the show from now on. I'm the face of post-racial America."
Co-star Alec Baldwin later coaxed him to say, "Jeff Zucker, my boy. Holler at me, JZ."
The chairman of NBC Universal instead smiled inscrutably from his dinner table.
Suck it to me --
Tina Fey, voted best comedy series actress for
30 Rock
, said she's learned that "If you ever start to feel too good about yourself, they have this thing called the Internet."
She then named a trio of her detractors, telling each of them, "You can suck it."
That seems like a good way to end. Here's the clip: