Mercy Street serves up Civil War trauma in a hard-pressed hospital
01/15/16 03:52 PM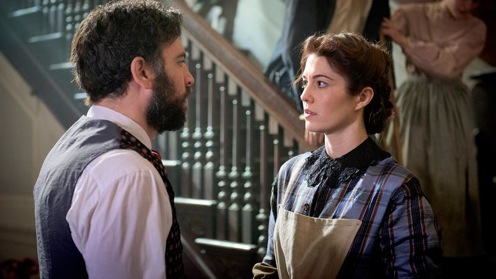 Doctor/nurse dynamics are center stage in Mercy Street. PBS photo
Premiering:
Sunday, Jan. 17th at 9 p.m. (central) on PBS
Starring:
Josh Radnor, Mary Elizabeth Winstead, Gary Cole, Hannah James, Norbert Leo Butz, Tara Summers, McKinley Belcher III, Shalita Grant, Peter Gerety, Cameron Monaghan, Brad Koed, Jack Falahee, AnnaSophia Robb, Donna Murphy, L. Scott Caldwell, Suzanne Bertish, Wade Williams, Luke Macfarlane, Steven Parker
Produced by:
Ridley Scott, David Zabel, David W. Zucker, Lisa Q. Wolfinger
By ED BARK
@unclebarkycom on Twitter
Well-meaning but oh so somber,
Mercy Street
is a rare, born-in-the USA drama for a network that has relied on the British for almost everything in this genre.
It's a
Code Black
of the Civil War era for those viewers who have heard of, let alone seen that new CBS medical series. Surgical innovation, a la Cinemax's
The Knick
, is also part of the deal. Behold the applying of a plaster cast or a deep drill into the skull of a wounded soldier by the rebelliously experimental Dr. Jedediah Foster (Josh Radnor from
How I Met Your Mother
).
Mercy Street
will play out over six Sundays as a companion piece to the preceding final season of
Downton Abbey
. It's fairly sturdy and convincingly gruesome in terms of showing a variety of battle wounds. It's also predictable and oftentimes stilted, with the dialogue regularly preachy. As when Jedediah lectures incoming abolitionist nurse Mary Phinney (Mary Elizabeth Winstead) on the necessity of treating all patients equally. "Blood is not gray or blue, madam," he intones in the opening episode. "It's all one color."
The setting is 1862 in Alexandria, VA, where a formerly prosperous hotel owned by Southern fried James Green (a gray-bearded Gary Cole) has been converted against his will into a Union Army hospital. Even so, some of the patients are Confederates, with the traumatized, not-right-in-the-head Tom Fairfax (Cameron Monaghan) principal among them. He's also been the clandestine beau of Green's youngest daughter, Alice (AnnaSophia Robb), whose older sister, Emma (Hannah James), becomes an ad hoc nurse after first being seen in a pretty awesome hoop skirt.
Cole's James Green is berated by his severe-countenanced wife, Jane (Donna Murphy), for being too accommodating to his Union taskmasters. Why, he's even partnered up in a new coffin-making business. But James inwardly seethes, sometimes laughably so. "I have every faith that before long these blue bastards will smell Southern powder and feel Southern steel," he assures Emma.
There's also the haughty Anne Hastings (Tara Summers), who used to work with the great Florence Nightingale and has little use for independent-minded Mary Phinney. "You can't hoodwink a hoodwinker," she sniffs before adding, "I will not be done in by a Dutch widow with a twinkle in her eye." Well, then.
Free black laborer Samuel Diggs (McKinley Belcher III) tries his best to be a steadfast hospital worker while also secretly having more than a little knowledge of medicine. He has a crush on young laundress Aurelia Johnson (Shalita Grant), who has fun afoul of the blackmailing Silas Bullen (Wade Williams), a sweaty, corpulent rapist whose stench might leak through home screens.
Patients regularly cry out in distress when the staff isn't infighting. Meanwhile, poor Mary Phinney can't seem to catch a break. Desperately hungry, she finally gets an apple to slake her appetite before selflessly giving it to a wounded soldier who hasn't eaten in two days. Desperately tired, she finally gets a bed and room of her own, only to give it up to an even more weary family that's just checked in after days in the boonies. So it's back to the cold, hard floor, which has been dusted with arsenic to keep the rats at bay.
The dreary surroundings are in stark contrast with the overall sumptuousness of
Downton Abbey
. Plus, the newcomer just doesn't seem compelling enough to keep
Downton's
audience tuned in. Physical suffering and emotional angst are served in abundance on
Mercy Street
. It realistically captures those times but just doesn't captivate.
GRADE:
C+
Email comments or questions to:
unclebarky@verizon.net