HGTV's Home Strange Home is a sweet little series
10/19/12 09:01 AM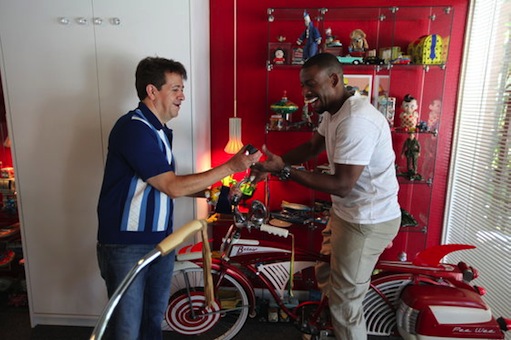 Dallasite Carlos Cardoza and host Chuck Nice establish a decor rapport on premiere episode of Home Strange Home. HGTV photo
Premiering:
Friday, Oct. 19th at 8 p.m. (central) on HGTV
Hosted by:
Chuck Nice
Produced by:
Andy Streitfeld, Kim Clemons
By ED BARK
@unclebarkycom
Live and let live on HGTV's
Home Strange Home
, where retired neurosurgeon Lonnie Hammargren of Las Vegas plans to remain on site with his remains in a replica of an Egyptian tomb.
"I will be buried here," he says. "Hopefully in pickled vodka because I sure don't like the taste of Formaldehyde."
After launching as a special in November 2011,
HSH
returns to HGTV Friday (Oct. 19th at 8 p.m. central) as an eight-episode weekly series produced by Dallas-based
AMS Pictures
. It seems like a why-didn't-I-think-of-that? can't miss idea. And you really shouldn't miss Lonnie's abode or the seven other eclectic residences showcased in the opening hour.
The host is veteran standup comic Chuck Nice, who makes in-person visits to three of the homes while narrating tours of the others. Nice perhaps could take it down just a notch, although his kid-in-a-candy-store exuberance for the most part is an overall plus. Some of the segments without him could use him.
The lead-off home owner is architect Eugene Tssui of Berkeley, Calif., whose "Fish House" is designed to withstand any heavy-duty earthquakes. Tssui says he can't wait for one to hit so he can "see how this house behaves." It helps to have a few screws loose.
Tssui, who's also a champion senior Olympics gymnast and boxer, greets Nice in a cape cloaking an "air-conditioned" yellow outfit.
"Now the only air-conditioning I have is a fly, which is often in the 'down' position unfortunately," Nice cracks. Good one. Been there.
Nice also drops in on Carlos Cardoza of Dallas, whose home is entirely furnished in '50s and '60s decor. This includes a round bed, purple shag carpeting, a Bob's Big Boy statue out by the pool and meticulously arranged shelves of sweaters labeled with celebrity names of yore such as Clark Gable and Sammy Davis, Jr. Nice marvels at the "playful quality" of the place.
It would have been nice if Nice had journeyed to Oklahoma City for a tour of Wayne Coyne's abode. Instead he narrates from afar while the decidedly offbeat, but nonetheless down home lead singer of The Flaming Lips conducts a brisk tour. The big laughing skull mosaic on the master bedroom floor is quite a sight.
Two other Texas locales -- Italy and Amarillo -- also have homes in play Friday night. But Nice's third hands-on visit is to Portland, Oregon, where Roy Wilkinson's out-of-the-way dwelling is thoroughly and beautifully in harmony with the surrounding nature.
Most of these places are spacious and heavily decorated. The extreme exception is Jay Shafer's residence in Sonoma County. It's a claustrophobic 88 square feet, with the owner saying he's a minimalist by design. You probably wouldn't want to visit, though. Actually you couldn't. There really isn't room.
Home Strange Home
is fun, sometimes instructive and well-suited for Friday nights. Many a TV viewer isn't in the mood for heavy-lifting after another work week is in the books. This series doesn't require any of that. It's one big "Welcome" mat. And if you don't like one home, there's always another one coming right up.
GRADE:
B
unclebarky@verizon.net