Rush Hour belatedly joins the CBS crime family
03/31/16 08:46 AM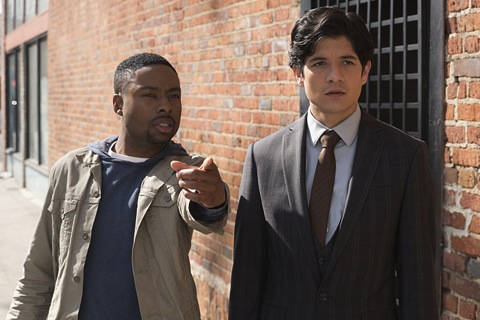 Justin Hires, Jon Foo in TV markdown of Rush Hour. CBS photo
Premiering:
Thursday, March 31st at 9 p.m. (central) on CBS
Starring:
Justin Hires, Jon Foo, Wendie Malick, Aimee Garcia, Page Kennedy, Jessika Van
Produced by:
Bill Lawrence, Blake McCormick, Jeff Ingold, Jon Turteltaub, Arthur Sarkissian, Toby Emmerich, Steve Franks, Brett Ratner
By ED BARK
@unclebarkycom on Twitter
Back in September 1998, the same month and year of the first
Rush Hour
movie, CBS premiered the markedly similar series
Martial Law
.
The stars were Arsenio Hall and burly Hong Kong import Sammo Hung as initially reluctant L.A.P.D. partners. It was quite a bit of fun for a while, until CBS mucked things up with a big batch of cast changes in Season 2. Hall's fast-talking Terrell Parker and Hung's "inscrutable" Sammo Law continued to fight crime, but the surroundings and story lines collapsed.
Now, with a fourth
Rush Hour
film reportedly in development, CBS finally gets around to its weekly series version of the blockbuster action franchise. It's quite a markdown, with unknowns Justin Hires and Jon Foo standing in for original stars Chris Tucker and Jackie Chan.
Thursday's first episode, the only one made available for review, lurches from one action scene to another, with Yan Naing Lee (Foo) quickly journeying from Hong Kong to Los Angeles to unravel the presumed death of his sister, Kim (Jessika Van) and her involvement with a Chinese drug ring. He soon hooks up with street-smart, rule-breaking James Carter (Hires), who periodically gets reamed out by stern Captain Lindsay Cole (a waste of Wendie Malick).
The banter between Carter and Lee borders on very faintly amusing at times. But the recurring automatic weapons fire and martial arts combat are the meal tickets here. Think
Walker, Texas Ranger
, but with more verbosity.
"You have corrupted my soul," Lee says at one point.
"Yeaaaaah! Well, I have been known to have that effect on people," Carter retorts. That may well have been too big a mouthful for Chuck Norris.
Rush Hour
is yet another "procedural" crime hour on the network of three
NCIS
series,
Criminal Minds
and its new
Beyond Borders
spinoff,
Hawaii Five-0, Blue Bloods, Scorpion, Limitless, Elementary, Supergirl, Person of Interest
(which is being canceled) and
CSI: Cyber
(virtually certain to be axed). There's really not much else to report, other than overall extreme fatigue with the genre.
This is a series that CBS should have kept doing without. But 18 years after
Rush Hour
hit it very big, here's a TV version that for the most part falls flatter than a thug on the receiving end of a Yan Naing Lee kick.
GRADE:
C-minus
Email comments or questions to:
unclebarky@verizon.net