The late night talk show host beard-athon (past/present)
09/30/15 02:58 PM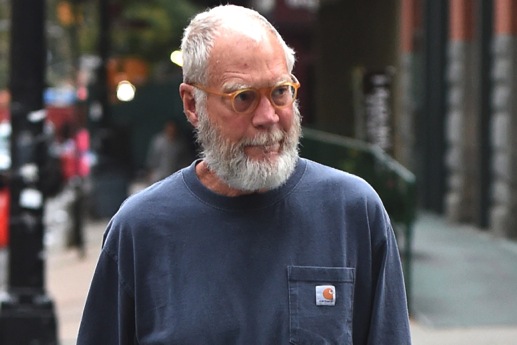 A current-day Dave strolls streets of Manhattan. Splash News photo
By ED BARK
@unclebarkycom on Twitter
There's a growth spurt among past and present late night talk show hosts -- and it has nothing to do with how many there are to choose from.
Simply put, beards are busting out all over, led by the above rather shocking and now widely seen picture of a retired David Letterman taking his full-blown facial hair for a walk.
Jon Stewart, who recently left Comedy Central's
The Daily Show
, has gone the same route. It's often what happens when one no longer has to keep up appearances, is licking some wounds or is between shows.
Conan O'Brien grew a beard while recuperating from his
Tonight Show
crash. He also wore it for quite a while on his follow-up TBS show.
Stephen Colbert came forth with a notably white facial attachment while biding time between
The Colbert Report
and his new CBS show. Even Jimmy Fallon went with a beard for a while after returning to his former NBC
Late Night
show following an extended break.
But beards aren't just for show, tell and shaving any more. Jimmy Kimmel lately is wearing whiskers on the air, as is CBS' new
Late Late Show
host, James Corden.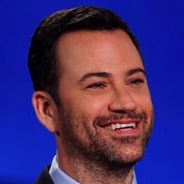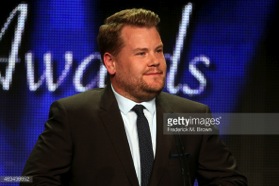 Current day bearded laddies Jimmy Kimmel and James Corden.
Late night talk show hosts of yore, such as Jack Paar, Joey Bishop, Dick Cavett, Merv Griffin and Johnny Carson, went bare-faced under all circumstances (save for the time Johnny returned from a 1985 vacation with a jarring short beard that he ditched after a week). But among the latter day alumni, only Jay Leno has never worn whiskers in public. Consider, though, that this is the ultimate creature of habit, a guy whose very basic off-camera uniform is still a blue denim shirt and jeans.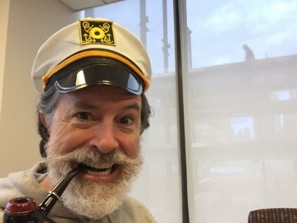 Conan and Colbert both monkeyed around between shows.
Letterman dared to sport a silver beard on
Late Show
upon returning in 2008 after a writers' strike. But he quickly had it shaved -- on the air for maximum effect. Generally speaking, late night talkers are reluctant to show even a few specks of gray in their facial accompaniments. After all, that might make them seem older than their shows' advertiser-prized 18-to-49-year-old target audience. It's quite possible that at age 47, Kimmel might be resorting to a little dye to keep up appearances. But for now, he looks very sporty in a beard.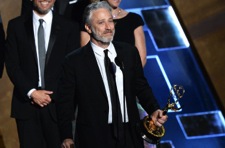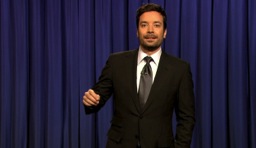 Stewart at the Emmys, Fallon on his old NBC Late Night show.
There's a minority report amid all these bushy looks. Trevor Noah and Larry Wilmore, the men of color who replaced Stewart and Colbert, so far have remained resolutely smooth-faced both off-camera and on-. Not that this is necessarily a permanent state of affairs when it comes to non-white hosts. Arsenio Hall went with a mustache during his first successful go-around as a late night talker. And former TBS late nighter George Lopez has broken out some facial hair since that show was canceled in 2011.
We'll leave you with those images while wondering if any of this means anything at all. For now, though, you're something of a late night outsider if you
don't
get hairy. Letterman clearly has taken it to the next level in his dotage. But he's always been a tough act to follow anyway.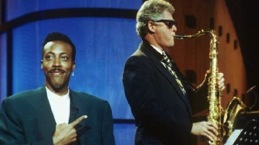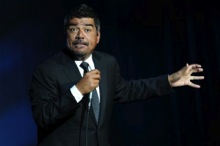 Email comments or questions to:
unclebarky@verizon.net