Resonance lost and not always found: Downton Abbey undertakes Season 4
01/03/14 03:55 PM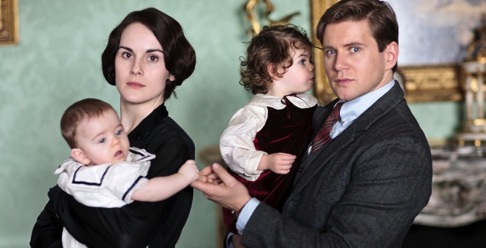 Widowed with children: Michelle Dockery and Allen Leech as Lady Mary Crawley and Tom Branson in Downton Abbey. PBS photo
By ED BARK
@unclebarkycom on Twitter
PBS' two-hour Season 4 launch of
Downton Abbey
easily could be subtitled "Waiting for Lady Mary to Snap Out of It."
Six months after the jolting death of her husband, Matthew (Dan Stevens), in a Season 3-ending car wreck, the oldest daughter of Robert Crawley, Earl of Grantham (Hugh Bonneville) and Cora Crawley, Countess of Grangham (Elizabeth McGovern) remains distant, deeply blue and sickly pale, too.
"You've seen her. She hardly has the energy to lift a fork to her mouth," Mary's overly protective, oft-rigid father notes in the early going. His remedy: "She is broken and bruised, and it is our job to wrap her up and keep her safe from the world."
Former family chauffeur Tom Branson (Allen Leach), himself no stranger to anguish after his wife, Sybil (Jessica Brown Findlay), expired of complications from childbirth, observes that Mary is "no better than she was a week after (Matthew) died."
Charles Carson (Jim Carter), the household's stern, long-serving head butler, finally musters the temerity to speak out of turn if he must. "You're letting yourself be defeated, milady," he tells Mary (Michelle Dockery). "I'm sorry if it's a lapse to say so. But someone has to."
All to no avail for the majority of Sunday's outing (
8 p.m. on KERA13 in D-FW
). It kicks off American television's eight-part
Downton Abbey
shortly after Season 4 ended its United Kingdom run. Second dibs on PBS will stretch from Jan. 5th to Feb. 23rd.
The newest season begins in 1922, a decade after the original
Downton Abbey
brought the aristocratic Crawleys and their lumpen helpers into view on the day after the sinking of the Titanic in April of 1912. As always, characters and their assignations come and go while conveniently timed eavesdropping allows for secrets to be kept, spilled and sometimes stretched threadbare.
PBS made all but the final two hours of Season 4 available for review. And while certainly not a slog, they end up being more than a bit saggy. Lady Mary of course emerges from her prolonged funk and mostly comes alive again while two new suitors vie for her affections. But
Downton Abbey
has no scenes or sequences of knockout import during these first seven episodes. In Season 3, the depiction of Sybil's death -- in Episode 5 -- was overwhelmingly affecting and almost too much to bear. Matthew's demise, just hours after first seeing his wife Mary's newborn son, then came out of the blue during that season's "Christmas Special."
Season 3's most ballyhooed guest star (Shirley MacLaine as Countess Cora's American mother) will be returning again this season to presumably spice things up during her verbal jousts with Lord Grantham's flinty mother, Violet Crawley (Maggie Smith). But viewers will have to wait until the Season 4 finale to see her again. The same goes for new guest star Paul Giametti as Cora's stateside playboy brother, Harold. He's mentioned, but also won't be seen until the very end.
There are other major developments, most notably the assault on valet John Bates' (Brendan Coyle) devoted wife, Anna (Joanne Froggatt), who's left emotionally and physically bruised. Her shame -- and determination to keep all of this from her husband -- drive a wedge between them while Anna secures various pledges of confidentiality from both upper and lower crust confidants.
Downton Abbey
also weaves in its first black character of import, a jazz singer named Jack Ross (Gary Carr). An affair ensues with one of the show's regular cast members, but sparks fail to fly in a subplot that seems more forced than organic.
There's also plain-faced middle daughter Edith Crawley (Laura Carmichael), who was jilted last season but seems to finally have found her man in married magazine editor Michael Gregson (Charles Edwards). He's wild about her, but can't seem to obtain a divorce. But wait. What if he lived in Germany long enough to become a citizen? Divorce is no big deal once that's accomplished. So off he goes, only to . . . well, no need to get specific. Except to say that this plot device seems awfully ill-conceived -- and way too prolonged.
Maggie Smith's acerbic Violet remains a delight. And until MacLaine arrives, she has a suitable sparring partner in the late Matthew Crawley's comparatively saintly mother, Isobel (Penelope Wilton).
The aforementioned Jim Carter, as "Mr. Carson," likewise delivers in virtually every scene he's in. In Part 3, his ever resonant voice is a perfect match for, "The business of life is the acquisition of memories. In the end that's all there is."
Memories are fonder of earlier
Downton Abbey
seasons than the one just viewed. Perhaps creator Julian Fellowes has another really big finish in store. If so, he's built up to it with a less than scintillating prelude. There are still pleasures to be had and characters to really care about. But their numbers have dwindled in both respects. Life goes on both upstairs and downstairs. But without Sybil and Matthew or suitable replacements, the eventual death of
Downton Abbey
could prove to be the most welcome plot development of all. (Even though Season 5 already has been ordered.)
GRADE:
B
Email comments or questions to:
unclebarky@verizon.net