NBC's State of Affairs arrives in a bad state
11/13/14 01:32 PM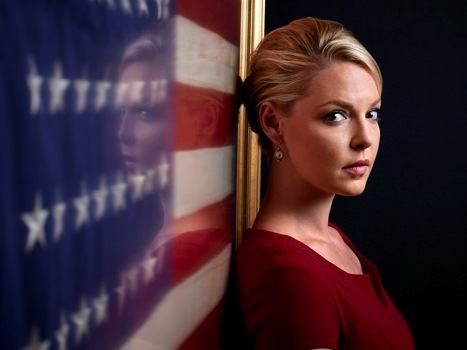 Katherine Heigl is an addled high level CIA briefer in Affairs of State.
NBC photo
Premiering:
Monday, Nov. 17th at 9 p.m. (central) on NBC
Starring:
Katherine Heigl, Alfre Woodard, Adam Kaufman, Sheila Vand, David Harbour, Chris McKenna
Produced by:
Dario Scardapane, Joe Carnahan, Robert Simonds, Katherine Heigl, Nancy Heigl, Julia Franz, Henry Crumpton, Rodney Faraon, Sophie Watts
By ED BARK
@unclebarkycom on Twitter
It's a sad state of affairs in
State of Affairs
for CIA presidential briefer Charleston "Charlie" Tucker.
Her fiancé died one year ago during a special ops mission gone bad in Kabul. She was also present and saw it happen. Charlie's (Katherine Heigl) coping mechanisms lately include getting blasted at bars and then having random sex. Viewers relive both the Kabul firefight -- in very loud, herky jerky fashion -- and her latest fling via a collection of opening flashbacks bridged by Charlie talking back to her shrink.
No good can come of this, she's told of her promiscuous ways. "Good doesn't have to come," Charlie replies. Pause, one-two. "I do."
Replacing
The Blacklist
on Mondays after its fall finale, NBC's
State of Affairs
arrives as the last new broadcast network series of the fall season. The Peacock already has axed two of its newcomers,
A to Z
and
Bad Judge
, while ABC has dumped
Manhattan Love Story
and Fox has sacked
Utopia
. Time flies when you're having lousy ratings.
Viewers with a taste for high level Washington dramas already have two better options in ABC's
Scandal
and CBS' new
Madam Secretary
. And on the flawed female CIA agent front, Carrie Mathison of Showtime's
Homeland
runs crazy concentric circles around
State of Affairs
while also registering much higher on the believability front.
In this vehicle, we're supposed to believe that Charlie and her young, wisecracking wee hours team (their shift starts at 2 a.m.) find it unnecessary to wake President Constance Payton (Alfre Woodard) when faced with the choice of trying to save a captured American doctor from a potential beheading or taking advantage of an 80 percent chance to kill the Middle East's No. 1 terrorist, Omar Fatah. Apparently the prez needs her beauty sleep? Whatever the case, Charlie continues to bark out directives while also tangling with an acting CIA director named Skinner (guest star Dennis Boutsikaris).
Complicating matters is the fact that the hostage doc looks an awful lot like Charlie's deceased fiancé, Aaron, who also happens to have been President Payton's son. Wait, it gets better, er, more preposterous.
Upon finally convening for the daily presidential briefing, Charlie neglects to even tell the Commander in Chief about the prime chance they have to kill Fatah. "It wasn't left out. It just wasn't real at the time," she later says lamely.
For this transgression Charlie immediately gets fired and brought up on charges, right? Nuh uh. Reassigned to appointments secretary at Camp David? Nope. A slap on the wrist and a hearty "That's my girl" from the prez after they attend a memorial service for Aaron? And now you know. Then again, viewers may have to swallow even harder at the sight of Charlie escaping a tight spot by hopping aboard a flatbed truck.
That dark day in Kabul of course will be a running thread throughout
State of Affairs
. Because both Charlie and a long lost, resurfacing dude named Nick Vera (Chris McKenna) know the real story. Or at least that's what he says before Charlie winds up in a bar again, up to her old tricks.
Heigl, who first came to fame on ABC's
Grey's Anatomy
, seemingly has little chance to succeed in this very far-fetched outing. Her curves remain nicely intact during the times she gets to wear form-fitting dresses. But
State of Affairs
otherwise is a poor fit for one and all. Telltale sign: A total of nine executive producers, including Heigl and her mother, Nancy. That's too many cooks for what turns out to be a half-baked hour of ridiculosity.
GRADE:
C-minus
Email comments or questions to:
unclebarky@verizon.net