TNT's Will find a way to make Shakespeare rock
07/07/17 09:54 AM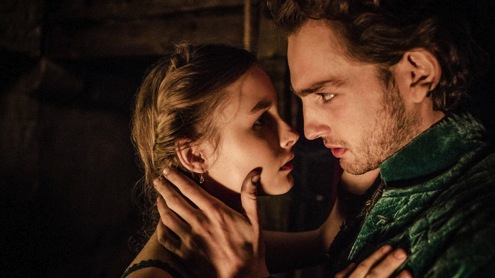 Good Will hunting/hunted in new Shakespearean series. TNT photo
Premiering:
Monday, July 10th at 8 p.m. (central) with back-to-back episodes on TNT
Starring:
Laurie Davidson, Olivia De Jonge, Mattias Inwood, Jamie Campbell Bower, Colm Meaney, Ewen Bremner, Max Bennett, Deirdre Mullins
Produced by:
Howard Braunstein, Vince Gerardis, Debra Hayward, Shekhar Kapur, Alison Owen, Craig Pearce
By ED BARK
@unclebarkycom on Twitter
All these years later, the ploy's the thing with William Shakespeare.
How can the fabled bard's life and times be cleverly exploited anew in hopes of luring a new generation of younger viewers? TNT's
Will
does a surprisingly entertaining and sometimes even thoughtful job of this in presenting Shakespeare as a wide-eyed, young gun writer hoping to make his mark in order to feed his wife and their three children.
Extreme liberties are taken in "re-imagining" his exploits. But after all, we are such stuff as dreams are made on, and our little life is rounded with a dirt nap, er, sleep. So why not take a wild ride?
This much is basically true. As depicted in
Will
, the title character actually was a humble glove-maker, a profession that didn't at all fit him. Strapped for cash, he left the little town of Stratford, England for raucous London, promising to make his fortune as a playwright. Wife Anne (a briefly seen Deirdre Mullins in the first four episodes made available for review), stayed behind and hoped against hope for the best.
TNT otherwise wings it. Will (Laurie Davidson) is first fleeced by a beggar boy who leaves him with a nasty cut on his hand. The kid also loudly brands Will a Catholic after seeing a secret letter that he's agreed to deliver to his cousin, Robert Southwell (Max Bennett), a priest in hiding.
Catholics are not at all welcome in the dictatorial Protestant London of the late 16th century. And Will remains haunted by the beyond brutal execution of his uncle -- via removal of his intestines.
Will
doesn't spare the gore in this particular case. And there's more torture to come, courtesy of despotic lawman Richard Topcliffe (Ewen Bremner). Those believed to have information on the whereabouts of prominent Catholics had better come forth with it. Otherwise it will get very painful, with Will in constant peril while he's also trying to hook up with a theater group run by the ornery and demanding James Burbage (fine work by the ever reliable Colm Meaney).
James of course has a comely daughter. Her name is Alice (Olivia De Jonge), and she's brainy, too. Alice sees talent and persistence in Will, who has the added appeal of being a hunk. But first there's a ye olde rapper duel to be won at a local tavern where a braggart twits Will as a dunderhead. Initially slow on the draw, the newcomer emerges triumphant with a climactic " Thy wit is so stale, worms would not eat it. It cannot be spoken, only excreted." Will adds a little flatulence sound effect for good measure before later drunkenly proclaiming, "I will write the greatest plays the world has seen!" Indubitably.
But he has more downs and ups in the early going of this 10-episode Season One. The openly gay and more prominent playwright Christopher Marlowe (standout work by Jamie Campbell Bower) occasionally intercedes on Will's behalf, initially just in the nick of time. But he also has other motives, some of them purely physical.
Heavy metal rock -- and occasionally a pop ballad -- are deployed to keep things humming while Will struggles to put pen to paper and write a play that will please old man Burbage and his troupe. Meanwhile, he lives in a dumpy room within the tavern, partially paying the rent by emptying chamber pots. "The glory of my words shall save me from the turds," Will vows in Episode 3. That's a groaner, but not quite in league with Alice exclaiming, "Let's get shit-faced!" near the outset of Episode 4. As noted earlier, liberties are taken.
The plots thicken engagingly, though, with Will finally scoring with "The Two Gentlemen From Verona" with no small help from an existing work. His platonic/romantic relationship with Alice burns hot and cold while the sinister Topcliffe imperils Will's very existence. By the end of Episode 4, there's quite a predicament at hand for our hero.
Will
so far is almost infinitely more engaging than ABC's
Still Star-Crossed
, a hackneyed post-Romeo and Juliet period piece that premiered in late May and already has been exiled to Saturday nights to die ignominiously.
Precious little, beyond his storied and enduring plays, is known about Shakespeare's personal life or even his sexuality. So TNT is making him up as he goes along in a rousing, colorful drama that signifies more than nothing and indeed can often be quite something.
GRADE:
B+
Email comments or questions to:
unclebarky@verizon.net