Limp Oscars fade away after less than dynamic hosting by Martin/Baldwin
03/08/10 08:16 AM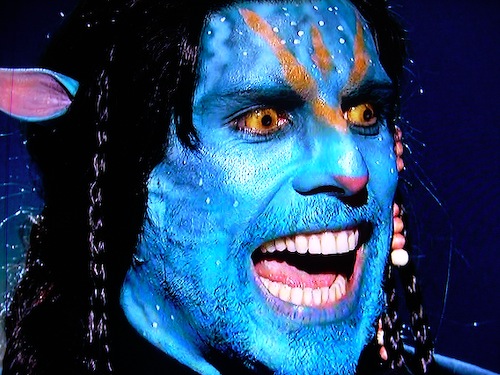 Ben Stiller, as an Avatar Na'vi, provided the film's biggest highlight. It later lost the major Oscars to The Hurt Locker. Photos: Ed Bark
By ED BARK
Absent any major upsets and again running longer than planned, Sunday night's 82nd annual Academy Awards hoped to be sparked by the uncommon choice of dual hosts Steve Martin and Alec Baldwin.
They instead proved to be less than riotous -- or inventive -- leaving the three hour, 37 minute ABC telecast to register as one of the least memorable in years.
Martin and Baldwin, the first multiple host team since Chevy Chase, Goldie Hawn and Paul Hogan in 1987, were oddly missing in action at the start. Oscar's producers instead chose the ubiquitous Neil Patrick Harris to sing and dance through a production number with the refrain "No one wants to do it alone." When in fact most people do. And have.
Down the stretch, Harris almost unforgivably described Martin and Baldwin as "the biggest pair since Dolly Parton." How moth-eaten is that line?
The biggest pair finally took the stage, both in old-school black tuxes and bow ties. They quickly began singling out the night's major nominees with a game of "Hey, there's . . . "
Some of this proved funny, as when Meryl Streep was cited for her record 16 nominations. "Or as I like to think of it, most losses," said Baldwin while Streep laughed wildly.
Woody Harrelson got the ultimate tribute -- "He's so high." And George Clooney agreeably exchanged glares with Baldwin.
Martin and Baldwin were little-seen after that, lobbing in an occasional joke either as a duo or separately. A lone inspired sight gag found them sleepily encased in a giant red Snuggie after presenter Tyler Perry wondered what they were doing backstage.
Meanwhile, Ben Stiller again proved to be a master of disguise after showing up as a heavily bearded Joaquin Phoenix at last year's Oscars. This year he came as a Na'vi from
Avatar
, improvising as he went along while joking that it seemed like a much better idea in rehearsals.
Avatar
director James Cameron agreeably laughed it up, but wouldn't have much to smile about later.
The night's only other comedy highlight came from presenters Robert Downey Jr. and Tina Fey, who dueled over the worth of screenwriters. Downey finally concluded, "It's a collaboration between handsome, gifted people and sickly little mole people."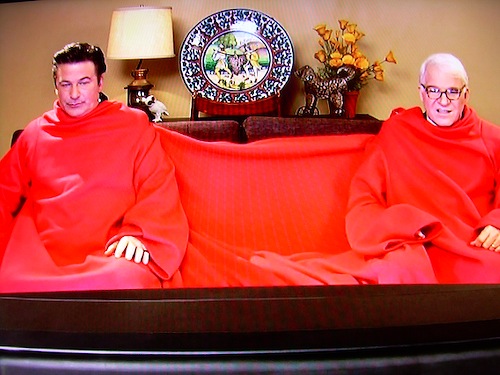 The agony, if not the suspense, was prolonged when 10 colleagues of the Best Actor and Best Actress nominees were brought onstage to individually extoll each of them. It seemed like a nice touch at first, but got pretty gooey in a hurry. It also tacked on an additional 10 minutes or so down Oscar's drowsy homestretch.
The show at least omitted all those needless performances of the now always forgettable song nominees. And it nicely deployed James Taylor to sing The Beatles' "In My Life" during the annual montage of the dead. Michael Jackson made the cut, but Farrah Fawcett oddly didn't. She obviously was best known for her TV work, but made a number of feature films, including
The Apostle
in 1997 with Robert Duvall. Ryan O'Neal no doubt will be expressing his tear-stained outraged this week on
Entertainment Tonight, Extra
, etc.
Barbra Streisand, nominated as the producer but not the director of 1991 best picture nominee
The Prince of Tides
, fittingly presented what turned out to be a history-making Best Director award.
"Well, the time has come," she said before announcing Kathryn Bigelow as the winner for
The Hurt Locker
. Cameron, her ex-husband, sat directly behind her in Oscar's audience. Whether acting or not, he responded enthusiastically to her win and then had to repeat the process when
Hurt Locker
also beat
Avatar
for Best Picture. Oddsmakers and prognosticators had swung over to
Hurt Locker
's side in recent days, so that wasn't really a surprise either.
The show also made ample room for young Hollywood in an obvious effort to juice up Oscar's younger demographic. Presenters included Miley Cyrus, Zac Efron, Taylor Lautner, Kristen Stewart, Anna Kendrick, Ryan Reynolds, Chris Pine and Carey Mulligan. Creaky Hollywood was largely dis-invited.
Martin finally wrapped things up by quipping, "Ladies and gentlemen, the show is so long that
Avatar
now takes place in the past."
Cameron for one would like to put it behind him. Perhaps audiences would, too.