Supergirl gives CBS a comic book hero with possibly serious staying power
10/22/15 09:28 AM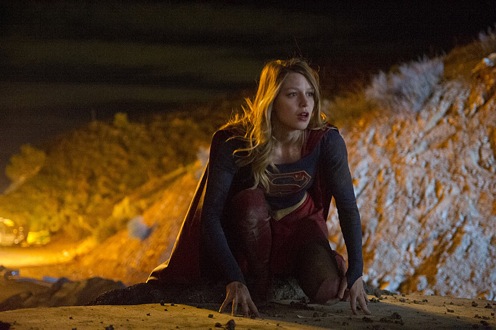 Melissa Benoist soars as the essential ingredient in Supergirl.
Premiering:
Monday, Oct. 26th at 7:30 p.m. (central) on CBS before moving to regular 7 p.m. slot.
Starring:
Melissa Benoist, Calista Flockhart, Mehcad Brooks, Chyler Leigh, Jeremy Jordan, David Harrowed
Produced by:
Greg Berlanti, Ali Adler, Andrew Kreisberg, Sarah Schechter
By ED BARK
@unclebarkycom on Twitter
For this to fly (sorry), the title character in CBS'
Supergirl
must be cast just right.
Mission accomplished in this first full-fledged TV outing for Superman's cousin, born Kara Zor-El on Krypton and rechristened Kara Danvers on Earth. Melissa Benoist (previously best known as Marley Rose on Fox's
Glee
) is terrifically appealing as an awkward but assertive 24-year-old woman on the verge of becoming a rookie superhero. Watching her take flight, without being unduly flighty about it, is one of the many pleasures of Monday's premiere, which gets a lead-in from
The Big Bang Theory
before
Supergirl
moves to its regular 7 p.m. (central) slot on Nov. 2nd.
The "mythology" goes like this. The future Superman, Kara's "baby cousin" Kal-el, has already been sent to earth as their home planet of Krypton gets ready to explode. "You may know his story," Supergirl narrates. "The story you don't know is that I was sent to protect him."
Instead, Kara's space pod was knocked off course and "into the Phantom Zone" for 24 years before "somehow" heading back on its original course to Earth. Time doesn't pass in the Phantom Zone (think
Interstellar
). So Kara remained a 12-year-old when she finally landed while Kal-El has grown into the adult guardian angel of Metropolis.
Ma and Pa Danvers (former feature film Supergirl Helen Slater and ex-ABC Superman Dean Cain) are very fleetingly seen as Kara's adoptive parents. They also have an older daughter named Alex (Chyler Leigh as an adult). Kara spends an unseen 12 years with the Danvers before heading off to National City to find a job. Superman's a big cheese who no longer needs her protection, so Kara has kept her powers on hold.
In National City, she's delivered unto a smug, downsizing media mogul named Cat Grant (Calista Flockhart), who uses Kara as a gofer and go-between. Cat is happily laying off hundreds of Tribune employees, ordering Kara to use the "lesser card stock" in informing them. But hey, "they don't have to downsize at
The Daily Planet
," Kara objects. Yeah, well, they sell newspapers (imagine that) by constantly putting Superman stories on their front pages. "Go find me a hero" if you want to save jobs, Cat orders.
Flockhart so far is the weakest link in
Supergirl
. She remains disconcertingly stick-thin to the point of almost disappearing when turning sideways. Plus, she just doesn't seem right for the part of a domineering taskmaster who at one point dresses down Kara by saying, "I'm sorry, darling. I just can't hear you over the loud color of your cheap pants."
The role of Cat would be better-suited to the likes of Wendie Malick, Vanessa Williams, Sarah Jessica Parker or maybe even Heather Locklear. They'd likely bring a lot more pop to Cat's declaration that the "Supergirl" tag isn't a condescending, sexist slight to National City's new sensation. "I'm a girl," she tells a protesting Kara. "And your boss. And powerful. And rich. And hot. And smart." And simply unconvincing in this part.
Kara's workplace allies, both of whom share her secret, are former
Daily Planet
photographer James Olsen (Mehcad Brooks) and Winslow "Winn" Schott (Jeremy Jordan), who initially designs a two-piece superhero outfit that bears Kara's midriff. So how and why do her powers first come into play? Let's just say it involves a severely imperiled international flight that pretty much forces Kara's hand.
"This girl is the answer. She's exactly what I need to save the
Tribune
," says Kat, who demands a full-out pursuit of exclusive photos, videos and interviews.
The special effects are nicely done, particularly during two fight scenes involving Supergirl and a hulking villain who's likewise from another planet that won't be revealed here. It's all in the very capable hands of head producer Greg Berlanti, who's had superhero success with both
Arrow
and
The Flash
on CBS' sister network, The CW.
The prolific Berlanti also has had some TV series misses in recent years, including
The Tomorrow People, Golden Boy
and
No Ordinary Family
. He earlier worked with Flockhart in ABC's long-running
Brothers & Sisters
. So there's the connection.
Supergirl
is somewhat in keeping with CBS' penchant for crime-fighting dramas, but also is a departure for the network of multiple
NCIS
and
CSI
series. It aspires to attract a younger audience via a comic book superhero franchise approach that the network hasn't tried since its earlier version of
The Flash
flopped back in 1990.
As always, though, it's all in the execution. And
Supergirl
's plucky central character, very winningly played by Benoist, looks good to go for this season and beyond. Viewers under 30 years of age might find themselves in tune with CBS for the first time ever while the network's traditionally older crowd stays in the fold to root for a kid they'd like to have as a granddaughter. A twist in the final seconds further heightens the stakes for a series that might drop Superman in at some point during a ratings "sweeps" period. Otherwise it's so far getting along famously with a newly empowered cousin who's told, "He wanted you to choose it for yourself. Same way he did . . . Now don't you have a city to protect?"
GRADE:
B+
Email comments or questions to:
unclebarky@verizon.net