Here's to her health: Linney carries Showtime to new heights with bravura star turn in TV's first "cancer comedy"
08/13/10 08:28 AM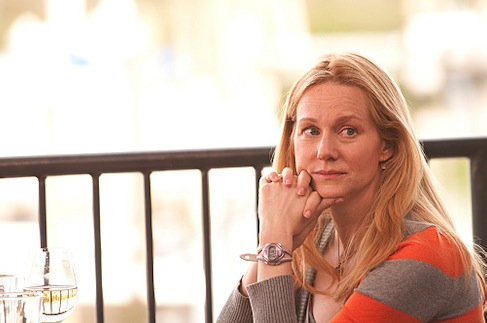 A pondering Laura Linney in The Big C. Showtime photo
Premiering:
Monday, Aug. 16th at 9:30 p.m (central) on Showtime
Starring:
Laurey Linney, Oliver Platt, John Benjamin Hickey, Phyllis Somerville, Gabriel Basso, Gabourey Sidibe, Idris Elbo, Reid Scott
Produced by:
Darlene Hunt, Jenny Bicks, Neal H. Moritz, Laura Linney, Vivian Cannon
By ED BARK
They're not asking and she's not telling.
Showtime's superb
The Big C
soars on the strength of Laura Linney's portrayal of a seemingly doomed cancer victim who copes with a mix of stoicism and long-suppressed flights of fancy. Through its first three episodes, she steadfastly stops short of telling her immediate family what's befallen her. But her tongue otherwise is unleashed, as are many of her previous inhibitions.
The network's shorthand description is "cancer comedy." In longhand, this is a whimsical yet sobering depiction of a 42-year-old's battle to re-connect, re-discover and basically reboot before Stage 4 melanoma puts her in life's past tense. She's been a prim Minneapolis schoolteacher to this point. Now it's time to kick out the jams, speed through the caution lights and gleefully spill red wine on her meticulously cared-for living room couch before burning it in the backyard.
The character's name is Cathy Jamison. And Linney plays her to the hilt in a series that at least equals and arguably surpasses anything currently on HBO, AMC or FX, television's three other hot pockets for derring-do drama/comedy.
In Monday's half-hour premiere episode (
9:30 p.m. central
), we quickly learn that Cathy has a semi-infantile husband named Paul (Oliver Platt's best role to date) and a rebellious teen son, Adam (Gabriel Basso), who resists any and all of her ham-handed efforts to re-bond with him. They include playing paintball and re-mounting the same bicycle built for two that they happily shared as mom and little boy.
Cathy also has a stinky, combative, street-living, save-the-earth brother named Sean (John Benjamin Hickey). They get along beautifully -- by not getting along. In one of his weaker moments, Sean tells Cathy, "You're startin' to get your weird back, Sis."
"You have no idea," she rejoins.
The other pivotal characters are cranky old next door neighbor Marlene (Phyllis Somerville) and sardonic student Andrea (
Precious
star Gabourey Sidibe). In what might be
The Big C
's only significant misstep, Cathy's primary physician is an impossibly hunky and younger Dr. McDreamy type (Reid Scott), who just happens to be treating his very first cancer patient. That kind of stuff only happens in the movies, and
The Big C
is better than that.
One of the series' co-executive producers, Jenny Bicks (
Sex and the City
), is a cancer survivor whose own experiences inform some of the writing. This is particularly true in Episode 3, when Cathy impulsively visits a "cancer is a gift" support group before emphatically deciding this is not for her. During a recent interview session with TV critics, Bicks said she made the same deduction in her own life.
The Big C
nonetheless is walking a tightrope here, striving to make Cathy's point while at the same time not completely ridiculing a true believer who tells her, "When life gives you lemons, squeeze out a smile."
The Big C
doesn't worry unduly about rubbing some viewers the wrong way. At its core, though, it's immensely entertaining and full of snap-crackle dialogue.
"You wear baggies for shoes, Sean. You are so not allowed to say I'm embarrassing," Cathy tells her brother.
"You can't be fat and mean," she tells Andrea. "You can either be fat and jolly or a skinny bitch. It's up to you."
"You're the yin to my yang, the ping to my pong," estranged husband Paul tells Cathy during one of his concerted efforts to win her back.
Each season literally will be a season in Cathy's life, beginning with summer and then moving to fall in Season 2, should there be one. Showtime hasn't officially committed yet, but it's hard to imagine anything short of a long and prosperous run for what's looking very much like the best series in the network's history.
For the record, Cathy's doctor gives her a year to live, "maybe a year-and-a-half." His best case prognosis would take
The Big C
all the way through Season 6. We can only hope.
GRADE:
A
Programming note:
Alas, Season 6 of
Weeds
already is upon us, with its first episode preceding
The Big C
at 9 p.m. central. The new promotional tagline, "Let's Blow This Joint," refers to Nancy Botwin (Mary-Louise Parker) and her family feeling the kingpins of a Mexican drug-smuggling cartel after Nancy's son Shane (Alexander Gould) kills the nefarious Pilar Zuazo (Kate del Castillo) with a croquet mallet.
Once one of Showtime's high points,
Weeds
now is completely out of gas, judging from the Season 6 opener. It's both preposterous and ponderous, with Parker looking bored or embarrassed throughout. In short, the whole thing blows. Only true diehard fans will want to inhale.
GRADE:
D