Louie returns -- and that's a very good thing for us if not him
04/08/15 05:19 PM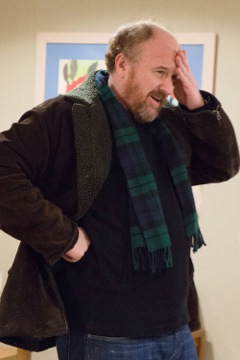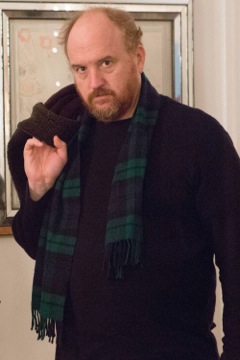 Louis C.K. often gets that sinking feeling in Louie. FX photo
By ED BARK
@unclebarkycom on Twitter
Anything but safe, everything but sorry,
Louie
begins Season 5 in great and oftentimes phenomenal shape.
Don't get too used to it, though. Only seven episodes are scheduled this time out, beginning with the Thursday, April 9th re-start at
9:30 p.m. central on FX.
Season 4 ran twice as long, but so did the hiatus while star/creator/producer/writer/director Louis C.K. re-charged himself and came up with an unusually heavy dose of drama-laden and occasionally drama-leaden half-hours. There was also a
"date rape" controversy
-- at least from some quarters.
FX sent the first four Season 5 episodes for review. Two of them -- two and four -- again spotlight his sardonically supportive, would-be girlfriend Pamela (Pamela Adlon). Louie, a divorced father of two daughters, still yearns for cohabitation. But Pamela insists on an "a la carte" relationship" in which both parties remain free to indulge in other pleasures during what she sees as their "declining" years. Their scenes together always have an edge, with Louie usually on the cutting board while Pamela tells him sweet nothings such as, "That's my job. To make you fun by making fun
OF
you."
Thursday's premiere begins at Louie's main workplace stage, the Comedy Cellar. He gets off an amusing riff about possible life on other planets, contending we should stop looking because "I don't think there's a good version of the 'We found another planet of people' story."
He later winds up at the wrong "class potluck" -- not that he's any more welcome at the right one. Life's tough when your shrink nods off while you tell him, "I just don't know how to live life anymore. And it's scary."
The Pamela-fused Episode 2 also includes Louie's encounter with a pathetic young comic named Bart Folding (guest star Nate Fernald). He begs Louie for a critique of his five-minute open mic routine, which is both unfunny and sad. Get out of the business, kid. But when Bart begs for any possible remedy, Louie offers advice that brings this episode to a turn-of-the-worm conclusion out of the
Curb Your Enthusiasm
playbook.
Episode 3, subtitled "Cop Story," can be both tough to watch and brilliant to behold. Guest star Michael Rapaport takes a full-immersion dive into the role of an NYPD patrolman named Lenny, who remains bitter about being jilted by Louie's sister. It's a ferocious turn by a combustible, high-strung actor. And Louis C.K. is brave enough to mostly defer to Rapaport, whose portrayal of bravado and abject vulnerability should resonate during Emmy nomination time. This episode, the best of the four, also includes a terrific opening segment in which Louie attempts to buy some expensive copper pots at a store whose owner is young and wholly indifferent to him.
Louie's two daughters, Lilly and Jane (Hadley Delaney, Ursula Parker), get a little more distinctly different time with dad in Episodes 2 and 4. There's also Louie's younger brother, Bobby (Robert Kelly), who feels like a failure and is. Bobby and Pamela team up in this half-hour to further vex Louie, whose success as a standup comic is remarked on by others while he struggles to find bits and pieces of equilibrium.
Louie
already has established itself as one of television's all-time great comedies -- and arguably the ballsiest ever. Its architect hopefully has miles to go before he's over and done with it. Season 5 shows that Louis C.K. still has the wherewithal to keep bumping up against all of his uglies. Not with the rage of a Larry David but with the downbeat demeanor of a man who's made it in New York City without otherwise making it work for him.
GRADE:
A
Email comments or questions to:
unclebarky@verizon.net