Cuban's concluding appearance on Shark Tank comes on a Friday night with bigger fish to fry
05/06/11 09:10 AM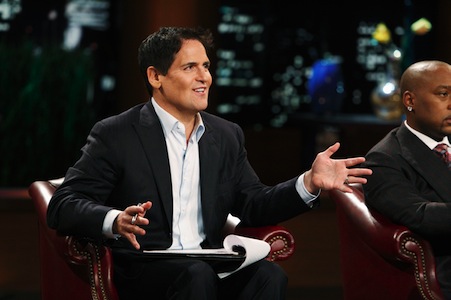 Mark Cuban swims with the fishes on Shark Tank. ABC photo
By ED BARK
Dallas Mavericks owner Mark Cuban is a self-acknowledged "bully" on ABC's
Shark Tank
, but so far has declined to trade jabs with his arch-nemesis in the basketball world -- Los Angeles Lakers coach Phil Jackson.
Cuban is making his final appearance Friday (May 6th) as a guest investor on
Shark Tank
(
7 p.m. central on WFAA8 in D-FW
). But he hopes to last a lot longer in the NBA playoffs, where the Mavericks currently have a surprising 2-0 lead on the defending champion Lakers in what Jackson says is his last year as a pro coach. Game 3 tip-offs shortly after
Shark Tank
runs out of time.
Jackson and Cuban have mixed it up many times before. And the old coach seemed game for another go when he told reporters before Game 1 of the series that the Mavs owner would do just fine if he decided to purchase the messed up Los Angeles Dodgers. Not so with the Lakers, though. At least not on Jackson's watch.
"I wouldn't want him behind my bench," Jackson said, a reference to Cuban's omnipresent courtside perch at Mavericks games.
Your friendly content provider couldn't resist throwing a little chum in the water during a teleconference this week tied to Cuban's
Shark Tank
activities.
After a reference to the Jackson quote, Cuban was asked what kind of boss he is. He's obviously "hands-on" when it comes to the Mavericks but does he also "delegate more than people might think?"
"I micro-manage until I trust you," Cuban said. "And typically I either trust very quickly or I fire you . . . Some of the people who work for me tell me that I'm too hands-off once I trust them. And they want more interaction."
Stationing himself behind the Mavericks bench is a bit harder for Cuban to explain. "There are certain businesses where culture is key to the success of the business," he said. "Any top data on the culture is critical. So that's why you see me by the bench . . . I really try to impact it as much as I can."
But might it also be "good business" to spar verbally with Jackson in the interest of generating a little extra heat? "Are you going to be able to resist any sort of
tete-a-tete
" with him during this playoff series?
"It's
Shark Tank
time," Cuban replied, declining to take the bait. "I'm not even going to go there. But nice try."
On
Shark Tank
, amateur entrepreneurs pitch their wares to potential investors in hopes of hooking them. Cuban and comedian Jeff Foxworthy have been this season's guest investors, joining the show's quintet of regular "Sharks."
Cuban, who may be the richest Shark of all, says that his "financial wherewithal" has positioned him to "kind of be a bully. And I'm fully taking advantage of it."
ABC publicity materials say that "tempers flare" during Cuban's final appearance when he "urges the entrepreneurs to stop negotiating with the other Sharks if they even want a chance to make a business deal with him." Nice.
Cuban doesn't like sob stories. So if you want him to throw a little money your way, don't begin by saying you were born in a van down by the river and overcame the heartbreak of psoriasis before working your way through college by sweeping up elephant droppings during a summer job with the circus.
"When people start looking for sympathy that's the first thing that turns me off," Cuban said. "Everybody's got a story of what made life difficult for them. And you just cannot go there."
On the other hand, "what really gets me going (as an investor) is when people have an operating business where they've already gone for it. And they've invested everything. They've put their soul, their time, everything that they have available to them into the business. And they just need a little bit of help."
His well-publicized wealth and high profile in a variety of media settings "give me access and opportunity because people know who I am and they kind of understand how I work," Cuban said. "And that really shortens the cycle to go from contract to conclusion."
There's a downside, too. Sellers tend to "raise the price," he said, "because they think just because I have the money that I'm going to throw it away."
His Mr. Moneybags image isn't necessarily a detriment in investing, but can be problematic "when I'm looking to buy a house or you name it," Cuban said. "So I have my wife go call under her maiden name. You'll rarely see me bid on something normal using my name."
While
Shark Tank
airs Friday night, Cuban will be prepping in his other, bigger arena -- the American Airlines Center for a pivotal face-off with the Lakers before a national audience on ESPN. That's the stage where he really wants to shine. But for the time being at least, he's decided against talking a good game, too. At the moment that seems like a sound business judgment.