Mad Men's anxiety-laden Season 6
04/04/13 02:00 PM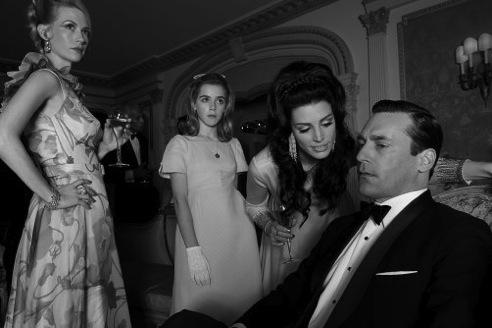 Don Draper (Jon Hamm) with wife, ex-wife, daughter. AMC photo
By ED BARK
@unclebarkycom
It's the Christmas season again on
Mad Men
. Tidings of comfort and joy need not apply.
This may or may not constitute a "spoiler" in the mind of
uber
protective creator/executive producer Matthew Weiner. He's again sent a letter to TV writers with chapter-and-verse instructions on what
not
to reveal as Season 6 gets underway with a two-hour episode subtitled "The Doorway" (
Sunday, April 7th at 8 p.m. central on AMC
). Let's tick off his five no-no's:
The year the season begins
Well, Season 5 ended in the spring of 1967, with Don Draper (Jon Hamm) alone in a bar contemplating whether to be unfaithful to his apprentice actress wife, Megan (Jessica Pare). There are references Sunday night to an upcoming Cotton Bowl with Alabama and Texas A&M and a Super Bowl in which the Green Bay Packers will play either the Oakland Raiders or Houston Oilers. You're on your own from here.
Status of Don and Megan's relationship
It's already been leaked that they begin the season on holiday in Hawaii. AMC also has released some beachfront photos. Don and Megan look happy together.
Whether the agency has expanded to an additional floor
This is a ridiculous demand on Weiner's part. Yes, it has.
New characters
Let's just note that James Wolk, former star of Fox's short-lived, Texas-made
Lone Star
, is newly added to the cast. Most producers are happy to divulge cast additions and their roles. But not Weiner, so we'll leave it at that.
New relationships or partners
This is mainly aimed at Don Draper. And yes, there's some activity on this front.
The Season 6 premiere in general terms is very much about soul-searching, anxiety and specters of death. These are two fairly slow-paced hours, with at least one odd and rather clumsily executed side trip involving Don's ex-wife, Betty (January Jones). Her brief but creepy bedtime discourse with second husband Henry Francis (Christopher Stanley) is likewise out of the blue. Maybe Weiner really doesn't know what do with this character anymore -- and should have written her out.
Meanwhile, Don and Betty's only daughter Sally (Kiernan Shipka) is growing up fast and getting more restive and insolent by the minute.
Two of
Mad Men
's principal supporting characters, Pete Campell (Vincent Kartheiser) and especially Joan Harris (Christina Hendricks), are given little to do in these opening two hours. But Peggy Olson (Elisabeth Moss), now working for a rival ad agency, comes strongly to the fore while Don's longtime partner and commiserator, Roger Sterling (John Slattery), struggles to re-charge his batteries and give a damn.
The ad agency goings-on, so vital to
Mad Men
in its early seasons, have receded somewhat but are hardly out of the picture. There are still important clients to satisfy, with the Royal Hawaiian Hotel and Koss headphones of paramount concern Sunday night. An ad campaign for the latter is waylaid by an inopportune standup comic's joke on
The Tonight Show
, prompting Peggy to make on-the-fly adjustments. The review DVD sent to TV writers has her unleashing an f-bomb that presumably will not make air. If it does, it'll make news on an advertiser-supported network.
Whatever the sub-stories, the state of Don Draper's psyche will always be
Mad Men
's end-all, be-all. And as the second-to-last season begins, he remains an impeccably dressed, tightly wound bundle of damaged goods who can't seem to square himself with the establishment-defying, free-form closing years of the '60s.
Save for the bed-hopping, of course. That's always been his specialty, with looks that still kill while Draper keeps dying inside. Weiner's end-game for his leading man does not appear to be brightly lit. Nor is Season 6 of
Mad Men
off to a particularly sparkling start creatively while we wait for the worst to come.
GRADE:
B+
Email comments or questions to:
unclebarky@verizon.net