A "Lady Mary" quite contrary in TNT's Good Behavior
11/15/16 10:27 AM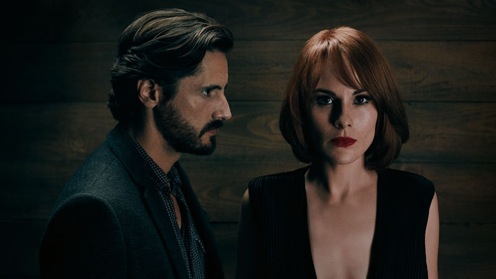 Juan Diego Botto and Michelle Dockery break bad in Good Behavior.
TNT photo
Premiering:
Tuesday, Nov. 15th at 8 p.m. (central) on TNT
Starring:
Michelle Dockery, Juan Diego Botto, Lusia Strus, Terry Kinney
Produced by:
Chad Hodge, Blake Crouch, Marty Adelstein, Becky Clements
By ED BARK
@unclebarkycom on Twitter
Tightly bound in proper
Downton Abbey
finery for six seasons, Michelle Dockery lets loose with a vengeance in TNT's determinedly "adult"
Good Behavior
.
The transition is beyond stark in her first American TV series. Dockery U-turns from adventuresome but etiquette-respecting Lady Mary Crawley to drug-hazed, flesh-baring ex-con Letty Dobesh, whose compulsive thievery is also part of her makeup. Smoking crack from a jerry-rigged light bulb leaves her very much worse for wear at the end of Tuesday's premise-setting premiere episode.
"You need to replenish your system," she's told near the start of Episode 2.
"I need to smoke a bowl," Letty shoots back. Lady Mary begone.
Adapted from the book by Blake Crouch, who's also an executive producer,
Good Behavior
plays an uneven game of cat and mouse throughout the first three hours made available for review. Its two principal stars, with Argentinian Juan Diego Botto as a suave, hunky hit man named Javier, are both visually glorious and increasingly intriguing as thrown-together partners in crime.
His misdeeds are a big step up from hers, though. As a murderer for hire, Javier calmly goes about his business while Letty both succumbs to his charms and begs to be freed after essentially being kidnapped. Some of this can be a little far-fetched, with Letty also being pestered by a parole officer named Christian (Terry Kinney). Beset with his own set of problems, Christian is prone to cut her some slack while repeatedly insisting that she report to him as scheduled or be sent back to prison. Does he really mean it, though?
Good Behavior
strains to accommodate this supporting storyline while also mixing in Letty's cold-hearted mother, Estelle (Lusia Strus), who won't let her daughter see a pre-teen son from a previous marriage.
Through it all, TNT flexes its latter day "edgy" muscles with f-bombs that have their midsections muffled, some rather provocative sex talk and Dockery in various stages of undress that wouldn't have made the cut in
Rizzoli & Isles
. This includes a notably definition-enhancing nightgown in Episode 1.
So how does it all come to this? Recently released early from prison for "good behavior," Letty is first seen slogging out a living at a diner before a slug of a customer comes on to her in the restroom. She punches him and lifts his wallet before being fired by a boss who brays, "You junky whore. You belong in prison."
Letty then returns to robbing luxury hotel suites while their inhabitants are elsewhere. Unfortunately, she ends up hiding in a closet and overhearing Javier's plans to bump off the wife of his latest paying customer. Will Letty try to save the day? Yes. Will complications ensue? You bet. "You work for me now," she's told. And Javier is not kidding in the least.
Episode 2 revolves around Letty masquerading as Javier's wife while he arranges to knock off a boorish husband whose long-suffering wife has joined him at a posh resort. This gives Dockery a chance to belt out a few bars of "Blue Skies" during the course of sloshing down martinis with the unsuspecting spouse while Javier joins her hubby for a little game of golf -- and an end game. But there are complications. And eventually an extended road trip in Episode 3, which includes some sharp banter and a few fairly inventive twists.
Dockery fully inhabits this role, to the point where Letty kicks in and the "Hey, that's Lady Mary" thoughts tune out. Botta hangs in and pretty much measures up, giving
Good Behavior
two to grow on as the series progresses. Whether he's a hit man with a heart still hangs in the balance, as does Letty's overall willingness to leave him when and if she can.
Good Behavior
so far is a work in progress with two leads who show considerable promise in terms of making it all work. Dockery's rather amazing transformation is the principal selling point -- for now.
GRADE:
B
Email comments or questions to:
unclebarky@verizon.net