ABC's The Deep End lawyers up without making much of a case
01/20/10 12:35 PM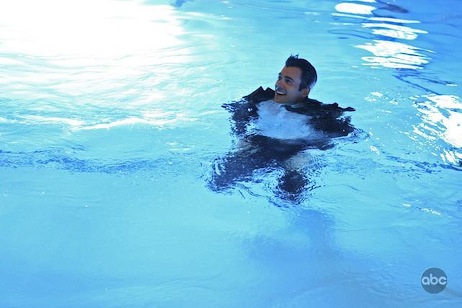 Rookie lawyers sink or swim in The Deep End. ABC photo
By ED BARKPremiering:
Thursday, Jan. 21st at 7 p.m. (central) on ABC
Starring:
Matt Long, Billy Zane, Leah Pipes, Clancy Brown, Tina Majorino, Norbert Leo Butz, Ben Lawson, Mehcad Brooks, Nicole Ari Parker, Rosa Pasquarella
Produced by:
David Hemingson, Jan Nash
By ED BARK
The shorthand description is "
Grey's Anatomy
in a law firm," with five incoming practitioners jockeying for position.
But ABC had far more pop and zing with the dearly departed
Boston Legal
, which makes
The Deep End
seem both shallow and in over its head.
Early episodes were mostly filmed in Dallas last fall, but the series is set in L.A. That's why you'll see recurring stock shots of mountains and beaches in Thursday's premiere, which precedes a new episode of
Grey
's.
There are many characters to digest here, even though one of them, first year associate Malcolm Bennet (Mehcad Brooks from HBO's
True Blood
), is only fleetingly introduced amid the rapid rush of events at the haughty Sterling law firm.
The four other newcomers, all striving to stick to the wall, are idealistic Dylan Hewitt (Matt Long), opportunistic Beth Branford (Leah Pipes), womanizing Liam Priory (Ben Lawson) and mouse-ish Addy Fisher (Tina Majorino).
Their whipcracker -- and designated "Prince of Darkness" -- is hard-hearted, self-absorbed Cliff Huddle (Billy Zane sporting a shaved head), whose authority is threatened by the return of firm namesake Hart Sterling (Clancy Brown), who's been off tending to his ill wife.
Huddle's married -- but not happily so -- to firm partner Susan Oppenheimer (Nicole Ann Parker).
Deep End
also includes a "mentor" named Rowdy Kaiser (Leo Butz) and an unnamed paralegal (Rosa Pasquarella) whose extracurricular activities are key to the soap opera-ish aspects of the series.
Much of the dialogue is punchy and brisk, even if real people don't really talk the way Beth does in explaining the lay of the land to Dylan.
"We're first-years," she tells him. "Grunts. Doormats. Newbies. Barely worth a partner's time. Yet expected to perform flawlessly."
Dylan performs pretty flawlessly on his opening pro bono case, which unfortunately isn't all that compelling. He represents a young woman fighting for custody of her six-year-old son after her husband's sudden death from an aneurism. Battling her is the dead man's mom.
Viewers otherwise will learn that Liam isn't circumcised and Beth isn't circumspect in telling Addy about this. Meanwhile, Zane's Cliff Huddle dependably blusters and sneers, telling Dylan at one point to "leave before I set you on fire."
In the early going at least,
Deep End
is pretty much all over the place, veering from snarky to moderately sappy without making any of the principal characters resonate. Who really cares if any of them succeed? That's a key question when you're asking for a weekly investment.
Maybe this so far unwieldly mix will mesh in future episodes. Still, first impressions are key to the longevity of any drama or comedy series. And
Deep End
doesn't seem to be dispensing any overriding reasons to keep watching.
GRADE:
C