Shout! Factory's latest intriguing TV time travel is The Many Loves of Dobie Gillis from start to finish
07/03/13 10:23 AM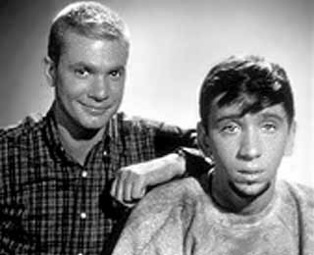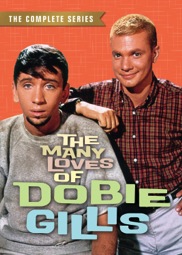 Dwayne Hickman, Bob Denver as Dobie Gillis & Maynard G. Krebs.
By ED BARK
@unclebarkycom
It's nearing 54 years since the premiere of the first TV series built primarily on a teenager's point of view.
There's a catch, though.
Dwayne Hickman was 25 when he first appeared as the 17-year-old star of CBS'
The Many Loves of Dobie Gillis
on Sept. 29, 1959. And the role of his beatnik pal, Maynard G. Krebs -- the Fonzie of his day -- went to 24-year-old Bob Denver.
That didn't leave a lot of time for their high school years, even with the looser believability standards of those days. Which is a shame when looking back on
Shout! Factory's new release of the complete series
, which stretched for four seasons and 147 episodes. By Season 2, Dobie and Maynard already had enlisted in the Army. And in the 1963 series finale,
Dobie Gillis
had grown so tired and lame that it simply recycled the storyline of the very first episode.
It all aired in black-and-white, although Dobie's hair nonetheless looked strikingly blonde. The producers of the show, as Hickman explains in a new interview on the "Extras" disc, didn't want Dobie to look anything like the Chuck MacDonald character he had just played on NBC's
The Bob Cummings Show
. So he went from full-headed brunette to close-clipped blonde until his hair began falling out from too much dye, Hickman says. By the start of Season 2 his mane had gone notably darker while the show began going south creatively.
The first season is still a joy of re-discovery, though. Dobie began each episode in a park, replicating the hand-in-chin pose of a nearby statue of "The Thinker." He talked at length to the camera, with Episode 1 elaborating on the show's theme song of how "Dobie wants a gal who's dreamy. Dobie wants a gal who's creamy."
But Dobie was invariably broke, unwilling to work in his high-strung father's grocery store and fated to pursue material girls. Principal among them was beauteous Thalia Meninger, played by a then 16-year-old Tuesday Weld. Thalia kept pleading poverty in her own right while demanding that Dobie spend lavishly on her during the course of becoming rich enough to marry her.
Weld did just 16 episodes of
Dobie Gillis
, though, all but two of them in Season 1. And the series' most famous inhabitant, Warren Beatty, left the show after appearing in just five episodes as super-wealthy and snooty Milton Armitage.
Beatty, 22 at the time, is absent from the pilot of
Dobie Gillis
but shows up in a big way in Episode 2, subtitled "The Best Dressed Man." As a high school classmate of Dobie, Maynard and Thalia, he immediately impresses her with the impeccably tailored suits he flaunts.
"You know, I always hang my clothes six inches apart so that the materials don't rub together," Milton tells her. Swoon.
"Why, he's not a man," Dobie laments. "He's a tailor's dummy."
Dobie fights back by convincing the owner of Ziegler's clothing store (played by cartoon genius Mel Blanc) to let him "advertise" his suits and sports jackets by wearing a different one to school each day. Dobie and Milton then begin trying to top each other with grand entrances to the classroom. Thalia is ecstatic. And even in black-and-white, the outfits jump off the screen in an episode that also introduces venerable William Schallert (later to play Patty Duke's sitcom dad) as exasperated teacher Leander Pomfritt.
The first and easily the best season of
Dobie Gillis
, created by humorist Max Shulman, also births the character of plain-faced, nose-wrinkling Zelda Gilroy (Shelia James). Her ardor for Dobie is undiminished despite constant rejection.
They first meet while seated next to each other in zoology class during Episode 3 ("Love is a Science"). Zelda is initially mute before Dobie finally exclaims, "For Pete's sake, speak to me. Say something! Say anything!"
"I love you," she replies, explaining that they're "victims of propinquity" because their surnames are alphabetically close to one another.
Dobie has no romantic interest in her, but Zelda is undeterred. She's also a terrific character, but again only a recurring one who appeared in 33 of the 147 episodes and just four in the show's dreary final season. Dobie and Zelda never married during the series, but were presented as man and wife in the embarrassing 1988 movie
Bring me the Head of Dobie Gillis
.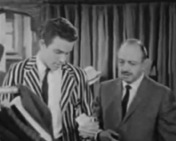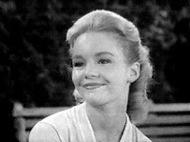 Warren Beatty, Sheila James, Tuesday Weld as Milton, Zelda,Thalia.
Hickman was the top-of-the-marquee star of
Dobie Gillis
, with his name appearing in capital letters at the start of every episode. But Denver became the breakout character and took it to the bank in much the same way Henry Winkler did with his
Happy Days
depiction of Fonzie.
Denver, who died in 2005, went immediately from
Dobie Gillis
to
Gilligan's Island
and its subsequent cartoon and movie sequels, including 1981's immortal
The Harlem Globetrotters on Gilligan's Island
. His Maynard always wore a cut-off sweatshirt with holes in it, switching from a badly soiled version to a clean one in Season 2.
Maynard had numerous catch phrases. His aversion to any sort of labor prompted him to exclaim "Work!" whenever the word came up. His other go-to line -- "You rang?" -- always came after an unflattering description prompted a pop-in appearance. As when Dobie, in the Season 2 premiere, said that his chances of landing a towering blonde named Esme were "puny, scrawny, skimpy, scraggly, tattered." Enter Maynard: "You rang?"
Maynard also called Dobie "good buddy" and regularly said, "Like I'm getting all misty" whenever his emotions welled up.
Dobie's grocery store-running parents, Herbert T. and Winnie Gillis (Frank Faylen, Florida Friebus) were also prominent in the series. In fact, Herbert T.'s constant blowups may have had as much screen time as Maynard's innocent bumblings. Dobie's pop also had a tagline in Season 1, vowing repeatedly, "I gotta kill that boy. I just got to."
Beatty's Milton Armitage was soon replaced by the far more foppish Chatsworth Osborne Jr. (Steve Franken), who proved to be a poor substitute. And in a curious turn of events, Maynard briefly enlisted in the Army during Season 1's Episode 5. A new character, cousin Jerome Krebs (Michael J. Pollard), dropped in at the end of that episode and appeared in the next one as well while Denver's Maynard stayed off camera. Maynard then suddenly returned in time for Episode 7, explaining that the Army had given him a "hardship discharge" because it couldn't take him anymore.
Pollard went on to co-star in Beatty's breakthrough 1967 feature film,
Bonnie and Clyde
. The two of them met in Episode 6 ("The Sweet Singer of Central High"), in which Beatty warbles a few bars of "My Old Kentucky Home" before later being told by Dobie that he has "little fat legs."
Hickman sounds a lot like Jack Benny in a number of early episodes. And in that aforementioned new interview, he admits, "There were mannerisms that I picked up from Jack. And I knew Jack. And he was a really delightful man."
Dobie Gillis
never received any Emmy nominations, but did rank among prime-time's 25 most-watched series in both its second and third seasons. It was a pretty smart show at first, with ample wit and promise tucked within the title character's obsession with finally finding and keeping "a girl to call his own."
But the Season 3 premiere, with Dobie and Maynard getting out of the Army and enrolling in S. Peter Pryor Junior College, pretty much sealed the show's fate as a growingly formulaic sitcom with a sappy bent as well. At that episode's close, the newcomers all join in singing the school's hymn. Cringe.
Season 4 begins with a sendup of the
Ben Casey
medical drama and ends with a big thud of a 147th episode titled "The Devil and Dobie Gillis."
Zelda is nowhere to be found here. Instead Dobie pursues Chatworth's rich cousin Pamela (Barbara Babcock of future
Hill Street Blues
fame) in a virtual replication of Episode 1. In short, Dobie agrees to participate in a rigged big money-drawing only to suffer guilt pangs after envisioning a future life of crime. But as before, he actually has the winning ticket when the co-conspirator is delayed. Pamela, as did Thalia, then brusquely kisses him off for being so stupid.
It should be noted that it was much easier to run out of new ideas in those days. Doing 147 half-hour episodes in just four seasons averages out to almost 37 per season compared to the 22-to-24 made in today's TV world. With fewer and shorter commercial interruptions, episodes of
Dobie Gillis
also average more than 25 minutes apiece compared to today's 20-21 minutes.
In that context, the first and far superior season of
Dobie Gillis
amounted to two seasons in terms of running time and number of episodes. Weariness then seemed to gradually set in all around. And Shout! Factory has it all there for you to see.
Email comments or questions to:
unclebarky@verizon.net