ABC's Notorious leaves a ring around the cable news and legal professions, but not in a way that makes it watchable
09/22/16 10:42 AM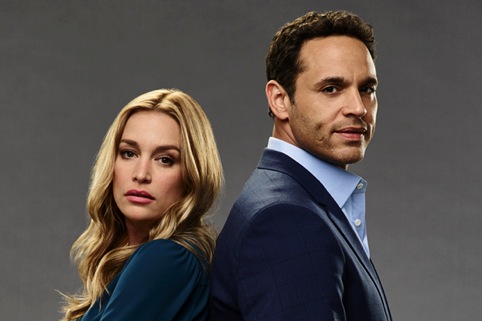 Piper Perabo, Daniel Sunjata have each other's backs in Notorious.
ABC photo
Premiering:
Thursday, Sept. 22nd at 8 p.m. (central) on ABC
Starring:
Piper Perabo, Daniel Sunjata, Kate Jennings Grant, Aimee Teegarden, J. August Richards, Sepideh Moafi, Ryan Guzzman, Kevin Zegers
Produced by:
Mark Geragos, Wendy Walker, Josh Berman, Allie Hagan, Michael Engler, Kenny Meiselas, Jeff Kwatinetz, Josh Barry
By ED BARK
@unclebarkycom on Twitter
Retitle it
Noxious
and at least there'd be truth in packaging. Not that it would improve the series otherwise known as
Notorious
.
Revolving around a hit cable news show, its principal characters are one big batch of conniving, self-absorbed pile-drivers who of course also are very pretty on the outside. "Inspired" by the real-life tales of defense attorney Mark Geragos and news producer Wendy Walker, ABC says its latest serial string-along is a "provocative look at the unique, sexy and dangerous interplay of criminal law and the media."
Actually, it's more of an indictment of cable news and relatable storytelling. None of these characters are likely to resonate in the least with people who need people they can care about or at least avidly root against.
Central to this thing is Julia George (Piper Perabo), producer of the supposedly wildly influential
Louise Herrick Live
. Its anchor (played by Kate Jennings Grant) is an amoral cougar who'd poison her grandma as a means to an end, but definitely wouldn't sleep with Larry King unless he could guarantee her eternal life. She greatly prefers the company of sculpted, bare-chested young men at all hours of the day and night, oftentimes at the workplace in her bra and panties.
For her part, Julia also is first seen groaning in the dark at her place of employment. Her stimulator is boyfriend Eric Jessup (Marc Blucas), a hunky federal judge.
Julia otherwise is in bed, figuratively for now, with dashing, high-powered attorney Jake Gregorian (Daniel Sunjata). He feeds her exclusive interviews, and she makes sure they help his clients. It's a thoroughly unethical arrangement that possibly matters not anymore to many real-life cable news producers and presidents. Although they'd all publicly disavow the goings-on in
Notorious
, saying this would never be tolerated on their watches. Because, you know, they're all about Journalism with a capital J.
In Thursday's premiere episode, one of Jake's clients, filthy rich tech mogul Oscar Keaton (Kevin Zegers), is arrested and charged with the hit-and-run murder of a 15-year-old. Julia, only concerned with pumping up ratings, works hand in hand with Jake to both create misdirection and nab "exclusives."
Louise Herrick Live
won't settle for anything less. Because, after all, says a newsroom underling, "She decides what the country cares about. She creates heroes and monsters, victims and villains."
A cable news potentate with that kind of power has never existed in fact -- and is laughable in fiction. Bill O'Reilly, Chris Matthews and even the recently jettisoned Nancy Grace might readily admit that.
The plot otherwise careens all over the place before leaving a dead body and an unknown assailant hanging in the balance. Fading Katie Couric also drops in for a show-closing cameo as herself, but primarily for the purposes of crediting
Louise Herrick Live
with another scoop. Just how desperate is she these days?
This is a show without any nutritive value, innate appeal or sense of purpose. It slogs through its muck until the buzzer sounds -- but at least looks glossy in doing so. The biggest shock of all would be if large numbers of viewers actually come back for more.
GRADE:
D
Email comments or questions to:
unclebarky@verizon.net