Survivor host Probst likely won't deliver on this particular promise
08/24/10 03:28 PM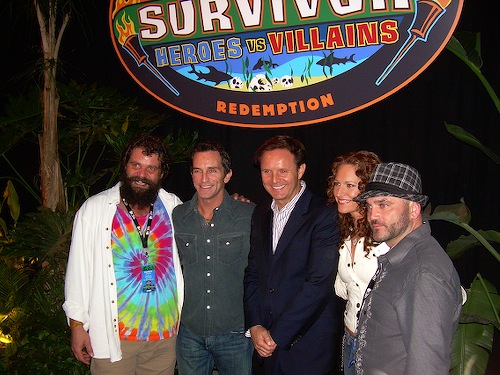 Jeff Probst (second from left) at January Survivor anniversary party with (from left) hero Rupert Boneham, executive producer Mark Burnett, villains Jerri Manthey and Russell Hantz. Photo: Ed Bark
By ED BARK
BEVERLY HILLS, Calif. -- Former Dallas Cowboys coach Jimmy Johnson's participation in this fall's
Survivor: Nicaragua
had been widely reported but not yet officially announced when CBS held its latest summer press tour "All-Star Party" in late July.
So your friendly content provider sidled up to the show's host, Jeff Probst, to see if he'd spill anything. Probst, who late last week won his third consecutive Emmy as best reality show host, had just returned from taping the 21st edition. But here's the way these games are played.
"I love him," Probst said of Johnson. "He's a great football coach. He's got an
awesome
head of hair. And he's applied to be on
Survivor
twice in the past . . . He couldn't get through our physical. I've heard reports he's on. And if he's on this season, I'll wet my pants. 'Cause I'm a huge fan."
Well, of course Johnson is part of the newest
Survivor
. And Probst was fresh from spending some presumably quality time with him in Nicaragua. But he probably won't follow through on that vow to soil himself. Damn these Hollywood phonies.
Oh, but we kid. Following last season's successful
Heroes vs. Villains
20th edition,
Survivor: Nicaragua
has another gimmick in mind. Johnson, 67, will be part of a 10-member team of competitors over 40. They'll square off against a contingent whose oldest member is 30. And at this stage of the game, Probst concedes that every new
Survivor
must have a get-'em-in-the-tent angle.
"It's a great format, but it's hard to promote without a twist," he said. "And that's why I'm always pushing hard every year, because I know I have to answer the question, 'What's new?' The twists are little spices. And you now have to have 'em."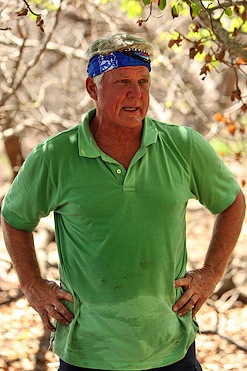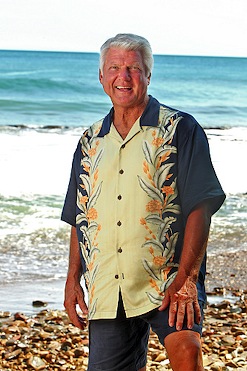 Jimmy Johnson looks to be in fighting trim for Survivor. CBS photos
His friend since
Survivor
's second edition, Christoval, TX native Colby Donaldson, played the game for the third time in
Heroes vs. Villains
. He made it to the final five and was the last "Hero" standing. Still, Donaldson seemed disgruntled and disengaged throughout. And unlike
Survivor: The Australian Outback
, where he was runnerup, the former Dallas-based custom car builder proved to be a washout in immunity challenges.
"He did not seem to be having fun," Probst said. "I think it was a rough one for Colby and I doubt we'll ever see him back. And I would encourage him not to do it . . . He's not the same guy he was 10 years ago. Things could not have gone better the first time he played. Every single thing worked out. And it's all downhill from there."
Heroes vs. Villains
was won by Sandra-Diaz Twine, a canny succubus who won no immunity challenges but again triumphed over those who did. In two consecutive
Survivors
, oily Texan Russell Hantz made it to the final three before the show's jurors snubbed him as a duplicitous backstabber.
Masterminds regularly get screwed in the end, Probst said. "Often what happens is that a group of very bitter people say we're going to vote against you and we're going to give it to the idiot sitting next to you" in the final make-or-break vote. "If I had a vote, I would have voted for Russell in Samoa and Pavarti (Shallow) in
Heroes vs. Villains
.
Probst insists he hasn't contracted any
Survivor
fatigue over the years.
"I am into it. I still find it fascinating," he says.
Just don't expect him to wet his pants.