Reelz Channel's Hollywood Hillbillies accentuates its "Mema"
01/20/14 10:54 AM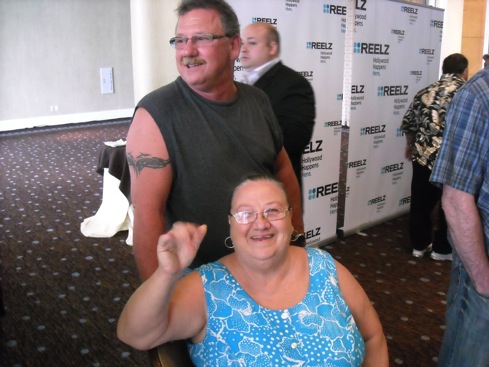 "Mema" (Delores Hughes) and "Big John" (John Cox) of Reelz Channel's new "reality" concoction, Hollywood Hillbillies. Photo: Ed Bark
Premiering:
Tuesday, Jan. 21st at 8 p.m. (central) with back-to-back episodes on Reelz Channel
Starring:
Mema (Delores Hughes), Michael Kittrell, Dee Dee Peters, John Cox, Paul Conlon
Produced by:
Jonathan Koch
By ED BARK
@unclebarkycom on Twitter
So they loaded up the truck . . . and all that other stuff.
Reelz Channel's
Hollywood Hillbillies
, TV's latest salute to bumpkin-dom, stars an aggressively "backwoods" collection of characters from Grayson, Georgia. They made a nice little ripple in the pond last summer during their maiden appearance in Beverly Hills at a Reelz Channel interview session for TV critics. That's when the unbridled star of the show, a grandma known as "Mema" (real name, Delores Hughes), proclaimed her fondness for vittles.
"I love to eat," she said. "I want to know where you've eaten, when we're goin' to eat, what you just had to eat. I love to damn eat."
Well said. For the purposes of
Hollywood Hillbillies
, though, Mema's first words (at the dinner table, of course) are an appetizer served cold: "When I say a blessing, it brings me back to reality at what real assholes all of ya'll are."
That's the spirit, even if Mema tough-loves one and all, particularly her high-strung grandson, Michael Kittrell (a k a "The Angry Ginger"). Roughly four years ago she gave the kid a video camera for Christmas. He ended up recording a very loud
youtube rebuttal
to a
South Park
episode in which redheads (gingers) were said to have no soul.
Damned if the dumb thing didn't go viral, attracting the attention of former Death Row Records executive David Weintraub. He's since branched out into TV with the likes of
Celebrity Rehab with Dr. Drew
. And Weintraub supposedly sees Kittrell as a potential star who only needs to be marketed right.
Weintraub plays himself on camera, but the principal producer of
Hollywood Hillbillies
is Johathan Koch (
Beyond the Glory, The Kennedys, Urban Tarzan
). He seems to see more gold in Mema than her grandson. So she gets most of the good lines in the opening episode made available for review. As in, "Wait a minute, I don't have my damn teeth." Or, "I was laid out on that thing like a slab of ham" (referring to a salon table).
The pretense is that Mema can't let Michael run off to Hollywood on his own because he'll get in trouble and screw everything up. "He can haul coal in his ass when he's older. But for now he's mine," she reasons.
Also along for the ride are Mema's daughter, Dee Dee Peters; her basically mute fiancé, Paul Conlon; and "Big John" Cox, who's Michael's uncle. Before heading to Hollywood, they throw a party that features a big roasted pig and a swimming pool/hot tub in the back of a pickup truck. This is all in keeping with the show's overall tagline: "The Highfalutin' Better Watch Out!"
The highfalutin' likely will sit this one out, although it's possible a Kardashian might tune in to feel superior. Otherwise it's hard to tell whether Mema's repeated references to Hollywood "fruitcakes" will ring a bell. And it's possible that some will take offense when producer Weintraub (seemingly lit up a bit) tries to impress the brood by riding a mechanical bull during a night on the town at the Saddle Ranch. "I've never seen a Jew on a bull before," Mema says. "I don't even know if that's kosher."
You'd best be a little more careful, Mema. Better to stick with those on-the-money observations about the cost of living in Hollyweird. During that appearance last summer before TV writers, she let go with this winning riff: "It's so damn expensive to live here. Did you know a hamburger, french fries and a Coke is $27 and 50 damn cents? The Beverly Hilton is expensive. I picked up a jar of peanuts and they charged me $10 for it. And I called down to tell them that I want it taken off (the hotel bill) because all I did was pick the damn thing up."
One more thing. On Tuesday's first
Hollywood Hillbillies
, Mema also recalls the time her septic tank backed up and she had to pee standing up so as not to get bit by fire ants.
In other words, the future course of action should be clear. Give this woman her own fixer-upper show on HGTV. Or a cooking show on the Food Network. Or make her the host of a new version of
Lifestyles of the Rich and Famous
on Bravo. Mema's shelf life may be limited. But hot damn, her presence in
Hollywood Hillbillies
is all that really matters. And the only reason to perhaps guiltily sneak a peek.
GRADE:
C
Email comments or questions to:
unclebarky@verizon.net