BBC America's Orphan Black returns with star Tatiana Maslany in even finer forms
04/17/14 09:45 AM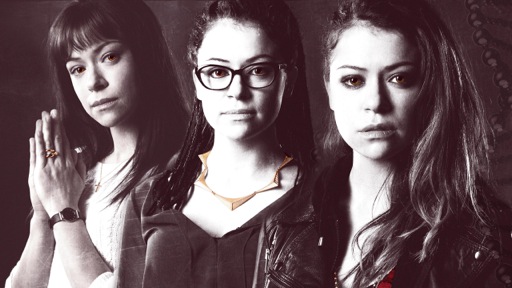 The three main faces of Tatiana Maslany: Alison, Cosima and Sarah.
BBC America photo
By ED BARK
@unclebarkycom on Twitter
Tatiana Maslany and her clone posse remain the overriding reasons to watch
Orphan Black
.
But let's face it, the sci-fi storyline is way out of whack -- even for sci-fi. And Season 2 of BBC America's most talked-about series (
launching Saturday, April 19th at 8 p.m. central
) is if anything even more convoluted in its comings, goings, killings, near killings and constant fumblings by the sinister Dyad Institute.
BBC America publicity materials promise a "richer and faster-paced" sophomore year that plunges Maslany's principal three characters, Sarah Manning, Alison Hendrix and Cosima Niehaus, into a "web of discovery that pales in comparison to the revelations that they are clones."
It's a tangled web, of course, with Maslany again navigating it brilliantly whether she's on the lam (as Sarah), rehearsing for a community musical (as Alison) or doing an autopsy (as Cosima) on a fleetingly seen character whose fate and identity will be kept confidential in these spaces. "Remember, what happens in clone club, stays in clone club," executive producers Graeme Manson and John Fawcett advise TV critics. OK, that's perfectly reasonable.
Four of the new season's 10 episodes were sent for review. Saturday's opener gets off to a dynamic start after a traumatized Sarah wanders into a diner within hours of a frantic search for her missing daughter, Kira (Skyler Wexler), who was abducted at the close of Season 1. Two mysterious men stride in, and the resultant violence is a big blam of an attention-getter.
The episode ends, however, with a revelation that just doesn't compute. Let's just say the producers may have thought long and hard in the off-season about whether they really wanted to . . .
Season 2 of
Orphan Black
also delves far deeper into a wacko religious sect, the Proletheans, headed by new character Henrik "Hank" Johanssen (Peter Outerbridge). Hank spouts pieties such as, "Man's work is God's work. As long as you do it in his name." Mysterious Dr. Aldous Leekie (Matt Frewer), head of Dyad, at times seems like a puppy dog in comparison. "The age of bio-technology is upon us," he pronounces at a big party.
No one can really be trusted, of course. Except perhaps for Cal Morrison (Michael Huisman), a hunky, bearded former lover of Sarah's introduced in Episode 3 of the new season. Could he be Kira's biological dad? And why has Sarah been the only clone able to conceive a child? The inquiring minds at Dyad still very much want to know. But Sarah miraculously manages to elude them time and again, with help from her very openly gay foster brother Felix "Fee" Dawkins (Jordan Gavaris), who's first seen cavorting in ass-baring pants.
Episode 3 so far is the overall strongest of the new season. It's the one where Fee tells Sarah, "You are a bloody wrecking ball. You are an exploding cigar." No kidding.
All of this commenced when Maslany's Sarah saw Maslany's Beth Childs commit suicide by stepping into the path of a subway train during Season One's early minutes. Sarah, a street-savvy con artist, began impersonating Beth as part of a gambit to eventually steal her life's savings. Instead she became immersed in an illegal human cloning operation while meeting various lookalikes along the way. Now they're all endangered, but Sarah remains Dyad's Most Wanted while the rest are tracked by "monitors."
Maslany shows no signs of running down during the very challenging assignment of playing a wealth of disparate characters. But
Orphan Black
's twists, turns and veers are getting increasingly harder to keep down -- and impossible to swallow whole. The plausibility switch invariably is off and on in any sci-fi endeavor. But the longer they go on, the tougher it is to maintain even a modicum of believability.
None of this is Maslany's fault. She's still a wonder, never more so than in Episode 4's closing scene.
Orphan Black
's faults lie not with its star.
GRADE:
B
Email comments or questions to:
unclebarky@verizon.net