Barry Levinson's Poliwood has less depth than plywood
11/02/09 10:57 AM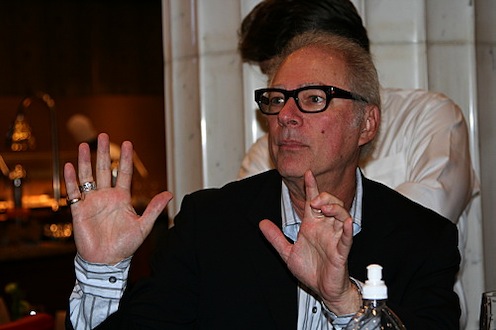 Barry Levinson directs and pontificates in Poliwood. Showtime photo
By ED BARK
This much is clear about Barry Levinson's disappointing
Poliwood
. In his autumn years, the accomplished director (
Rain Man, Avalon, Diner
) likes to hear himself talk and be seen doing it.
His 90-minute documentary about the convergence of Hollywood, politics and television is otherwise dubbed a "Barry Levinson Film Essay." Undisciplined, disjointed, and rarely revelatory, it premieres on
Monday, Nov. 2nd at 6:30 p.m. (central) on Showtime
and will be repeated and available On Demand.
"I don't think anyone would realize the profound changes that television would bring about," Levinson says in his opening narrative thesis. He ends up concluding that TV "may be the most disastrous invention that ever happened in the history of mankind." No, that would be texting.
It's apparently just dawning on Levinson that television tends to polarize and trivialize politics. And that the national party conventions are choreographed from start to finish. Wow, who knew?
He journeys to both of the 2008 party gatherings with members of Hollywood's so-called "non-partisan" Creative Coalition. The film also bounces back and forth among other venues, including President Obama's inaugural gala and his nomination speech. Its overall structure is akin to a two-year-old constructing his first Lego masterpiece. In other words, a jumble.
Insights are mostly either obvious or overstated, many of them from Levinson himself talking to the camera in grainy black-and-white or telling an actor or actress what he thinks. Sometimes he'll listen, too, as when a blowhard at the Republican convention in Minneapolis says, "This is all about selling commercial time. It's a TV show. Might as well be watchin'
Baywatch
."
Never mind that the Big Four broadcast networks would just as soon not televise the conventions at all. They're expensive, get mostly lousy ratings and have long been whittled down from gavel-to-gavel to an hour or so of coverage per night.
One of Levinson's Creative Coalition subjects is actor Tim Daly, who also happens to be one of the film's producers. Therefore he's heavily interspersed throughout the film, cast as an earnest truth-seeker who climactically speaks at length about himself as a man of humble origins who may have a gardener now but worked at a number of menial jobs before striking it rich.
Other celebs making more than cameo appearances include Susan Sarandon, Ellen Burstyn, Matthew Modine, Spike Lee, Anne Hathaway, Josh Lucas, Graham Nash and David Crosby, who tells Levinson that his dad was the cinematographer on the classic 1952 film
High Noon
before being blacklisted by Hollywood.
Levinson is overtly chummy with his many of his interview subjects. They in turn must listen to his discourses, which include, "All of this information is flying around certain truths, which are not truths -- become the truth."
He's again talking about television, without which
Poliwood
basically would be seen by no one. Shame on you, TV. Now go sit in the corner.
GRADE:
C-minus