Rocking the cradle with NBC's two-part Rosemary's Baby
05/08/14 09:35 AM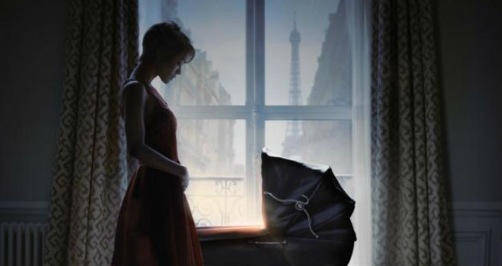 Well, this isn't going to go well. Rosemary's Baby's back. NBC photo
By ED BARK
@unclebarkycom on Twitter
Of course it's not as good as the 1968 original.
NBC's two-part
Rosemary's Baby
isn't entirely a miscarriage, though. It has an effective if overly giggly (at first) performance by
Avatar
's Zoe Saldana and enough storyline detours to generate some genuine suspense. Part 2 includes a particularly chilling sequence at a Cordon Bleu cooking class, where the bad thing about to happen amid all the sharp implements is heightened by a master chef yelling in Gordon Ramsay mode -- only in French.
The new tricked up
Rosemary's Baby
premieres on
Sunday, May 11th at 8 p.m. (central)
before concluding on Thursday at the same hour. The Roman Polanski version is currently available on Netflix for prospective viewers who'd like to contrast and compare.
Mia Farrow's starring role in the first
Rosemary's Baby
has held up handsomely over these many years. Still, Ruth Gordon as the duplicitous Minnie Castavet steals every scene she's in, and deservedly won a best supporting actress Oscar.
NBC, king of the remakes lately with
The Sound of Music
and an announced holiday season re-do of
Peter Pan
, doesn't even try to find a contemporary version of the elderly Minnie. Instead she's youthified as Margaux Castevet (Carole Bouquet), a wealthy beauty who lives in posh Paris surroundings with her imposing husband, Roman (Jason Isaacs). In both the Ira Levin bestselling book and the '68 movie, the Castevets were loud, eccentric septuagenarians of no particular means.
Rosemary Woodhouse (Saldana) first meets Margaux upon returning her seemingly stolen purse. She and her husband, Guy (Patrick J. Adams from
Suits
), have come to Paris in hopes of starting anew after Rosemary lost her first baby early in pregnancy. In the book and original movie, Guy was a struggling New York actor. The NBC miniseries has turned him into a struggling author with writer's block.
"My brain is stuck in molasses," Guy laments. The Castevets quickly pounce via their unique uses of mind manipulation, Tannis root and the "stinky soup" that Margaux concocts for Rosemary once she's pregnant. In the original it was a foul-tasting precursor to a smoothie.
Rosemary at first romps giddily through Paris, with Saldana seemingly on laughing gas. Until the Castevets begin strong-arming her, Rosemary's best pal and principal confidante is Julie (Christina Cole), who persuades her to take that aforementioned Cordon Bleu cooking class.
NBC's version is appreciably grislier than the original but of course can't show as much skin. There's blood aplenty, but certain aspects of nudity remain taboo on broadcast network television. Graphic maiming is encouraged, though. Some of it is of
Hannibal
strength.
The miniseries also adds a black cat that serves as the Castevets' watchdog and a police commissioner (Olivier Rabourdin) who doggedly investigates all the strange goings-on. Another extra ingredient: the haunted husband of a woman who previously was violated by the Castevets before jumping to her death in Sunday's opening sequence.
Even with all these additives, Saldana carries the full load throughout. Her skepticism grows -- as does her performance -- in tandem with her belly before it all boils over into a full-out escape plan. But NBC isn't about to compromise the big-screen film's famous ending. And in truth, the television denouement is at least as effective as the movie's, which upon further review comes off as a little oddly cartoonish.
The Guy Woodhouse role, played by John Cassavetes in the original, is more fleshed out in terms of motivation and duplicity. But it's still Saldana's film to carry to term. She can't match Farrow's breakout emoting in what became her signature role. But Saldana's spirit is willing, even as her character's flesh and blood is spoken for by others.
GRADE:
B
Email comments or questions to:
unclebarky@verizon.net