Cuban's out, but so is Kym. No fair
10/24/07 04:07 PM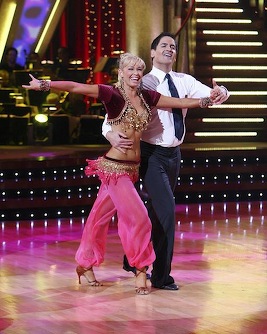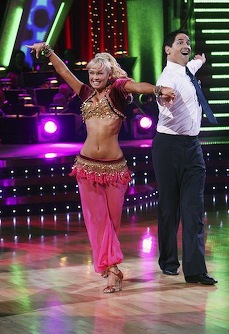 To have and to hold: No more lush Kym Johnson for Mavs man.
By ED BARK
As you've likely read here or elsewhere, Mark Cuban's finally a goner on ABC's
Dancing with the Stars
after bouts with the fox trot, mambo, jive, Viennese waltz and samba.
This means he must leave partner Kym Johnson, too. No more hands-y for the rollicking Dallas Mavericks owner. That's gotta hurt.
"I had a blast, and I'm glad I did it," Cuban said in a kiss-off email to unclebarky.com. "I'm also fired up to get back to the Mavs and my kids!"
Well, there's that, too. But Kym's the show's sim sala bim, and Cuban couldn't have had a nicer, suppler woman to baby-step him through
Dancing
's first four rounds.
Tuesday night's knockout punch unfortunately took her out with him. But maybe she'll be back in some of those goofy weekly production numbers. Or perhaps she'd agree to be a Mavs dancer for a night, with Cuban hitting the AAC hardwoods with her during the team's home opener.
Go for it, Cubes. She's got game.