Another new vista in nudity -- Rolling Stone's graphic (gratuitous?) True Blood cover
08/23/10 04:31 PM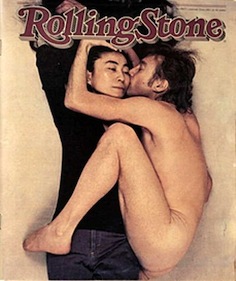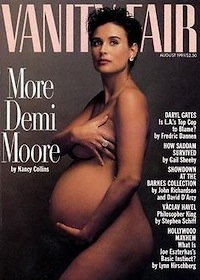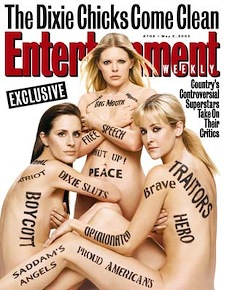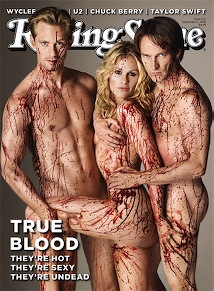 By ED BARK
The Sept. 2, 2010 issue of
Rolling Stone
arrived in the mail today, and its cover kind of jumped out at me.
Standing naked and blood-streaked are the three principal cast members of HBO's
True Blood
-- Alexander Skarsgard, Anna Paquin and Stephen Moyer. In real life, the latter two were married on Aug. 21st in Malibu, which makes it easier to understand his right hand on her left breast.
The provocative cover called to mind other eye-catchers, three of them reprised above.
At top left is
Rolling Stone
's famed Jan. 22, 1981 cover of John Lennon and Yoko Ono, published in the month after his shooting death. Top right is Demi Moore's pregnancy-is-nothing-for-an-actress-to-be-ashamed-of statement on the August, 1991 cover of
Vanity Fair
. And the Dixie Chicks then took it all off for the May 2, 2003 cover of
Entertainment Weekly
after the uproar over lead singer Natalie Maines telling a concert audience abroad: "Just so you know, we're ashamed the president of the United States is from Texas."
All of those covers amounted to more than just visuals. There were messages buttressing them. The
True Blood
cover, photographed by Matthew Rolston, seems to be more than a little ill-considered in that respect. Just what is it supposed to be communicating -- other than the hardly revelatory truism that vampires draw blood?
I'm not going to say it's in poor taste. That sounds too much like Ozzie Nelson morphing into Sean Hannity. But I will say that they all look pretty stupid. And the relatively brief article within is no great shakes either.
But what do you think? Arty or silly? Another bracing sign of our changing times? Or a sign that Lady Gaga's recurring displays are about deep as it gets these days in the pop culture scheme of things?