Still room at the inn: Hotel Hell makes it four Fox series for raging Gordon Ramsay
08/09/12 02:28 PM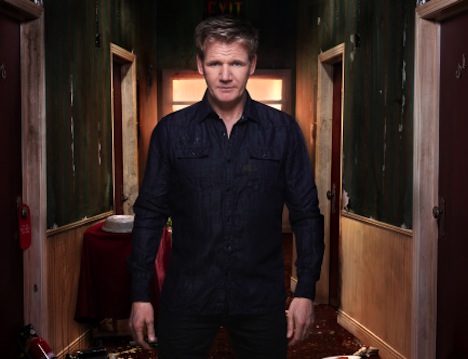 The meanie cometh again in his fourth Fox series. Fox photo
Premiering:
Monday, Aug. 13th at 7 p.m. (central) on Fox
Starring:
Gordon Ramsay and the hapless saps on the receiving end of his expletives
Produced by:
Gordon Ramsay, Ben Adler, Patricia Llewellyn, Adeline Ramage Rooney
By ED BARK
@unclebarkycom
It's too bad in a way that Gordon Ramsay's latest Fox series,
Hotel Hell
, arrives way too late to help Dick and Joanna Loudon whip their Vermont-based Stratford Inn into shape on CBS' old
Newhart
series.
Imagine what profanities also would have rained down on Larry, Darryl and Darryl, let alone bumbling handyman George Utley.
Ramsay's opening target instead is Windsor, Vermont's real-life Juniper Hill Inn, whose owner is prototypically pathetic. Not only that, "You're a disrespectful, disgusting man," Ramsay informs Robert Dean II.
Fans of this guy -- and there are many -- thoroughly know the drill by now. Ramsay's Fox success stories,
Hell's Kitchen, Kitchen Nightmares
and
MasterChef
, are all made from the same broth. He rages profanely at the sheer ineptitude with which he's been presented. Only the strong survive, learning from their belittling taskmaster in the primitive ways that little boys from bygone years supposedly were straightened out by spankings from a stiff belt.
Severe verbal abuse likewise is the mother's milk of
Hotel Hell
, which otherwise presents what Fox publicity materials call a "new world" of hotels, inns and B&Bs. They all serve food, of course, so there's again ample time in the kitchen, too.
Premiering on Monday, Aug. 13th, this first gulp of
Hotel Hell
unfolds in two parts on back-to-back nights. Tuesday's hour completes the process of transforming the Juniper Hill Inn from a money-hemorrhaging, visitor-starved embarrassment into a well-oiled, customer-friendly oasis.
But gee, at one point Ramsay drives off in disgust. Will he actually give up after saying of a weepy Dean, "The guy is maddening, and I don't know if I've got it in me to fix the place."
Cue the U-turn, because the star of the show is really a cursing, hot-tempered, demeaning Good Samaritan at heart. "I've come back," he grandly informs the beleaguered inkeeper. "Not for you, but for the staff."
Swell guy he is.
The inn's main financier -- and Dean's boyfriend as well -- is haughty, short-spoken Ari Nikki. He's an elderly Finn, but looks and sounds more like one of the last surviving Nazi war criminals.
"Why are you running an inn when you're so bitter?" asks Ramsay, who's merely high-strung and super-condescending.
One can't watch any of this, particularly Tuesday's second part, without wondering how Ramsay magically transforms things so fast. He re-arranges entire rooms in a made-for-TV flash to the complete "surprise" of Juniper Hill's owners and staff. All this and a guest room that initially smells like sewage. Amazingly, this is the one room that Dean checks him into. Or not so amazing when considering the by now obvious fact that unscripted TV series are every bit as scripted as scripted ones.
Ramsay still knows what he's doing, though. He's got a brand to sustain, and
Hotel Hell
is every bit as watchable -- in a morbidly fascinating way -- as his other Fox crock pots.
See him spew anew while the over/under on bleeped profanities again offers an entertaining companion parlor game. He's Gordon Ramsay, and Fox is very, very glad to have him. The expiration date on his expletives remains in the far-off future.
GRADE:
C