HBO's Hard Knocks again shows it's the Fort Knox of sports reality series
08/07/08 07:56 AM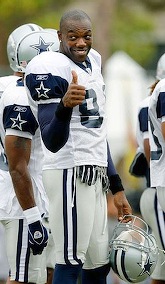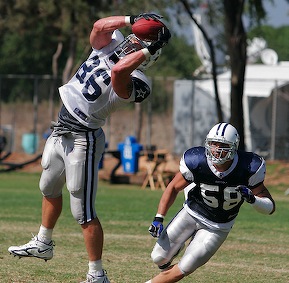 By ED BARK
Can the Dallas Cowboys be as good as
Hard Knocks
?
If so, they're the next Super Bowl champs.
The evocative, filmic, never less than first-rate HBO series returned Wednesday night with an hour of superbly crafted drama from the team's training camp in Oxnard, CA. Love or hate the Cowboys, you've got to marvel at the artistry at work while wishing it was your team on display for five episodes stretching to a Sept. 3rd finale.
Book-ended with shots of a ripped Terrell Owens running shirtless on an otherwise empty beach,
Hard Knocks
is the NFL the way Cecil B. DeMille would have drawn it up.
"This is no ordinary helmet," narrator Liev Schreiber intoned as blue star decals were affixed to a row of the team's silver headgear. "The star sets it apart. It symbolizes the most glamorous team in professional sport."
Oh how owner Jerry Jones loves this.
Hard Knocks
had the Cowboys in its sights during the 2002 pre-season before the team came up big losers under head coach Dave Campo. But his replacement, sourball Bill Parcells, wouldn't allow such nonsense, in his view at least. And even Jerry didn't buck him.
Now Jones and his team are willing participants once more. And in training camp's first team meeting, the owner lapped it up as HBO's cameras rolled where no others were allowed.
"The Cowboys are a big deal," he told his employees. "We're the No. 1 thing that people look at. 'Cause I don't know about you, but I like playing on Broadway. I
like
it."
Yeah, he does. Fox4 sports anchor Mike Doocy no doubt will relish the face time, too. On the first episode, his strategic placement next to QB Tony Romo again paid off as the team touched down on an Oxnard air strip. Last month "The Dooc" had been seen on two D-FW sportscasts other than his own during first-day coverage of training camp.
For his
Hard Knocks
debut, he was shown asking Romo, "How about this welcome, Tony?"
The opening episode also featured Doocy doing a pair of standups after tremors from a Southern California earthquake were felt in training camp. Left out of HBO's pictures were rival D-FW sports biggies Dale Hansen (WFAA8), Newy Scruggs (NBC5) and Babe Laufenberg (CBS11). There's got to be a promotion there somewhere.
Hard Knocks
also knows how to compare and contrast. Before heading for Oxnard, star tight end Jason Witten could be seen changing his son's diaper before wife Michelle praised him as a "great dad."
Then the cameras shifted to rookie receiver Martellus Bennett cleaning up his puppy's in-house deposit.
"Bad dog," he said without rancor. "Yeah, you know you was wrong." Beautiful.
The sights and sounds of camp likewise were vividly captured.
"Few running backs can bust a blitzer better than (Marion) Barber," Schreiber said lyrically before he crunched a nameless No. 58 to the turf and left him woozy.
Wide receiver Patrick Crayton strove to match Adam (no longer Pacman) Jones' feat of catching one punt after another until he had six in his arms at once. He finally did it.
Off the field, rookies were required to hold cock-and-balls mikes (a banana and two plums) while performing for the veterans. Drew Atchison, a pale white tight end, won everyone over by singing The Temptations' "I've Got Sunshine on a Cloudy Day." Not that he'll make the team.
Hard Knocks
consistently succeeds by dramatizing without over-selling it.
Narrator Schreiber is rock-solid and authoritative, never resorting to the caffeinated overkill of many in this line of work. The camerawork, by NFL Films, has long set the standard on various fields of play. Music is used to good effect. And of course there's no shortage of colorful Cowboy personalities to add extra flavor to the proceedings.
One more thing. There were no Jessica Simpson sightings in Episode One. Just wait, though.
Grade:
A