HBO's Sing Your Song is music to Harry Belafonte's activist ears and years
10/17/11 08:11 AM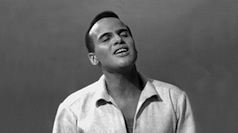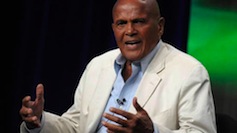 Harry Belafonte as sex symbol and elder statesman. HBO photos
By ED BARK
Retired from stage performing but still addicted to activism at age 84, Harry Belafonte gives voice to his life and times in HBO's
Sing Your Song
.
His daughter, Gina, is a co-producer of the 1 hr., 45 minute film (
Monday, Oct. 17 at 9 p.m. central
), which is dominated by dad's subjective, talk-to-the-camera recall. HBO lately has chosen to go this route, giving celebrity subjects not only free rein but free reign in re-telling their tales. Gloria Steinem was afforded this luxury in August, and hardcover autobiographies have been doing it for centuries. But the hard, real truths about people of import invariably are unearthed by objective biographers, many of whom end up using their subjects' autobiographies as points of contention.
That's not to say Belafonte has any damning skeletons in his closet. But
Sing Your Song
ends up being more than a little too self-indulgent and one-noted. Abundant archival footage is in part a saving grace, though, whether it's from extraordinary late 1950s CBS specials starring Belafonte or from his days of guest-hosting
The Tonight Show
, when he welcomed the likes of the Rev. Martin Luther King and Robert F. Kennedy.
His 1959 special,
Tonight with Belafonte
, won an Emmy Award for "Outstanding Performance in a Variety Musical Program or Series." Its sponsor, the Revlon cosmetics company, then ordered five more specials before bowing to pressure from Southern CBS affiliates who demanded that Belafonte's entire supporting cast be either black or white, but not integrated.
"I would not acquiesce," as Belafonte tells it. "I could not change the format. And I left."
This nonsense persisted all the way to a 1968 Petula Clark special in which the host touched Belafonte's arm while they performed "On the Path of Glory." A lone Chrysler executive present at the taping wanted the segment re-done with the two keeping their distance from each other. But everyone stood their ground, and the exec soon was dismissed.
Sing Your Song
doesn't provide all of these details, instead making this a bigger "controversy" than it perhaps really was.
Belafonte's zenith as a pop singer came in the 1950s, when the so-called "King of Calypso" recorded the
Banana Boat Song
with its signature "Day O" lyric. More than a half-century later, it's still a popular riff at baseball parks.
In his prime as a chart-topper, Belafonte appeared on numerous TV variety shows, invariably baring a generous portion of his torso. He was the first African-American sex symbol of the modern electronic age, although the film and Belafonte are mostly quiet on this front. He does offer a chilling recollection, however, of a 1950s visit to a whites-only restroom. Belafonte recalls a cop telling him, "You let go a drop, you're a dead nigger." Belafonte says he acquiesced in this case.
Sing Your Song
includes brief appearances by all four of the Belafonte children, Afrienne and Shari from his first marriage to Marguerite Byrd and David and Gina from his second marriage to Julie Robinson. It's a familiar story in this case. Belafonte's self-imposed activist and career demands made him mostly a no-show at home. As adults, the kids say they now understand, even if they really don't. Says David of his dad, "Harry was there the best that he could be, so I never held it against him."
Both of those marriages ended in divorce, with Belafonte a man of few words in each case. With second wife, Julie, a participant in the film, "love stepped out of our space," he says without elaboration. This is illustrated with earlier footage of Julie putting her hand over a camera lens. In 2008, Belafonte married photographer Pamela Frank, who had traveled with him on a number of his activist projects.
Belafonte's political activism and humanitarianism span some of the most seminal events of the past half century, including the Freedom Rides through the segregated South; the 1963 "March on Washington" (site of King's "I Have a Dream" speech); and the 1985 "We Are The World" song/video on behalf of starving African children.
Sing Your Song
has chapter and verse accounts of all three while also charting Belafonte's latter day efforts on behalf of other social causes.
"I live in a perpetual state of optimism," he says near the end of the film, which at times is too much of a treatise. But that's seems to be very much the way its subject and his youngest daughter wanted it.
GRADE:
B