NBC's The Storm replete with latter day TV washouts
07/24/09 12:57 PM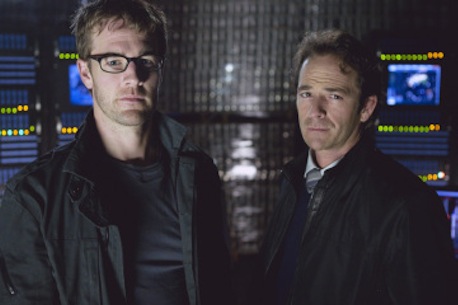 Stuck in The Storm: James Van Der Beek, Luke Perry. NBC photo
By ED BARK
Poor James Van Der Beek probably knows the score better than anyone.
The onetime
Dawson's Creek
heartthrob has since been eclipsed by the show's three other principals.
Katie Holmes, who played Joey Potter, is the wife of Tom Cruise and mother of their daughter, Suri. That alone is enough to maintain her international celebrity status, but she also remains an in-demand actress whose credits include the blockbuster
Batman Begins
.
Joshua Jackson (Pacey Witter) co-stars in Fox's high-visibility
Fringe
, which returns for a second season this fall.
Michelle Williams (Jen Lindley) received an Oscar nomination for
Brokeback Mountain
and has a daughter, Matilda Rose, by the late Heath Ledger.
For Van Der Beek (Dawson Leery), there's NBC's
The Storm
, latest miniseries entry on the network's disaster-prone Sunday night lineup. Premiering
Sunday, July 26th at 8 p.m. (central)
and concluding a week from then, it succeeds the Peacock's
Meteor
, in which Earth also was in the cross-hairs.
Van Der Beek, outfitted in specs and stubble, plays idealistic scientist Jonathan Kirk, who messes with Mother Nature in hopes of ending all famine and floods. But unbeknownst to him, sinister forces are plotting to use his weather technology as a weapon, unleashing hurricanes and the like on any countries that get out of line. Namely Iran for starters.
The premise is pretty much all wet. Likewise is Van Der Beek, who spends much of this miniseries drenched and on the lam from bad guys while a recurring, grinding rock score pounds bumps on viewers' cerebellums. Irksome camera tricks also accompany these chase scenes, as Kirk captains his one-man effort to reverse a spate of really bad weather around the globe.
The Storm
also is stocked with other familiar TV stars who've mostly had their day.
John Larroquette (
Night Court
) pops in for a few scenes as head of the Cable News Service's L.A. bureau.
David James Elliott (
JAG
) is back in uniform, this time as four-star Gen. William Braxton. He's very keen on weaponizing the weather.
Luke Perry (
Beverly Hills, 90210
) spends a little time as a duplicitous counter-agent of some sort.
And Treat Williams (
Everwood
) is most laughable of all as ruthless billionaire Robert Terrell, who barks out orders while variously getting a massage, stroking a concubine's leg or putting golf balls.
Basically put, Kirk realizes the error of his ways after blasts of energy intended to scientifically alter the weather instead poke a big hole in the ionosphere. He immediately quits his post at the Atmospheric Research Institute, prompting Terrell's thugs to chase him all over the place.
Kirk's old girlfriend, Danni Nelson (Teri Polo), now a heat-seeking reporter for CNS, is also quickly in harm's way. A heavy-handed
Psycho
ripoff finds her in the shower and at the mercy of an assailant with a long-bladed knife.
The Storm
offers other subplots, including a pregnant woman trapped in a cellar with her "Poppy" (father) and a female bartender whose life is jeopardized while her former lover strives to make things all better again.
Mostly though, there's a whole lot of Van Der Beek running, sometimes in tandem with a comely cop with whom he confides. Those who stick it out all the way through might find their hearts racing just a tad above the speed limit. In its own clunky way,
The Storm
manages to be just a wee bit gripping down the stretch.
Now Van Der Beek needs to get a grip on his career. At age 32, it's still not too late.
GRADE:
C