New fall season -- dropping the balls with ABC's Man Up!
10/17/11 04:50 PM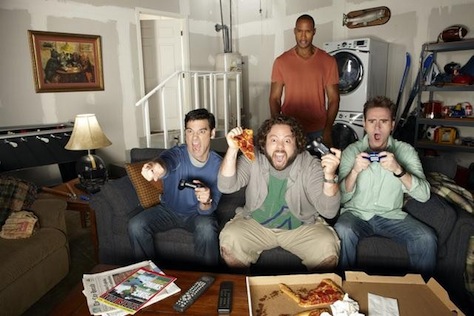 Who will answer the male call in Man Up!? ABC photo
Premiering:
Tuesday, Oct. 18th at 7:30 p.m. (central) on ABC
Starring:
Christopher Moynihan, Mather Zickel, Dan Fogler, Teri Polo, Amanda Detmer, Henry Simmons
Produced by:
Christopher Moynihan, Victor Fresco, Ron West, Kelly Kulchak, Beth McCarthy-Miller
By ED BARK
ABC probably has already steeled itself for the Acapulco Cliff dive in the ratings from Tim Allen's
Last Man Standing
to the nowhere men of
Man Up!
.
Allen's re-do of
Home Improvement
got critically panned. But thanks in no small part to his household name, it opened pretty big in last week's national Nielsens.
Man Up!
, premiering Tuesday after
LMS
, is a bit better comedy, but without any built-in star power. It furthers this season's notion that males are either an emasculated or blowhard gender best played for laughs.
Man Up!
's star players are weepy Craig (co-executive producer Christopher Moynihan), tantrum-prone Kenny (Dan Fogler) and mild insurance salesman Will (Mather Zickel), whom his wife, Theresa (Teri Polo) chides as "mannish" at best.
The three of them are first seen playing a video war game as though they were all hard core
Chesty Pullers
. In real life, bearded, chubby bitterly divorced Kenny is the resident Zach Galifianakis, Craig still pines for his newly married ex-girlfriend and Will worries that his bespectacled 13-year-old-son, Nathan (Jake Johnson), is shaping up to be an even bigger wuss.
A broadly drawn, super-brawny black man is thrown in to balance the scales a bit. His name is Grant (Henry Simmons), and he's newly dating Kenny's ex-, Brenda (Amanda Detmer). This prompts Kenny to regularly kvetch and sputter, which he does in fairly amusing fashion.
The pilot episode otherwise is built around Craig's hopeless efforts to woo his ex-girlfriend back by strumming and singing their song, "Brown-Eyed Girl," after busting into her wedding ceremony. A pack of much manlier groomsmen then give chase, arriving en masse at Nathan's first birthday party as a teenager. Will Will and company man up? Not that you're likely to give a whit.
The whole enterprise seems way too wobbly to walk upright under its own power.
Man Up!
may cause your lip to curl upward a few times before giving way to a grin. But any full-blown laughs seem well beyond its reach.
GRADE:
C